Futurepop has been an amazing music genre to create sci-fi atmospheres. As an outgrowth of electronic body music (EBM), which was very popular in the 80's, futurepop had its peak mostly in the 90's, when the lead singers of VNV Nation and Apoptygma Berzerk coined the style. Since then, many other bands have been producing electronic music for those who are entranced by cyberpunk and cyber culture in general. A good and recent example is the Austrian band mind.in.a.box.
The project comes from a long-term friendship between Stefan Poiss and Markus Hadwiger. They have been in touch since childhood and before setting mind.in.a.box up, they worked together with computer games. However, in 2000, both decided they should create music instead. Poiss was responsible for the sound and vocals, while Hadwiger wrote the lyrics for the debut album Lost Alone. Finished in 2001, but released in 2004, this was the first chapter of a story that would extend to three new albums: Dreamweb (2005), Crossroads (2007) and Revelations (2012).
Their songs tell us about a man called Black (only named in Crossroads) who is working on some kind of investigation commanded by White. During Lost Alone, we also get to know two unnamed characters: the man traced by Black and a woman he had a relationship with. Though Poiss created different vocals, it's not really possible to tell if the female synthesized voice is really representing the woman's point of view, but sometimes it seems so – for instance, in Change we hear the thoughts of a very strong minded person who has been as depressed and confused as the other two characters. This is also the predominant feeling in mind.in.a.box: messy thoughts about existence and despair, even when it's about love.
Both Lost Alone and Dreamweb are more dedicated to the unnamed man, who is probably a hacker. It's in the second album that he receives clues that he has been spied on by Black, though he already had lost track of him by that time. In fact, this unknown man is facing a big delusion and, as described in Machine Run, it's likely he has proceeded to upload his mind into a computer: "I had become a machine, feeding on the need to run". So in order to find him again, Black sets out to meet the woman in a club, but the investigator is deceived by White.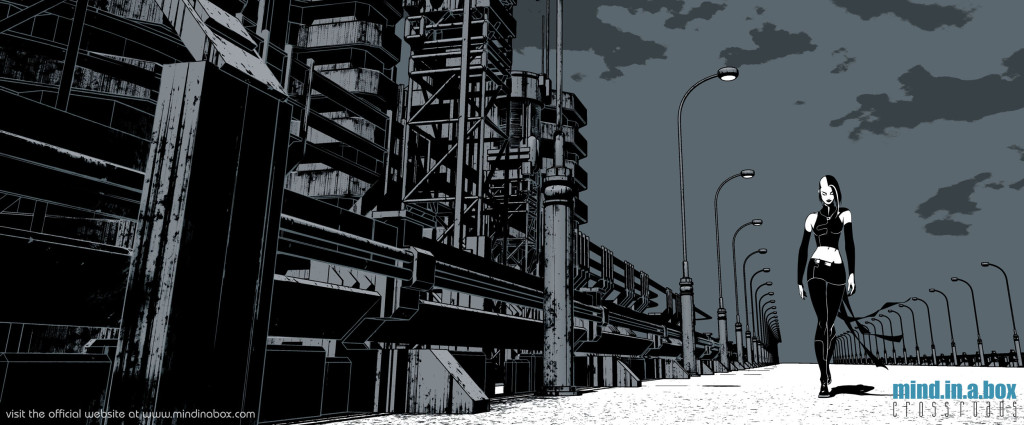 Now, in Crossroads we will know more about this agent. White is trying to kill him, but he has been saved by those who he calls "Sleepwalkers". He cannot remember who he is, though he knows he needs to get into "the Pi" – probably the club where he would get information with the woman. All of this amnesiac journey is told through the songs. Black tries to organize his mind and finally resume the investigation about what has happened to him and what's behind White's actions. He doesn't care anymore about who he used to be (The Place and Redefined), he wants a fresh new start.
Revelations tells us that Black, after all the regret and anger felt for being trapped in a path of lies, is back to the club. He searches for the people and the music he saw and heard back there when White cheated him. He needs answers. What is the Dreamweb? Who are the Sleepwalkers, Night, the Friend and the Agency behind everything? Fragments brings Black's memories back as he recognizes the song played in the club before everything was gone: it's mind.in.a.box. In a metalanguage play, the lyrics suggests the band is responsible for the song that triggers Black's remembrances: "Meet me in the Dreamweb (…) I was there, but no one came/Get the information from the Agency/We will fight the Agency/Night's nightmare/What is the real world?/Dying world/Hidden memories". It's the music that inspires him to go on.
R.E.T.R.O.
Apart from the four chapters, mind.in.a.box has released in 2010 the album R.E.T.R.O., where they pay a homage to 8-bit computer gaming. With some remixes of game soundtracks and songs about 8-bit computing, the album provides music like it used to sound in a Commodore 64 home computer and other machines from the same period. On an interview for the website I Die You Die, Poiss declared he sometimes misses "retro sounds from the good old Commodore 64" and sometimes he wants "bombastic metal guitars" or even "a piano track". So, still he has so many inspirations, Poiss believes the core of his art is always there.
This is why we can see in R.E.T.R.O. some lyrics with the same kind of ideas found in the other narrative albums. 8-bits is one of the best examples not only for its contagious rhythm, but its lyrics has a special story about an 8-bit entity that watches the 3D world and reflects about its own virtual existence. Verses such as "I know my heritage is noble, but still I feel like I'm a clone" tells us this being is realizing it is an emulation, though it wants to be "more than information". Like Tron's plot, this virtual life form announces: "The next time I see the serial cable, I jump on the train and leave this world. Now I'm an original, I'm like my ancestors and my hair is finally all yellow".
Memories
On Friday (March 20th), the sixth album by mind.in.a.box was released with 13 new tracks that extend Black's journey. A review published by the German website Avalost tells us the agent is going back to the club and he is bringing new thoughts about hope, dreams and maybe even a dialogue with his new self, as seen in Up There.
But with all that being said, it is also important to state that there is no required understanding of this rather complicated existential tale told by mind.in.a.box if you want to enjoy their music. As explained by Bruce and Alex on this I Die You Die post, the band uses the most perfect robotic voices to, in fact, talk about the deepest human feelings. "Mr. Black and his mysterious quarry are useful devices to explore various themes of identity and consciousness, but not lynchpins for appreciation of this profoundly human synthetic human", says Alex. Sometimes, mostly in Revelations, the creation merges with the creator, as Bruce enforces that we cannot really know where Black ends and Poiss begins: "While the overaching storyline was in place, the distinction between it [Black] and Poiss' own reflections wasn't always clear, an issue muddied by the increasing presence of non-processed vocals."
Therefore, mind.in.a.box not only provides a unique musical experience combining futurepop to trance and metal elements, but above all things, this is a band concerned about creating a whole and immersive atmosphere through the fiction told by the lyrics and even by the artworks in the albums covers.
If you like the sound of them, here's a preview of their album Memories: