This was an article submitted to Neon Dystopia by TTristanMartin.
[block_grid type="two-up"][block_grid_item]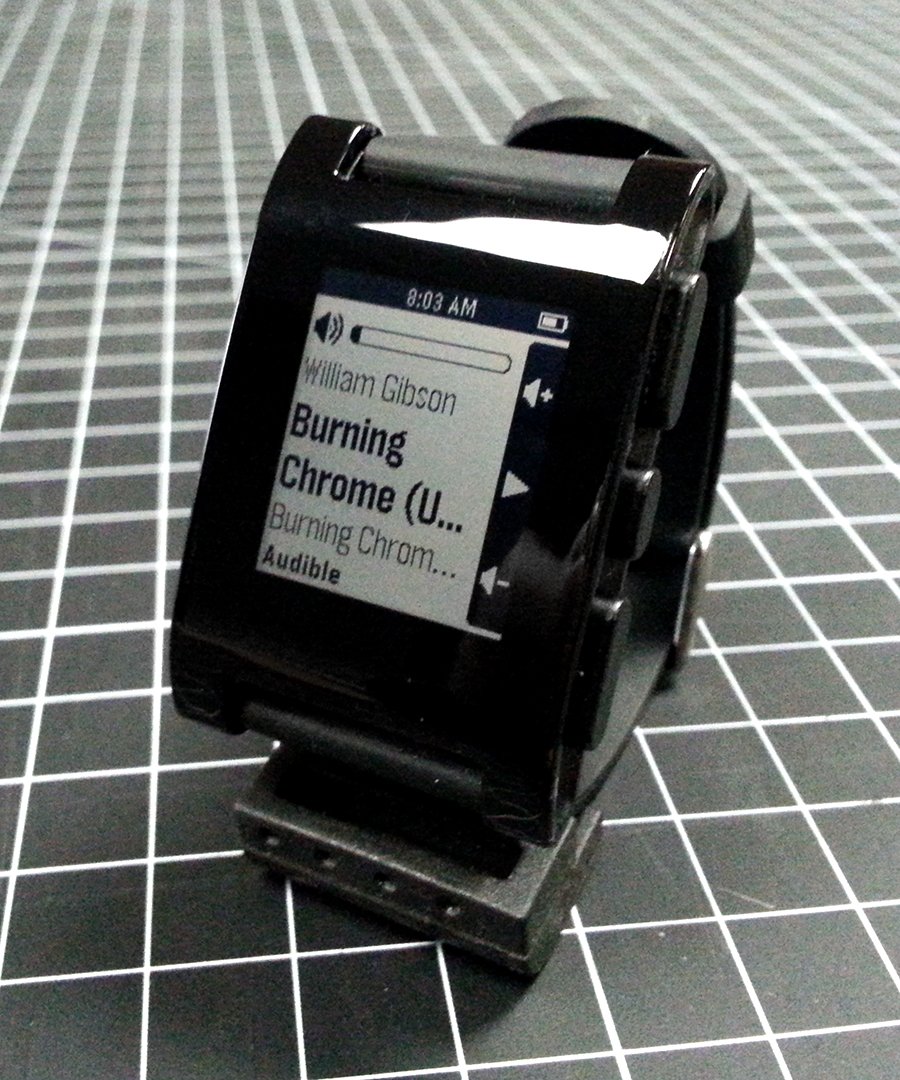 [/block_grid_item][block_grid_item]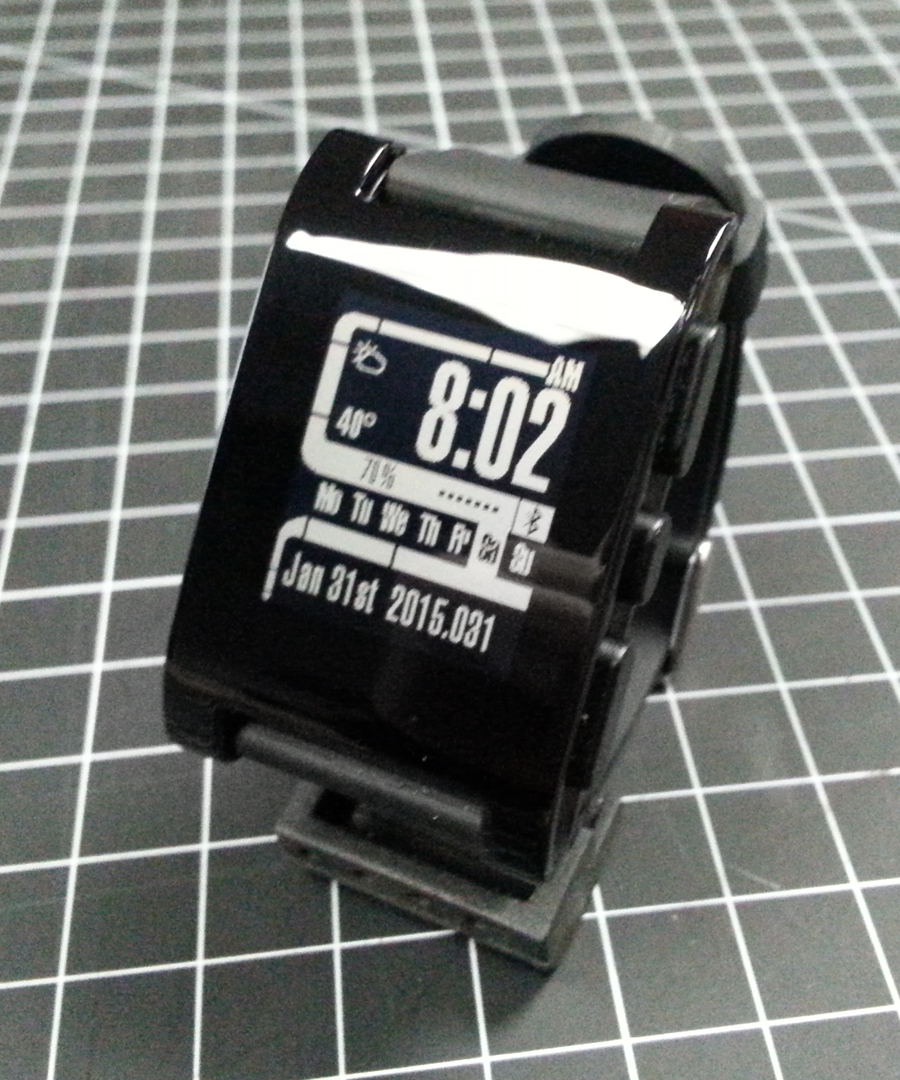 [/block_grid_item][/block_grid]
In gadget circles, 2015 will be the year of the Smartwatch and, one by one, consumers are a step closer to becoming retail-Batman. I'm starting to fall over these things; I even saw one for sale in a Best Buy vending machine in the Atlanta airport. Like most people of the cyber persuasion they tug at me for obvious reasons. Who doesn't want control of their world through a brightly colored, fast-moving wristwatch?
And yet something bothers me about the watches from Apple and Samsung (which are more like mini-smartphones with heart rate monitors). Their high price tag and proprietary development kits seem a needless replication of already cluttered data environment. In some sense these watches are a very advanced way to eliminate the inconvenience of taking your phone out of your pocket. One smartwatch off the beaten path. however, has caught my eye for both its versatility and its simple design.
The Pebble Smartwatch, now in its second generation, made crowdfunding history in 2012 by meeting its initial Kickstarter goal of $100,000 in only two hours. By the end of their 30 day campaign Pebble Technology Corp. had raised $10.2 million. I'd call that a healthy user endorsement.
Built on an open source platform with a free development environment, Pebble has continued to be a product for the people. For those with the skill set an SDK called PebbleKit is available to make apps for both Android and iOS platforms. Apps are made available through the Pebble phone app which currently boasts an excess of 5000 apps.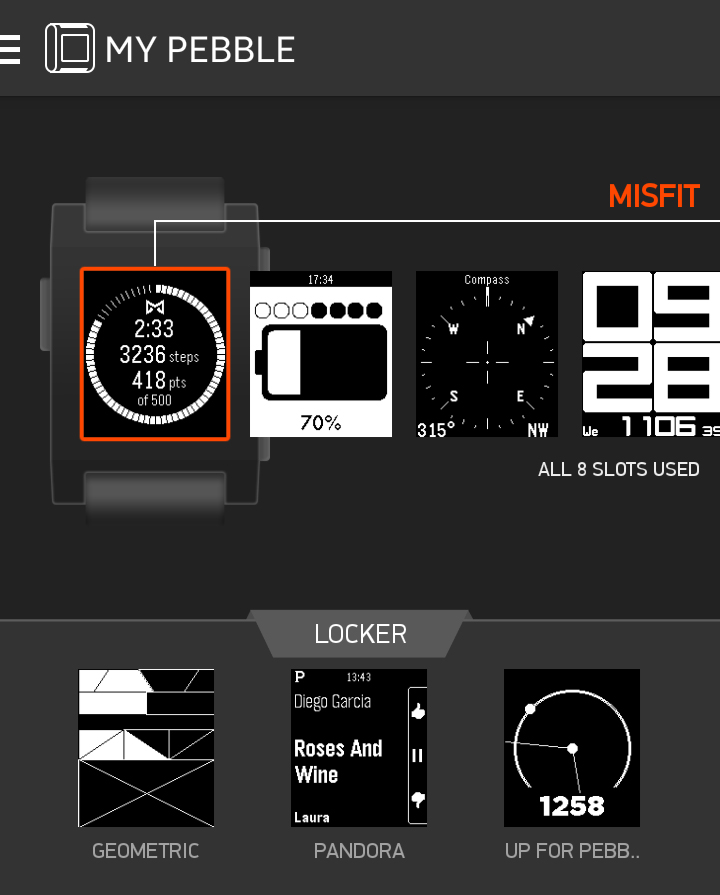 Pebble complements a wide range of personal styles from a suit and tie to full on apocalypse street-wear. At first glance the simple monochrome LCD display seems retro but personally I like the low-profile simplistic design which favors function over form. But maintaining a high standard of fashion is no obstacle with hundreds of watch face designs available for download. And for the more elite among us open source means you also have the option to make your own.
The hardware itself is a simple 144×168 pixel monochrome LCD with four interface buttons of variable function. A 3-axis accelerometer adds another dimension of interface. A quick shake of the wrist activates the backlight. Pebble's vibration feature, one of its most popular attributes, ensures you'll never miss a notification. Storage is limited (only 800KB), providing space for roughly eight 100KB app slots which can be swapped in and out from the companion phone app. Fortunately, this process is relatively fast and so far I've found no inconvenience to app swapping.
For the physically active crypto-anarchist parkour-ing through the streets, Pebble is water resistant up to 5 ATM (Atmospheres) and includes a pedometer which can be linked to several fitness companion apps. Personally, I'm struggling to hit 10,000 steps in a day but now that I've collected more accurate data about my inner sloth I have a treadmill on the way.
The rechargeable battery lasts 5 to 7 days with a charge time of 90 minutes. The watch is charged using an innovative magnetic interface connected to any USB port. A clever design but this also means a proprietary replacement part, not to mention it is easy to accidentally disconnect the watch from the charger (cat owners, you have been warned).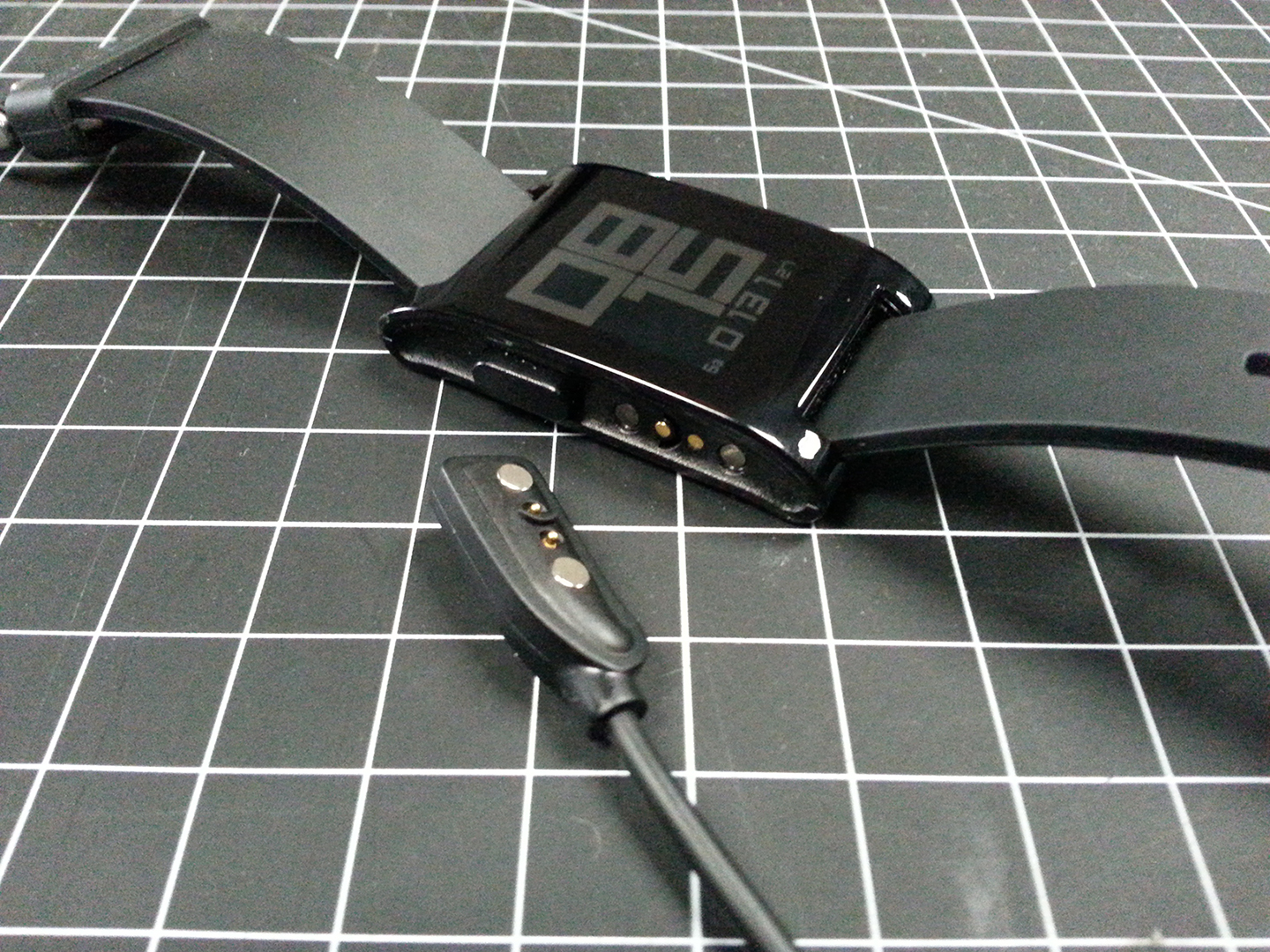 The Pebble is sophisticated and connected without the garish showy glitz of the Apple or Samsung smartwatches. This is not just glam-tech, this is a functional tool. I'm looking forward to what the more subversively tech-savvy among us come up with.
TTristanMartin's is a writer of Science Fiction and Futurism. He has been involved with the Cyberpunk movement since 1990 and recently became a cyborg following a motorcycle accident. Professionally Tristan has worn many hats from webmaster to geospatial data processor, flowing from a belief that his karma is entangled with technology.
You can get in touch via email Tristan.tomaselli@gmail.com or Twitter @TTristanMartin.