Recently I took a Youtube trip. I'm generally not a fan of those. I wind up watching too many videos about nothing and I'm left wondering where the afternoon went. But this last trip took me to "Home" by Holly Herndon. The music's experimental, and that may or may not jibe with your tastes. But it stuck with me, mostly because it was so potent-cyberpunk while being deliberately low-tech. It's about politics and the invasion of privacy.
One line that stands out in the song concerns a violation of privacy, a boundary crossed when she thought she was alone and is forced to wonder if the person observed is the person she is—which version of this person is being observed by the observer. Personally, Herndon strikes me as an asexual creature, kind of alien, and the song is very direct with its message of privacy loss, but the song did make me think of sex, which led me to take another video trip to Vimeo, Youtube's worldly older sister. There I rediscovered a video that reminded me of just how close everyone's sex and romantic lives are to being driven around a corner, where they'll turn and disappear down a brightly-lit, yet completely obscured alley where few things will make sense when compared to the avenue where we were all just traveling.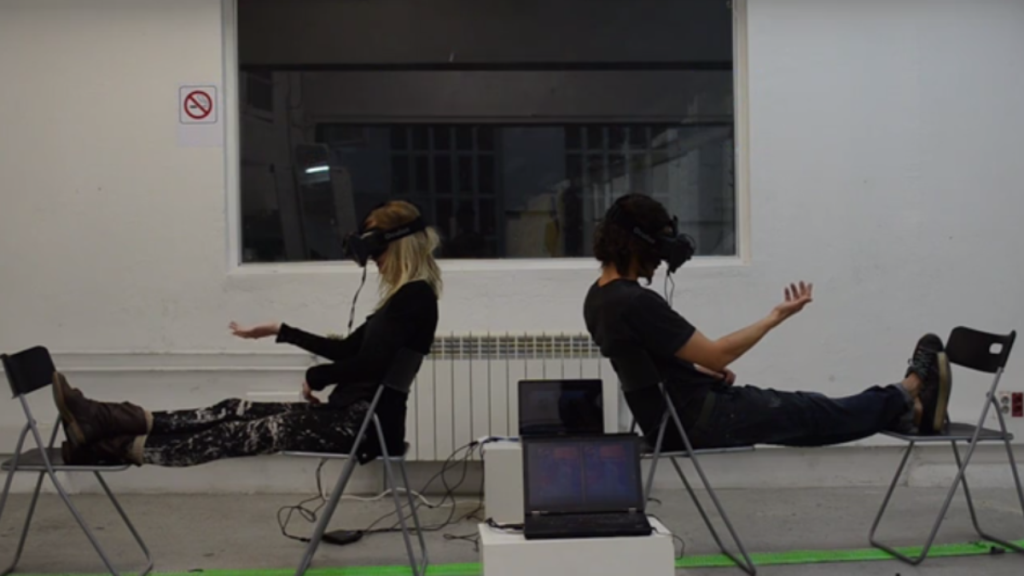 Any Gen Xers and Gen-Y kids will totally understand the changes in social order through the '90s and to the modern day. The matriarch that gave birth to these changes was the Internet. Chatrooms became ubiquitous dens of exploring sexuality at the early teens on one end, and became a playground for deviants at the other. Digital cameras made long-distance relationships somewhat feasible. Skype made infidelities a curiosity we would satisfy in a half-hour. And the availability of all things naked and interconnecting turned everyone on and eventually out.
While sex evolved faster, relationships took a little longer to catch up. Ask someone older than thirty and they'll claim everything is turned on its head—sex before anything else if anything is considered. And depending on who you are you might agree. But it is undeniable that as tech develops and the Internet of everything becomes more actualized, these changes will continue expeditiously. Think of it as Moore's law, only with prophylactics, genitals, and a smartphone.
So where am I going with this talk of sex and keyboards, digital cameras and dirty secrets? What does it have to do with the loss of privacy, the loss of identity? I'll tell you it has little to do with the dissolution of intimacy. Rather, we seem to be heading to an area of closeness I doubt anyone had ever considered before.
Consider the video below (Warning NSFW):
I'm aware the video isn't sexual in its concept, but the degree of intimacy is so rich it's impossible to ignore. The idea that someone can look through their "eyes" and stare out of another person's body reaches a level of connection that's otherworldly. It feels alien, and it should.
Whenever I see an Oculus Rift I think of old VR goggles from the '80s, stuff I couldn't possibly remember but learned of through the Internet years later. I'm reminded specifically of the Virtual Boy. However, after seeing this body-swap experiment, I can't help but think of the Major (Motoko Kusanagi) from Ghost in the Shell. Not that she sports any substantial eye jewelry, nor is she an intimate person. In fact, the Major is perhaps the most male of any cast member in the cyberpunk classic. To a fault she plays the alpha male, whether with the team or with her ever-growing list of sex-toy girlfriends in her personal harem and boyfriends she'd pick up on flings. But there's been a change in the Major. And even though were some decades from the setting of any GITS story, her reimagining and this piece of tech tell us something poignant that's also uncomfortably personal.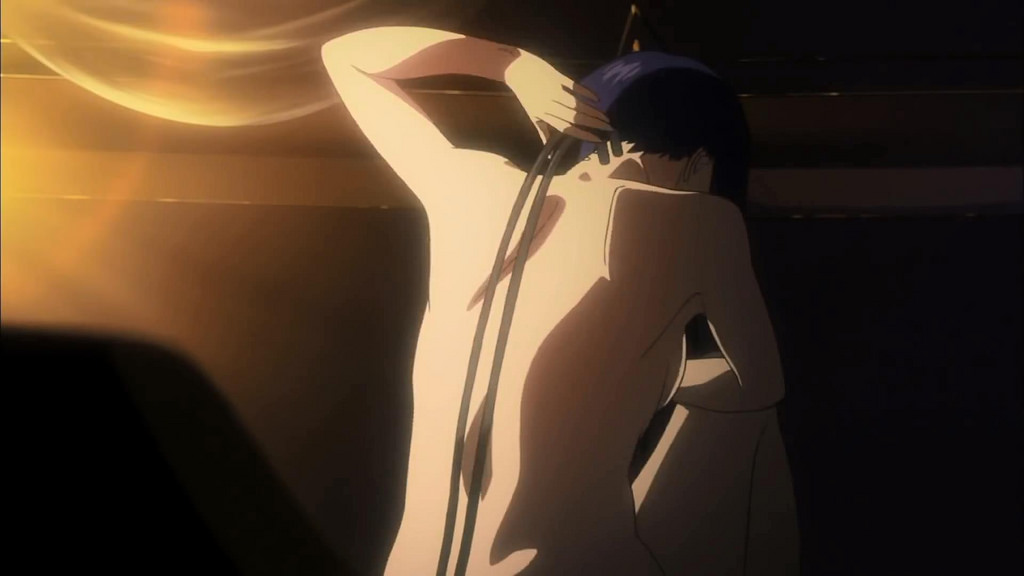 If you're reading this and happen to live in Japan, you've no doubt spent the summer going to the movies every other week to catch the next hour in the Ghost in the Shell: Arise series. It's essentially the retelling of how the Major left the army, recruited other Japanese specialists into Section 9, and begun building her legend as a super federal agent. I won't claim to be a historian of the anime, but I am a fan of GITS, and can say that it's quite faithful to the source material. At times some of the art direction and the tech presented surpasses the original that should take place more than a decade later, but this can be explained away with the changes in real-world technology influencing the artists for these films.
One thing has been rewritten, however, and I'm sure is the subject of debate somewhere online, is the Major's personality concerning personal relationships. She's a tad feminine this time around, even submissive. Locked into a monogamous relationship with a man, I find it hard to see the same woman that jumps off buildings naked to kill a criminal diplomat as he plans to flee the country. Or string along her 2nd in command who's tethered to her in every way with the exception of a leash tied around his neck. But when I look at this version of the Major, I see less of that action hero and domineering commander and more of an actual person that is living in our cyberpunk present. Or, more accurately, our near-cyberpunk future.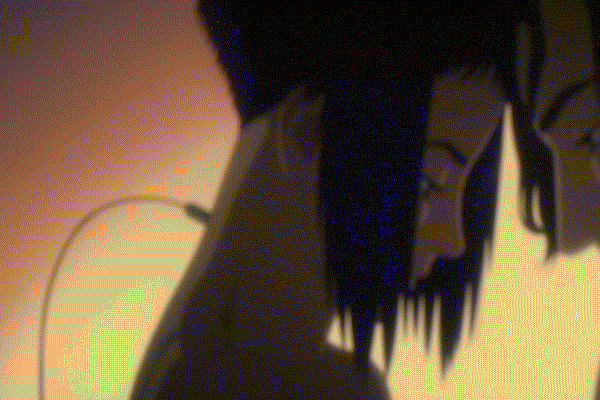 In the third film in the series, Ghost Tears, the B story (subplot) is that of the Major and her mechanic/doctor/specialist boyfriend becoming more intimate as the hunt for terrorists continues in Japan. She's still very alpha, but sexually, she's more subservient that anyone would have reason to suspect. Now I could go into an analysis of sex in the modern age, the affect the Internet has had on the genders, how it reinforces them, breaks them down, but what's of greater interest is in the how.
If you don't know her origins, here's a quick breakdown: Motoko Kusanagi is an orphan. Her parents died in an accident that left her a disfigured infant. The state took pity on her and gave her a prosthetic body. Over time, through a service in the military and disparate government agencies, she's been given upgraded bodies that have allowed her to do her job and mature alongside the developmental stages her organic body would have followed. In short, she is a woman, but technically isn't. It's part of the series' namesake. There no body for the Major to speak of, and so the identity is really all there is to the person. It's not an uncommon situation for people to find themselves in 2030s Japan.
While we've seen the Major be sexual, engage in sex, and skirt around the issue with many people, never before have we seen how a cyborg actually does it. And when we do, we're left with a feeling that it's perhaps more. And, for some, it may be too much.
In a high-rise apartment, definitely more than any government agent should be able to afford, two people connect with cables tethered to the base of their skulls. The following images follow anime archetypes of what the audience is supposed to assume is intimate (swimming naked, touching, sighing). They do this while close together. Both are clothed comfortably, and there is still space in the bed between them. But the message is clear: this is the Major being "naked" with someone in a meaningful way.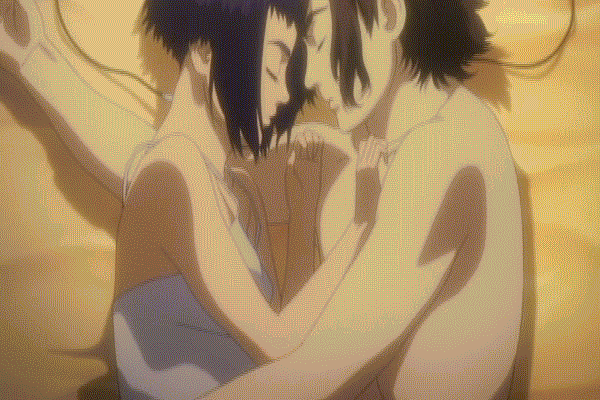 Countless times we've seen the Major jack-in to someone else and it's seen as visceral—a violation of the personal borders. It could in a way be likened to techno-assault. It has all the trappings of sexual air that vampires do with feeding, but rarely do we see the Major connect in a subdued setting such as this. And you have to wonder if it's the Major that her partner sees? Is it the same person criminals see when she connects to them?
What follows is the usual. And if you're a GITS fan, you won't be bothered by this cursory glance at cyborg romance. Action returns very quickly. But seeing this concept of future sexual intimacy, then viewing its developing real-world counterpart, I take pause. Of course there's a part of me that gets excited, as I do whenever I encounter a piece of tech I can link back to a cyberpunk story. And at present, the Oculus Rift is closer to Case feeling Molly rub her nipple through the Hosaka, but we've seen how fast tech develops.
In my head I go back to Holly Herndon, asking questions of her observer: "I don't know which me to be […] I know that you know me better than I know me." Through their tether, in that little P2P they built for themselves, where their physical bodies are just nodes in this intimate network, how much of the real Major is present? How much is influenced by the other user? Can one host see more of the other than they can see of themselves? There's a possible loss of identity with such interfaces, and philosophical questions to ponder. But it can't be denied that peers connected through a neural network is closer than most would ever want. Perhaps that's the intention.