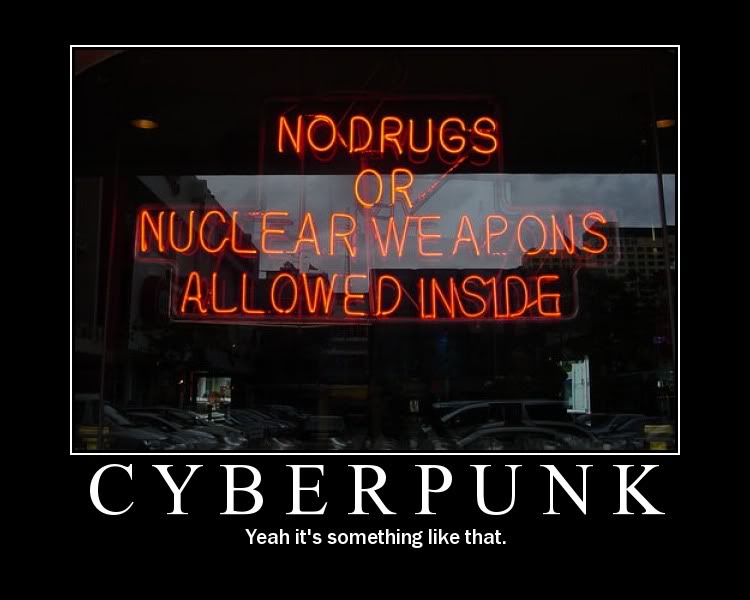 Did you hear? Cyberpunk has come into its own. I know, you're excited. Right? Reading this on this site tells me you have some interest in cyberpunk, at least enough to want to consume even more media to just keep the concept even more fresh in your mind than it already was. That's the benefit of living in this time, the availability of all this content, the existence of the Internet and the forward march towards a post-geographic society makes it all possible. It's a big reason as to why cyberpunk is being revived–it's taking form before our very eyes. And it's with this expansion of the subculture in the public eye that we find ourselves in a bit of miscommunication.
Over the past year or so, I've read quite a few manifestos and essays shared online hoping to capsulize what cyberpunk means and what it is expected to do or look like now that there is a world that can truly appreciate it, because, whether consciously or subconsciously, people all over the world have begun augmenting their reality with technology, consuming pharmaceuticals at an alarming rate, and grown accustomed to corporate and political malfeasance ad the norm–classic cyberpunk tropes. What many of these examinations get wrong is the idea that cyberpunk is the answer to these problems.
Allow me to demystify my thesis before we go any further, and unburden you of any delusions you may have had. Cyberpunk is not here to save you.
Hacking is sexy now. I don't know if you heard, but apparently the neck-beard, disaffected programmers and technicians of the '90s just missed the boat. From news reports on Anonymous fighting ISIS to Chris Hemsworth starring as a black-hat, super spy who stops Russian terrorists, hacking is once again interesting to the larger zeitgeist, and with an infrastructure to support them, many are coming to cyberpunk with the expectation that the subculture exists to support activism and activists with a romantic flare that'll allow them to do good and snatch a bit of glory they can use to humbly brag about once their done fixing everything. I hear and read a lot of people talk about cyberpunk in this light, and I can't help but turn away, because their lack of education becomes glaringly obvious.
"In a cyberpunk world, I realized, was a world where people had the technology but it didn't  fundamentally change the fact that there was a lot of treacherous, nasty behavior–large weapons, and a lot of sort of serious danger all about." (Mike Pondsmith)
All subcultures rise to prominence on the backs of a few individuals with the gift of vision that allow them to see things differently from many others. Some are visible and others stick more to the shadows, but they earn degrees of influence for what they were able to contribute, and when we look at the forefathers and the shining examples of the subculture, we can get an idea of what it was they had to say about cyberpunk, our eventual future, and where this segment of the population fits.
Let's start off with Mike Pondsmith, since he put it best in an interview with Machinima concerning the development of Cyberpunk 2077:
"Cyberpunk isn't about saving humanity, it's about saving yourself." (Mike Pondsmith)
If you don't know Mike Pondsmith, then I hope you know his work. If you have images in your mind link up to cyberpunk that include dark, wet streets, gangs with augmented bodies and unholy weapons fankenstiened with ridiculous tech, he's responsible for bringing that visual medium to life better than perhaps anyone else. Pondsmith is the creator behind Cyberpunk 2020, the ultimate cyberpunk RPG that ran from the late '80s until '05. Anyone looking for a comprehensive education on the tropes of cyberpunk and its larger mythologies and philosophies need not look further than this game. But if you're looking to narrow your focus, read up on the Fourth Corporate War to see just how Pondsmith views our bleak future. There are corporations in place of nations and states, vying for power in a death-match of proxy wars using cyborgs on the frontlines and hackers as support to crumble systems from within. Many of the main characters in the RPG also find their ways to inhabit these same roles in this expansive world with varying personalities. But even with all this examination of the world's worst-case scenarios, never do any of the heroes or villains make a play to save humanity, because that isn't part of their world, not part of the vision. The fight is self-centered because that is the reality they exist, the system that made them and makes the most sense.
It'll come as no surprise that Pondsmith is an admirer of William Gibson. In fact, anyone reading this who doesn't have a favorable view of Gibson's work likely came across this in error. Gibson is a figure in cyberpunk so revered that it'd be laborious to find the one person in this subculture that doesn't find something about him or his work that's worthy of appreciation. And that to me rings weird when I take a look at what many are claiming cyberpunk is about, since it runs counter to the work of a man who's unparalleled in his influence in the subculture.
For about thirty-eight years, Gibson has been shaping and molding the world we live in through his fiction, sometimes missing the mark by a smidgen, and a lot of the times meeting the future with a precise prediction. As mirrored in Pondsmith's work, Gibson saw a future of corporate control, incessant wars waged by corporate interest, and ridiculous technology in the hand of the every man doing what they could to break even. Never was there a character nor a circumstance set up in Gibson's work where the world was changed, reform of policy instituted, or quality of life bolstered. It just wasn't that big a deal.
Often thought of as the cyberpunk bible, the book that gets everything right (in feel and concept) about our cyberpunk future. Neuromancer follows Case, a hacker, though in this setting the term is more complex than I'm willing to go into in this essay, who happens to be a junkie, and is willing to work with Molly, a cyborg mercenary, in exchange for new organs that'll allow him to remain blissfully high for years to come. They go up against corporate and military interests in pursuit of rogue technology through The Sprawl, a place whose social and economic fabric have been torn by World War III and the corporate takeover that stood in place of governmental power, rewriting ethnicity and nationality with employment. Life is shit and tech is insane, still none of the main characters fight for change, none have an appetite for activism in a world that would likely engender it in the real world. They are all focused on the self, their own ambitions.
Another group of self-interested people with access to technology few truly understand are hackers. Despite hacktivism, which is a recent phenomena–very recent and trendy–hackers, when they rose to prominence in the '80s and '90s by way of phone phreaks, inspired characters like Case and Alt Cunningham with their skill and counter-culture appeal. At risk of coming off as flippant, but having to due to the lengthy history involved, phreaks and hackers could be summed up as clever to ridiculously intelligent people bored by the world and intrigued by technology. They explored and tampered with new toys that were once the pride of militaries, then turned into consumer electronics, just to see what they could get away with. Some gained infamy and folk-hero status like Captain Crunch, others went on to be captains of industry like Steve Wozniak, and a devious few have become criminal legends by mastering their art of system breaking, all of which have a home in cyberpunk as a fiction, fulfilling a prediction or living up to a reflection made in the work of Gibson, Pondsmith, and others.
If you're new to cyberpunk, you're probably wondering why, if these people have the ability to affect so much, don't they strive to make a better world. Some with a superficial view may see the punk suffix and think that the politics of the music movement is all there is to adopt, ignoring the simpler anti-authoritarian origins of simply wanting to be left alone, on the outside being just as important. But there is another side to punk and genius that is central to cyberpunk that only the initiated will be able to see and comprehend–nihilism.
Nietzsche spent his whole life defining and refining his philosophical view of the world, and since then has been fractured and adapted to apply to several schools of philosophy, but nihilism can be summed up as the expression of a life that is meaningless, an existence is without reason. No right. No wrong. Things simply are, and people merely exist in the framework. Cyberpunk gets this, it comprehends that the degradation of polite society, the transfer of power from elected seats to shareholders, the turning of war into business, making portions of the world perpetual battlefields with privileged pockets of livability, is not only beyond our control, it is the inevitable corner the world will round in time, the progress of technology and science helping it along the way. And since no one can stop it, nor would anyone really know how, the rational response is to manipulate the complicated apparatus they're already connected to for their personal ends. Look at any of the greats in the genre, whether it's written fiction, film, or examples of people living the life, and you'll find men and women cleverer and more ambitious than you taking control of a system for their own ends, never once thinking about activism or the restoration of social order. Not so much because they don't care, but more so because they can. And in the end there's no big loss, there wasn't a world worth saving anyway.
---
This topic demands further reading (or watching/listening!). These are some resources from scholars of cyberpunk to better make sense of it as a literary genre and subculture, highlighting its cynicism in our tech-fueled world and the bleakness of neo-industrialism for the common man. Essentially these are more insightful talks that reinforce what's been expressed here.