This last week in cyberpunk we witnessed governments behaving badly, the Girl Scouts turning towards the future, and witnessed a seat change in one of the most hated corporations in the world. Happy birthday, Blade Runner. Let's get to the news.
---
Cyberpunk Reality
Travis Kalanick (Finally) Resigns From Uber
In a move many have been anticipating for years, Uber CEO and co-founder Travis Kalanick stepped down. Shareholders convinced Kalanick to take a sabbatical just last week, and it seems to have been a plot to finally oust him from his position. According to the New York Times, investors demanded Kalanick step down after a steady stream of bad press and employee complaints. They told him so in a letter while staying in Chicago. Kalanick reportedly tried to reason with one board member and several investors before agreeing to step down. That being said, Kalanick is to remain on the board of directors.
Supreme Court: Sex Offenders Can't be Banned From Social Media
Here's a story that's bound to test your support for the First Amendment: the Supreme Court ruled a North Carolina law unconstitutional because it kept convicted sex offenders from using social media platforms like Facebook and Twitter (Yay?).
Justices ruled unanimously in favor of Laster Packingham Jr., who was restricted from social media to keep convicted sex offenders like him from contacting minors online. The state of North Carolina argued it was no different from keeping Packingham from schools and playgrounds, but Justice Anthony Kennedy's opinion shot down that position, writing "to foreclose access to social media altogether is to prevent the user from engaging in the legitimate exercise of First Amendment rights."
If you've got kids of your own, EFF has a solid, if quite dated, common sense list of things to teach them about how to protect their privacy and information online.
Mozilla Brings Focus to Android
Firefox finally announced its Focus browser to Android. This will include the same features that made its way to the iOS version last year, like deleting browser history, passwords, and cookies. But those on Android will also be able to speed up browsing by blocking ads and various web trackers.
Girl Scouts Will Soon Earn Cybersecurity Badges
Girl Scouts of the USA announced that as early as 2018 their members will be able to earn cybersecurity badges. In partnership with Palo Alto Networks, Girl Scouts surveyed the girls they represent and found that many of them not only wanted to learn more about cybersecurity but also wanted to get into hacking. In an interview with Gizmodo, Girl Scouts CEO Sylvia Acevedo said "girls repeatedly said they wanted more computer science and they were really interested in cybersecurity in terms of protecting themselves online. Bullying is a big issue. Also figuring out hackathons, they wanted to do that as well."
This initiative will come together next autumn, and girls will be able to earn up to 18 badges that encompass several aspects of cybersecurity. Acevedo also hopes that this broadening of the Girl Scout's interests will get more girls interested in STEM as a whole.
Mexican Government Spied on Journalists and Anti-Corruption Activists With Spyware
Human rights lawyers investigating the disappearance of 43 students in 2014, an American representative defending victims of sexual assault by police, academics and activists working on anti-corruption legislation, and prominent journalists were all targets of spying by the Mexican government. Since 2011, federal agencies have been customers of the Israeli cyberarms firm NSO Group, and their Pegasus software is the common weapon aimed at these targets. With Pegasus, the Mexican government was able to infiltrate mobile devices and monitor calls, texts, emails, gain access to data, and compromise microphones and cameras for real-time surveillance. Pegasus and similar software were purchased with the intent of monitoring drug cartels and terrorist groups, but its use in monitoring lawful citizens and foreigners is unprecedented the government says. In response to this revelation, Mexican officials announced that it has launched an investigation to know for sure if they were behind these spying efforts.
Big Cable Asks FCC to Ban False Advertising Investigations
USTelecom, the American Cable Association, and NCTA-The Internet & Television Association, banded together to petition the FCC to ban any state from investigating its deceptive claims over their available broadband speeds. At present, ISPs can offer a connection speed to customers despite not having the capability of providing it. 35 states have responded, saying such an effort "ignores the Federal Communications Act's preservation of the concurrent state authority over unfair and deceptive practices," and that it "appears that the petition is really seeking to alter disclosure obligations under state law, including state consumer protection laws' prohibitions on false and misleading statements and material omissions in consumer-facing advertisements. Such a ruling would plainly exceed the scope of the Commission's authority granted by Congress, and would be improper."
Disability Advocates Forcibly Removed From Senate by Capitol Police
As Majority Leader Mitch McConnell and Senate Republicans worked behind closed doors to gather votes for their Trumpcare bill, some 60 protesters with ADAPT, a disability rights group, staged a "die-in" demonstration outside his office. The protest was quickly broken up by Capitol Police who proceeded to physically remove protesters, even resorting to lifting them out of their wheelchairs to better carry them out of the building.
Demonstrators stated their biggest concern with the Republican legislation is the proposed $800 billion cut to Medicare, which could severely restrict or outright eliminate their access to basic medical care. According to Politifact more than 43% of Medicare recipients are blind or disabled.
USA a Second Tier Nation
It seems you can actually measure America's decline. According to the Social Progress Imperative, a US-based nonprofit group, the United States of America is a second-tier nation. Based on rankings in 50 different categories, the USA is lacking in social unity, civic progress, tolerance and inclusion and health and wellness. According to SPI executive, Micheal Green, the USA "is failing to address basic human needs, equip citizens to improve their quality of life, protect the environment, and provide an opportunity for everyone to make personal choices and reach their full potential."
You can read all about this new ranking in the Social Progress Index here.
Former DHS Chief Says Putin Ordered Election Cyberattacks, WaPo Backs Him Up
Seems like no matter what we do we can't escape the 2016 US election.
Testifying before the House Russia Investigation, former DHS Secretary Jeh Johnson detailed Russia's efforts to influence the 2016 US electronic. In his opening statement, Johnson said: "the Russian government, at the direction of Vladimir Putin himself, orchestrated cyberattacks on our nation for the purpose of influencing our election–plain and simple. When asked why the Obama administration didn't do more to address this last year if the government was so secure in its assessment, Johnson said the former president didn't want it to be seen as though he was using his influence to imbalance the election. Johnson went on to say that under his tenure, the DHS made several public statements about Russian infiltration and attempts to get the election system designated as government infrastructure in an attempt to draw attention and resources to defend them from state actors. Some state officials were not receptive and fought back against a "federal takeover" of the election system.
Two days after Johnson testified, the Washington Post reported that in August of last year the CIA, via courier, provided a report to President Obama that cites sources from within the Russian government that detail Vladimir Putin's role in the cyberattacks. This includes directions directly from Putin on how the operation should focus on "[damaging] the Democratic nominee, Hillary Clinton, and help elect her opponent, Donald Trump." This was discovered less than a month after the FBI launched its Russia probe and Wikileaks's DNC email dumps.
Republicans Expose Personal Data of Almost 200 Million Voters
Gizmodo reports even more election news. Conservative data firm Deep Root Analytics exposed data gathered from more than 198 million US citizens while working for the Republican National Committee last year. The files, which compromise an approximate 61% of the US population, includes physical addresses, birthdates, phone numbers, and info on electorate leaning for conservative causes like gun ownership, abortion rights, and religious affiliation. Much of this data was originally made available to the Karl Rove super PAC American Crossroads.
DOD Report: Chelsea Manning Leaks Had No Direct Impact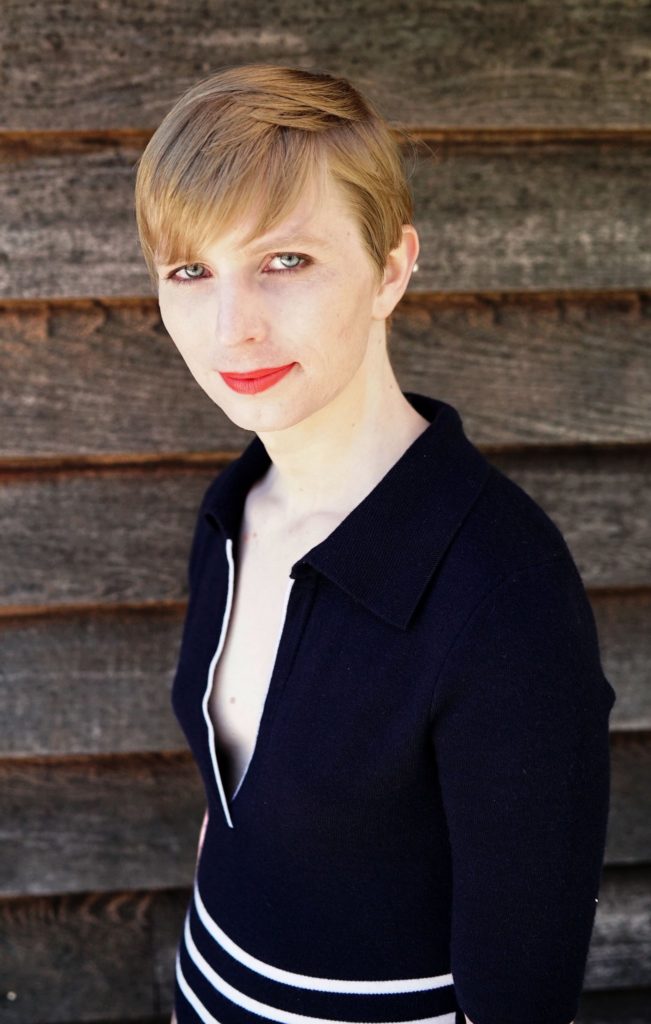 Though seven years have passed since Chelsea Manning was arrested, she hasn't been able to enjoy her freedom in obscurity. Many questions remain about the influence her leaks had on the US government, but according to a Department of Defense report obtained by BuzzFeed News, there isn't much to wonder. According to the 107-page report, the information Manning provided to Wikileaks had "no direct personal impact on current and former US leadership in Iraq." This comes as quite a departure from the DOD's position that Manning had caused incalculable harm through her actions.
---
Cyberpunk Movies
How Fahrenheit 451 Will Handle Propaganda in the Internet Age
Those familiar with the Ray Bradbury classic have been wondering just how HBO will handle propaganda and the fire department in Fahrenheit 451 now that it's taking place in an actual future where physical books are replaced with digital ones. Casting YouTuber Lilly Singh gives us some insight. Singh will be playing Raven, a vlogger and propagandist that live-streams book burnings. But expect this to be just a taste of the movie's futuristic censorship.
Alien Series to Continue, Engineers Will Return
While reviews weren't especially kind to Ridley Scott's continued expansion of the Alien franchise, it's not stopping the director from continuing. In an interview snippet, uploaded by YouTuber Ding Dan, Scott talks about Alien: Awakening:
We're being written now. There'll be three or four different players coming in to investigate. One of which will be the Engineers arriving back to find their planet decimated. I think those ships come and go on regular intervals. I see them as the gardeners of space. Where we go next is obvious. We're gonna actually go to the planet. In so doing…I'm not going to tell you the story.
Blade Runner 2049 – Time to Live
Blade Runner just turned 35 and Denis Villeneuve has admitted there's a possibility his take on future LA won't stack up to the original. While trailers have been received very well, we've got a lot more footage this week that gives us a closer look at his future.
Ridley Scott Sees a Franchise in Blade Runner's Future
It's been known for a while now that the Blade Runner world is bigger than just one movie and its forthcoming sequel, Ridley Scott says he envisions a franchise moving forward. In an interview with IGN, Scott expressed a little Star Wars envy and floated the idea of sequels beyond Villeneuve's movie.
---
Cyberpunk Short Films
Exchangers
On the black market, you can exchange your talents for what your heart desires, or the skills to get a job. And if that doesn't work you can always go dancing with a keygen.
Interview With a Time Traveler
What's the future, really? How ready are you to believe? Elias Toufexis (Adam Jensen) finds out in an "Interview With a Time Traveler."
---
Cyberpunk Television
Dredd TV Show Will Combine the Macabre with the Insane
Rebellion CEO Jason Kingsley sat down with SFX Magazine to talk about the upcoming Dredd TV show. Kingsley noted that Mega-City One has a lot of ground for the men and women of the Grand Hall of Justice to cover, and in that space fans can expect a combination of the "macabre with the insane and the light-hearted." Being that it's so early in the process there's no way of knowing when fans will get to see for themselves.
Confirmed: Westworld Season 2 to Have Endless Mazes
Jonathan Nolan has been teasing Redditors with clues about the upcoming season of Westworld with an image of a maze obscuring the title of a yet-to-be-seen episode. To know what Nolan's teasing for sure we'll have to wait until Westworld returns in 2018.
---
Cyberpunk Games
.hack//G.U. Last Recode Comes to PC and PS4
Craving more action JRPGs after playing NieR: Automata? Namco Bandai sure hopes so now that they're pushing a remaster of .hack//G.U. Last Recode for western gamers on PS4 and PC.
Sega Forever Brings Classics to iOS and Android
Sega announced the launch of Sega Forever, a collection of classic games playable on iOS and Android devices. Features include cloud saves and support for Bluetooth controllers. While these games are free expect ads, but they can be turned off for $1.99.
Sony's Big Plans for Horizon Zero Dawn
In an interview with the Telegraph, Sony Interactive President Shawn Layden answered questions about the E3 press conference. Layden talked a bit about the New Spider-Man game debuting next year and the secretive practices of Kojima, but he seemed to focus heavily on the developers over at Guerilla Games and their robo-dino hunting simulator Horizon Zero Dawn:
The Guerrilla team have spent 10 or 12 years on the Killzone franchise and Horizon Zero Dawn could not be more different from Killzone if it had tried. When they said they wanted to come up with an open world, heavily nature based kind of game using all the different colours they had never used in Killzone – like blue. And red, and yellow, and green – it was a big stretch goal for them but they nailed it. The reception for the game has been fantastic. Herman Hulst (Guerilla Games Managing Director) has got a very keen mind on where he wants to take Horizon and what the roadmap is – and that roadmap is expressed in multiple years. I think we'll be in the Horizon business for a long time.
Read Only Memories Coming to Nintendo Switch
If you've picked up a Nintendo Switch you'll be able to visit Neo San Francisco on the couch or on the go early next year. Midboss made the announcement on Twitter and it's expected this version 2064: Read Only Memories will have everything added in the "Read Only Memories Integral" addition.
---
We got to a lot of news this week, but we could've overlooked something. See something missing? Let us know in the comments below or on social media.