Rough week. 2016 has been a rough experience for all of us, but this past week in global affairs has more than most panicking. Don't. Be aware, be awake, and catch up on what happened this last week in cyberpunk.
Cyberpunk Reality
Esmail and Brooker take to Twitter, Remind us we're Witnessing Reality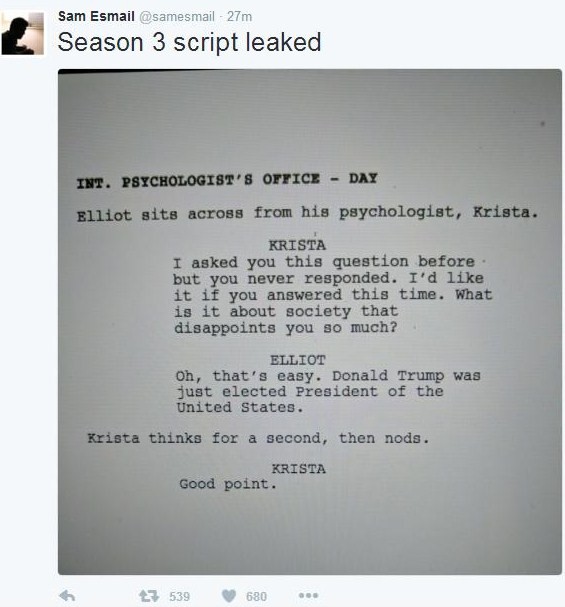 As people around the world tuned in to see the results to the US election, post-cyberpunk showrunners took to social media to express their own shock. Black Mirror's Charlie Brooker assured everyone the election results wasn't a massive AR marketing experience gone dark. Meanwhile Mr. Robot creator Sam Esmail, an American, is still going strong with his barbs against the US' president elect. Considering the questionable positions proposed by this campaign, like resurrecting the House Committee on Un-American Activities in the coming year and placing Jose Rodriguez at the head of the CIA (you may remember him as the intelligence officer who oversaw the CIA's Clandestine Service under Bush 42, coordinated torture for terrorist suspects before and during the Iraq War, and destroyed evidence of it all), it makes sense that Sam would see our current reality darker than anything Elliot's had to face.
Russian COINTELPRO Deciding Factor in US Election?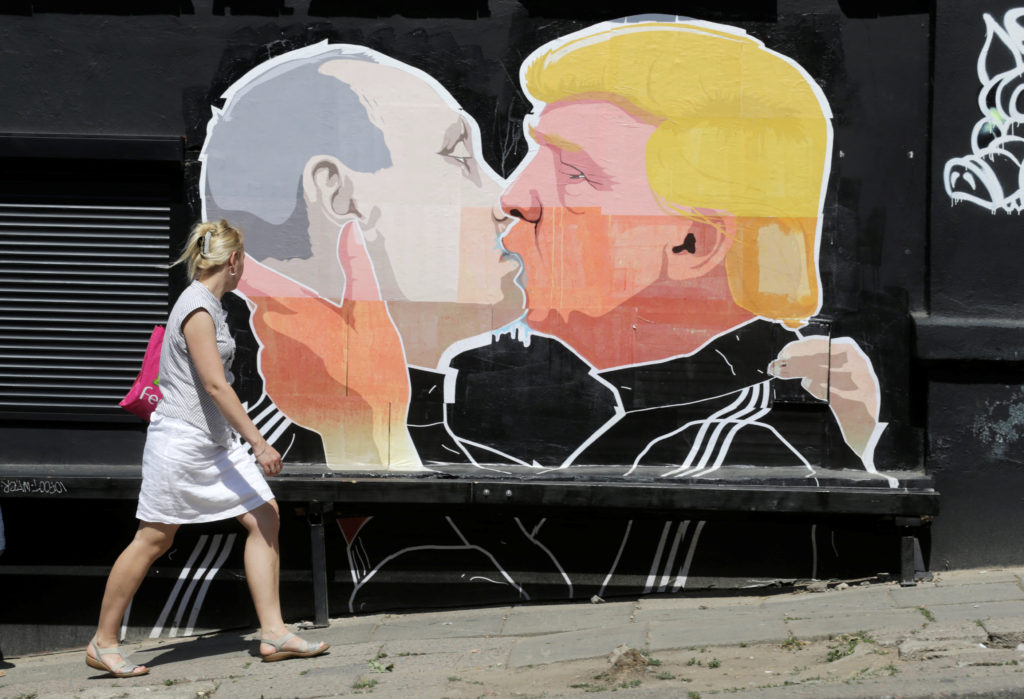 Mere hours after the final states were called on November 8, news emerged from an interview with Sergei Ryabkov, Russia's Deputy Foreign Deputy Minister, claimed that his government had kept constant contact with the Republican nominee's campaign throughout the election. Ryabkov stated that, "Obviously, we know most of the people from [Trump's] entourage. Those people have always been in the limelight in the United States and have occupied high-ranking positions. I cannot say that all of them, but quite a few have been staying in touch with Russian representatives."
While Ryabkov stated that such communications were there to preserve Russia's interests in traditional communiques between world leaders, many speculate that it was a deliberate Counter Intelligence Program aimed at influencing the US elections as they have been known to do throughout Eastern Europe. This has caused some to judge the legitimacy of the outcome of the election in greater numbers after Russia was been pegged as the main culprit behind several hacks that drove the conversation this election cycle. Furthermore, critics of the President-elect wonder how ties with Russia will influence their policy moving forward, especially when he's been on record disparaging diplomatic efforts of the current administration to remove Russian influence in the west. President Obama's outreach to Cuba, one of the strongest allies to the former Soviet Union and a country in debt to Russia, may be at risk of turning away from ties with the US depending on the incoming administration's policy.
For those who can read Russian, you can check out the entire interview with Interfax here.
DDoS Takes Down Russian Banks
Continuing this year's surge in DDoS attacks with everyone's favorite IoT botnet Mirai are all the rage for state sponsored attacks. Earlier this week some 24,000 unique IPs originating in 30 countries set their sights on five Russian banks. It's believed these were all carried out using the Mirai botnet method. Though representatives from the Russia Central Bank tried to down play the damage, Kapersky said in a statement that, "Such attacks are complex, and almost cannot be repelled by standard means used by internet providers."
At this time the Russian government has not identified a possible culprit in the attack.
Brain Stimulation Boosts Skill effectiveness, Military Study Finds
Researchers for the US military concluded that transcranial direct current stimulation (tDCS) made soldiers in demanding roles to complete their tasks with improved efficacy. Tested mainly on air crews and drone operators, men and women were connected to a stimulation kit through five electrodes that shocked specific parts of the cortex, stimulating neurons for improved cognitive ability. While the military seems pleased and ready to continue with their research, people like Neil Levy, deputy director of the Oxford Centre for Neuroethics, argues that before restrictions are lifted and such procedures considered safe for long use, "you want to be very careful about making it compulsory, or there being a strong social pressure to use it."
---
Cyberpunk Books
Cyber World
The future's never looked so bleak, and it's darker still when you take the first steps on to Cyberworld. This anthology of modern cyberpunk stories diversifies our tech-driven experience in twenty short stories by emerging writers, praised by some of the elders of the genre. Check out our review here.
---
Cyberpunk Movies
Ghost in the Shell Gets Approval from Oshii
Though reception has been mixed, with many die hard fans of Masamune Shirow's manga and those who worship the cult classic anime downright condemning the western reboot, some much needed street cred may have finally arrived to the set of the live action adaptation. Mamoru Oshii, the director of the 1995 Ghost in the Shell adaptation, has toured the set of the new movie and has apparently given it his stamp of approval, going so far as to say that Scarlett has gone "above and beyond" his expectations for a live action Motoko. As is always the case, fans will ultimately have the final word.
---
Cyberpunk Video Games
Don't Forget to Rate Me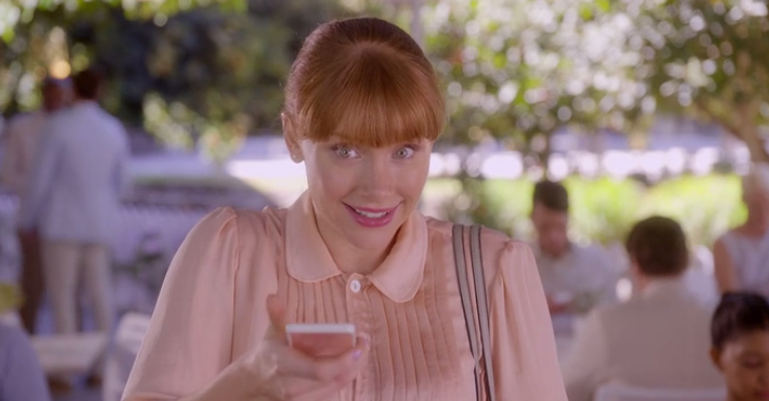 Feeling a little down about your social standing? Is it all that defines your existence, but you don't really know where you stand? Well, now you can propel yourself through your very own "Nosedive" with the Rate Me app that judges the worth of your social standing online. How Fun!
Terminal Directive
Investigator Whitney Frank comes to Android: Netrunner in a new expansion that puts players on the hunt for an augmented serial killer that questions our perceptions of Haas-Biodroids and their adherence to the First Directive. With the clock ticking, players will have to race against other interested parties who are seeking the truth behind the Terminal Directive.
System Crash
Step into worlds just moments into the future in System Crash. In the style of Blade Runner and Neuromancer, developer Rogue Moon Studios have developed a battle card game that allows you to build up decks of mercenaries, hackers and zaibatsu execs as you tour the streets of 2150 San Angeles. Free of micro transactions, endless grinds and battle packs for cash, System Crash is available complete through Steam.
Watch Dogs 2 Launch Trailer
With days away from release, and seemingly available at just the right time we all need it, the official launch trailer for Watch Dogs 2 has been dropped. We can all join the fight alongside Marcus and DedSec on 11-15-2016.
---
Cyberpunk PSA
Surveillance Self-Defense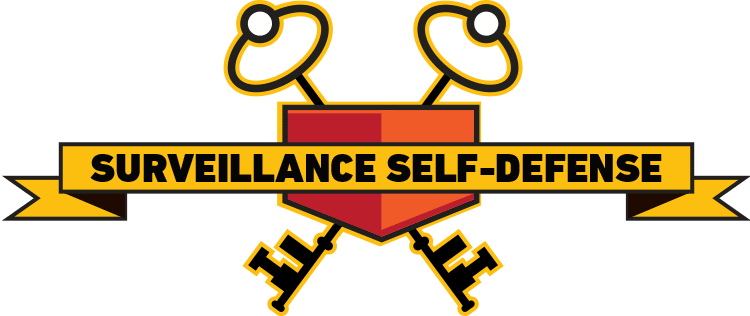 A reminder to all our readers that online security is everyone's responsibility, and in light of recent events we ask that you make the most of the resources at your disposal to cover your digital footprint and inform your decisions. We recommend the Surveillance Self-Defense resource site run by Electronic Frontier Foundation as a good refresher on basic opsec and a comprehensive intro to intermediate security you can use to better your chances of remaining safe online no matter who is looking. And trust us, someone's always looking.
There's no way we caught everything this week, so let us know what cyberpunk news we missed on social media or in the comments below.
Featured image provided by Phage.