Last Week in Cyberpunk is back. We want to apologize for the absence of this popular column on Neon Dystopia, but you can expect us back on our regular interval. As the year has turned, we still find the Internet under siege by corporations looking to turn a profit and governments looking to secure control. The year is looking bright for the fiction inspired by our living dystopia, Richard K. Morgan's name is prominent with a new book on the horizon and the advent of Altered Carbon on the small screen, not to mention classic dystopian tales, Cyberpunk 2077 news, and a return of Albert Pyun's Nemesis series.
---
Cyberpunk Reality
Internet Censorship as a Means of Stopping Fake News
We are currently seeing a disturbing trend across the global stage of governments using the US election's disruption by Russia and the incidence of 'Fake News' as means to institute draconian laws that amount to censorship. China has been guilty of this for a long time, and this comes as no surprise in functioning dictatorships. However, this week Brazil, a cesspool of political corruption, has announced that they will be using police power to suppress what is considered 'Fake News' with, or without, actual legal backing to do so. This is immensely problematic in a country where a large number of the sitting politicians have been charged with corruption and this kind of law may be used to maintain their power in the country. France announced just last week, that they would also be proposing legislation that would enable the government to suppress 'Fake News' during election times. This memetic infection is spreading globally, and it is likely that similar laws will crop up everywhere.
House Reauthorizes Section 702, Continuing a Spying Legacy
On January 11th, the US House of Representatives voted to continue a legacy of spying on American citizens without a warrant which has existed for more than a decade by reauthorizing the Foreign Intelligence Surveillance Act, and specifically section 702, which allows the NSA to share information with the FBI for domestic criminal investigations, which for the record includes investigating government dissidents. The scope of these surveillance programs was revealed by Edward Snowden, although the Executive Branch has never officially revealed to what extent these laws are used (despite many requests from the Legislative Branch), and so we know that data is collected from indiscriminately from data hubs and that data is obtained in droves from large Internet companies such as Google, Microsoft, Apple, and Yahoo. There is still a chance to defeat this reauthorization in the Senate.
Net Neutrality Gaining Support
In the death throes of 2017, the FCC led by Chairman Ajit Pai repealed Net Neutrality rules that had prevented telecoms from prioritizing some data over others. Since that time, multiple US states such as California, Nebraska, and Washington introduced their own Net Neutrality legislation despite Pai's claims that the FCC will preempt such laws. While the tides rise against the FCC's position, Senator Ed Markey, a Democrat from Massachusetts, has launched a resolution under the Congressional Review Act to reverse the repeal and the resolution is garnering support on both sides of the aisle. Most recently, Republican Senator Susan Collins of Maine has pledged her support the return of Net Neutrality rules. If you live in the US, you can apply pressure to your representatives with the aid of the EFF here.
Chelsea Manning Runs for Senate
Chelsea Manning, who has gained fame for the largest leak of US classified material in history to Wikileaks and who was subsequently sentenced to 35 years in prison for bringing the wrongdoing of the US government to light, has filed to run for the US Senate in Maryland following her release from prison early as one of President Obama's final acts. It is likely that Manning will run on a progressive Democrat platform with an emphasis on transparency, free speech, civil liberties, transgender rights, and computer security, all of which have been a journalistic focus for her since her release.
---
Cyberpunk Television
Altered Carbon Promotional Machine in Full Gear
The new trailer from Netflix's Altered Carbon is an exciting one. The show promises to be a fairly faithful adaptation of Richard K. Morgan's classic cyberpunk work of the same name. Expect fantastic fight sequences paired with deeply philosophical concepts about class and what it means to be human when the body is nothing but a husk, and the rich can afford to be immortal. Alongside the epic trailer, Netflix released a host of images that depict the main cast in plastic packaging, emphasizing the disposablility of the body in the world of Altered Carbon. That isn't the extent of Netflix's marketing engine though, they also placed a promotional exhibit at CES acting as the show's PsychaSec, the megacorporation behind the transference of psyches between bodies, and acting as a real company. Pretty impressive marketing, really.
Christian Slater Wins Golden Globe for Mr. Robot
Christian Slater won a Golden Globe for his performance of the titular Mr. Robot in the amazing television drama Mr. Robot.
B: The Beginning, Biopunk Anime from Production IG
Despite the frankly boring plot synopsis,
In this anime series, scientists hope "new humans" will create universal peace, but they're kidnapped by an evil group with very different plans.
B: The Beginning looks like another fantastic cyberpunk series from Production IG. This show does feel more on the biopunk side of things, then again, we have certain feelings about that. B: The Beginning premieres on Netflix on March 2nd.
Snowpiercer Comes to Television
A Snowpiercer television series has been green-lit by TNT based on the fantastic movie, which had fantastic cyberpunk elements and themes. Personally, I would have liked to see a mention of the original French comic from the studio, but I'm glad to see that the pilot is being written by Josh Friedman of Terminator: The Sarah Connor Chronicles fame. There is currently no release date.
The Handmaid's Tale to Return
The first season of The Handmaid's Tale covered the entirety of the cyberpunk-adjacent book by acclaimed author Margret Atwood. Now that the Hulu original show has been renewed for a second season and will be premiering in April, we can expect to see more original and timely social commentary.
---
Cyberpunk Movies
Albert Pyun's Nemesis Returns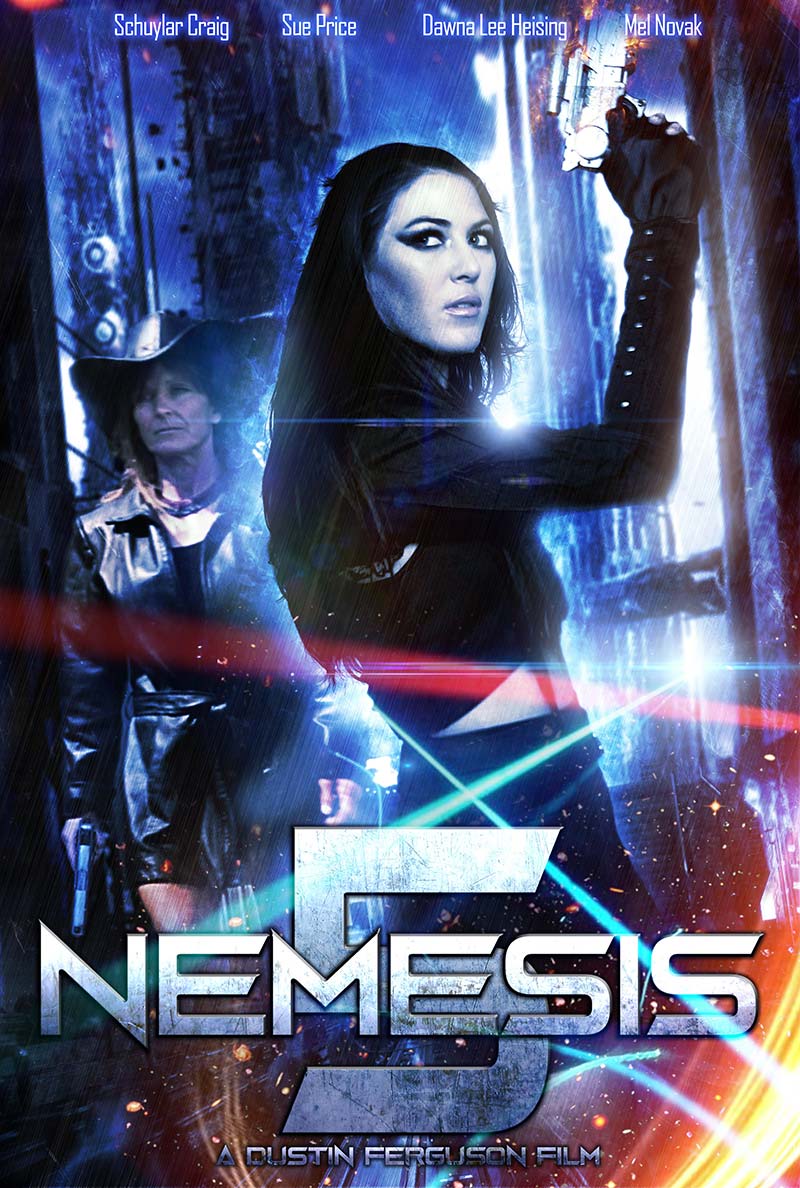 Albert Pyun is famous for his cult favorite entries into the cyberpunk canon such as Nemesis and Cyborg, which both spawned numerous sequels. In the tradition of such sequels, Nemesis has just spawned its 5th entry, called simply Nemesis 5. It will see the return of Sue Price as Alex Rain alongside a new character who is a 'new model.' The official synopsis is as follows:
It is the year 2077 and terrorist organization known as The Red Army Hammerheads now dominate the Earth. The fate of humanity now rests in the hands of The New Model, Ari Frost (Schuylar Craig). Trained under the wing of Alex Rain (Sue Price who has starred in four films in the "Nemesis" franchise), she must form an army of Cyborg Humans to take down the regime and regain control. After all, 86.5% is still considered human…
There isn't a release date at the moment.
Ridley Scott is Ready for Another Blade Runner Sequel
Ridley Scott commented to the Digital Spy when asked if there would be a follow-up to Blade Runner 2049:
"I hope so," he said. "I think there is another story. I've got another one ready to evolve and be developed, so there is certainly one to be done for sure."
I, for one, would love to see more stories set in the Blade Runner universe. I am yet to be disappointed on this front unless you count Soldier…
If you somehow missed the release of Blade Runner 2049 on video, you can check it out here.
Fahrenheit 451 Becomes More than a Classic Novel
HBO Films is bringing Ray Bradbury's classic novel Fahrenheit 451 to life as a movie this spring, unsurprisingly, on HBO. The official synopsis of the dystopian film is:
In a terrifying care-free future, a young man, Guy Montag, whose job as a fireman is to burn all books, questions his actions after meeting a young girl…and begins to rebel against society.
Although it is unclear whether or not Fahrenheit 451 will be strictly cyberpunk as an adaptation, it is certainly of interest to Neon Dystopia's audience, and it has a good chance of having cyberpunk elements as the film will be updated with modern sensibilities.
---
Cyberpunk Video Games
Cyberpunk 2077 Comes to Life
On January 10th, the Twitter account for CD Projekt Red's Cyberpunk 2077 made its first tweet since May 2012. The tweet said simply, "beep." What does this mean? No one is sure, but hopefully, it means that there is substantial news concerning the game coming soon.
*beep*

— Cyberpunk Game (@CyberpunkGame) January 10, 2018
---
Cyberpunk Books
Richard K. Morgan's Thin Air
Richard K. Morgan, the mind behind Altered Carbon, which will be coming to Netflix in February, has a sequel to his novel Thirteen (aka Black Man) coming out on July 31st called Thin Air. The series might be considered more biopunk by some with its focus on genetic engineering, but it certainly still has a cyberpunk feel. You can read the official synopsis here:
An ex-corporate enforcer, Hakan Veil, is forced to bodyguard Madison Jegede, part of a colonial audit team investigating a disappeared lottery winner on Mars. But when Jegede is abducted, and Hakan nearly killed, the investigation takes him farther and deeper than he had ever expected. And soon Hakan discovers the heavy price he may have to pay to learn the truth.
You can pre-order a copy here.
Gnomon
Gnomon is the most recent novel from author Nick Harkaway and feels very cyberpunk. The constantly monitored society feels like something from Minority Report or Psycho Pass, the investigator angle gives it a science fiction noir vibe reminiscent of Blade Runner, and the idea of a sociopathic AI from the future has a definite Terminator vibe. The official synopsis of the novel is:
In the world of Gnomon, citizens are constantly observed and democracy has reached a pinnacle of 'transparency.' Every action is seen, every word is recorded, and the System has access to its citizens' thoughts and memories–all in the name of providing the safest society in history.

When suspected dissident Diana Hunter dies in government custody, it marks the first time a citizen has been killed during an interrogation. The System doesn't make mistakes, but something isn't right about the circumstances surrounding Hunter's death. Mielikki Neith, a trusted state inspector and a true believer in the System, is assigned to find out what went wrong. Immersing herself in neural recordings of the interrogation, what she finds isn't Hunter but rather a panorama of characters within Hunter's psyche: a lovelorn financier in Athens who has a mystical experience with a shark; a brilliant alchemist in ancient Carthage confronting the unexpected outcome of her invention; an expat Ethiopian painter in London designing a controversial new video game, and a sociopathic disembodied intelligence from the distant future.

Embedded in the memories of these impossible lives lies a code which Neith must decipher to find out what Hunter is hiding. In the static between these stories, Neith begins to catch glimpses of the real Diana Hunter–and, alarmingly, of herself. The staggering consequences of what she finds will reverberate throughout the world.

A dazzling, panoramic achievement, and Nick Harkaway's most brilliant work to date, Gnomon is peerless and profound, captivating and irreverent, as it pierces through strata of reality and consciousness, and illuminates how to set a mind free. It is a truly accomplished novel from a mind possessing a matchless wit infused with a deep humanity.
You can order Gnomon here.
The Robots of Gotham
The Robots of Gotham is the first novel from author Todd McAulty who has a Ph.D. in supercomputers and was part of the start-up that created Internet Explorer(not sure if that is a point for or against him). The official synopsis of the novel is:
After long years of war, the United States has sued for peace, yielding to a brutal coalition of nations ruled by fascist machines. One quarter of the country is under foreign occupation. Manhattan has been annexed by a weird robot monarchy, and in Tennessee, a permanent peace is being delicately negotiated between the battered remnants of the U.S. government and an envoy of implacable machines.

Canadian businessman Barry Simcoe arrives in occupied Chicago days before his hotel is attacked by a rogue war machine. In the aftermath, he meets a dedicated Russian medic with the occupying army, and 19 Black Winter, a badly damaged robot. Together they stumble on a machine conspiracy to unleash a horrific plague—and learn that the fabled American resistance is not as extinct as everyone believes. Simcoe races against time to prevent the extermination of all life on the continent . . . and uncover a secret that America's machine conquerors are desperate to keep hidden.
You can pre-order The Robots of Gotham, which is set to come out June 19th, here.
Bash Bash Revolution
Bash Bash Revolution is a new novel from Phillip K. Dick Award-nominated novelist David Lain that looks to be a post-cyberpunk story and explores artificial intelligence in an apocalyptic and revolutionary setting. The official synopsis of the novel is:
Seventeen-year-old Matthew Munson is ranked thirteenth in the state in Bash Bash Revolution, an outdated video game from 2002 that, in 2017, is still getting tournament play. He's a high school dropout who still lives at home with his mom, doing little but gaming and moping. That is, until Matthew's dad turns up again.

Jeffrey Munson is a computer geek who'd left home eight years earlier to work on a top secret military project. Jeff has been a sporadic presence in Matthew's life, and much to his son's displeasure insists on bonding over video games. The two start entering local tournaments together, where Jeff shows astonishing aptitude for Bash Bash Revolution in particular.

Then, as abruptly as he appeared, Matthew's father disappears again, just as he was beginning to let Jeff back into his life.

The betrayal is life-shattering, and Matthew decides to give chase, in the process discovering the true nature of the government-sponsored artificial intelligence program his father has been involved in. Told as a series of conversations between Matthew and his father's artificial intelligence program, Bash Bash Revolution is a wildly original novel of apocalypse and revolution, as well as a poignant story of broken family.
You can pre-order Bash Bash Revolution, which is set to come out March 27th, here.
---
Did we miss anything this week, or in the time that we were offline that you'd like to discuss? Let us know on social media or in the comments below.