Scandroid invokes a level of cyberpunk that few other musicals projects have. As you are drawn into the engrossing music, you envision walking the streets flanked with neon signs, and AI lurking in every corner. By the end you are sure, man has achieved something more than human.
Scandroid is the a project spearheaded by the Klayton, the lead of Celldweller, and Varien, who is known for a variety of electronic music. The music itself is an 80s style retro electronic music with a focus on "Neo-Tokyo."
Scandroid began it's life with a social media campaign revolving around a video called, What is the Salvation Code.
A website called salvationcode.com came online shortly thereafter, which required a password to access. This password was 2513 as revealed in the previous video. Accessing the inner sanctum of the site took you to a new video called We Are Scandroid, and revealed a release date for the song Salvation Code, which was subsequently released on 8/6/2013.
On December 7th, 2013 they released a poster with the caption, "Hidden in this flyer lies a clue regarding the next transmission…"  Then, on December 11th 2013, they posted a picture alongside the the caption, "Get lost in the Datastream."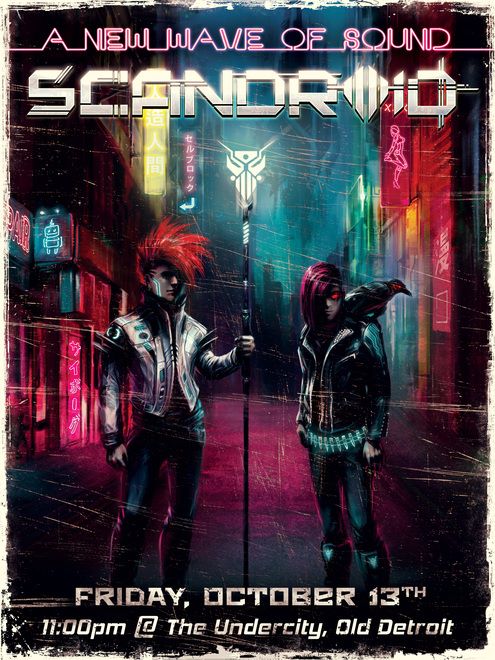 Following this on December 13th, 2013 the song Datastream became available with yet another riddle: "Alter the extension of a new beginning in order to READ what the others can only SEE."
Three days before the release of their third song on August 5th, 2013, Varien tweeted that he would no longer be working on Scandroid. Ironically, the third song is entitled "Empty Streets," and is largely about walking alone. On August 12th, an official music video was released that chronicled the loss of Varien in a retro 8-bit style, and at its conclusion introduced a new character named Aphelion.
Months later, on October 20th, 2014 Scandroid released their fourth song, entitled "Aphelion," which is a clear homage to the Empty Streets video.
Scandroid encapsulates many cyberpunk themes: isolation, artificial intelligence, streets bathed in neon, brain computer interface, virtual interaction, and more. This music will make you long for an 80s that wasn't but could have been. An 80s that is now, much like the cyberpunk of today.