Some may think the EBM scene in Brazil is not so strong, but the truth is that there are still many artists striving to keep it alive. One to be mentioned is Alex Strunz, the mind behind the Techno-EBM band Vector Commander. Started in 2002, the project was also an inspiration for Alex to create two other side-projects: Machine Revenge (EBM/Industrial) and Vector Renegade (Electro Oldschool).
The name Vector Commander combines a militaristic feeling to the idea of a band that reunites and merges different styles of underground electronic music. "It is a Techno and EBM project, but I believe that when you merge your music, that makes it bigger. It mutates and evolves. However, you need to keep your identity strong, which is something you only achieve through the years", says Alex.
Since his early years, Alex always appreciated machines, robots, military, science fiction and technology. "I guess I was already born in a cyber-technological context. Movies such as Tron, Mad Max, Mark 13 and Hardware were fundamental to keeping my mind active and full of dreams", tells the 40-year-old DJ.
Musically speaking, the 80's were a great influence to Vector Commander too: from bands such as New Order to music styles as Dance Music, Hardcore and, of course, EBM. For instance, the Belgian group Front 242 is quite important to Alex. He recalls buying all of their CDs and getting very excited with such different music and with their cover arts.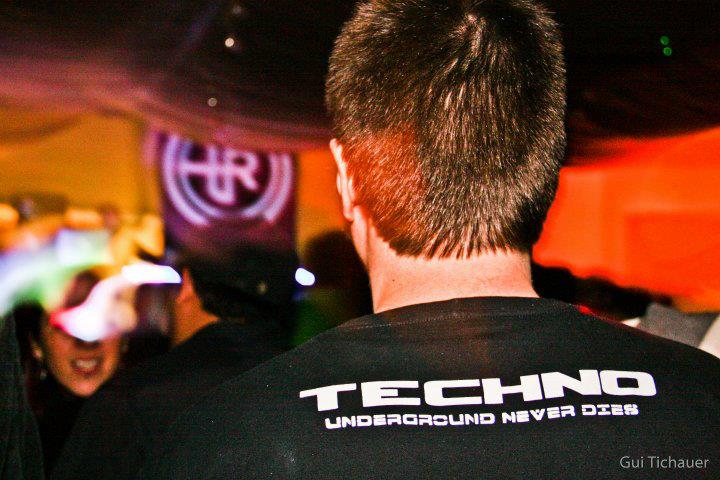 Putting everything together in Vector Commander, Alex got as result a combination of futuristic aesthetics, with harsh, dark and dancing music. "I like to work with merging aesthetics. The idea that the machine can be a man and that a man can be the machine. Everything is connected, it only depends on how you see it", he argues. Also, the feedback is very important to the musician, because he sees this exchange between the producer and the listeners as something very constructive: "Music was made to work with sensations and our brain is glad to get all these binary information. We producers have the mission to show our world to a public that will translate all these sensations in a special way."
You can see cyberpunk running through the veins of Vector Commander. Alex attests that the high tech-low life slogan is a motto in his project. However, the DJ is very optimistic, in contrast to the nihilism presented in the subgenre. "We need to be visionaries with our own music, so it can surpass obstacles and make the world something better with the help of technology. I feel privileged for being a cell, among so many others, that can change the world somehow."
Alex says that the Brazilian Industrial/EBM scene has many good bands and producers. Tatari Gami, Homicide Division and Aesthetische are some of the artists that are still active, but it is difficult to measure it physically. "There's a lack of opportunities. Unfortunately, there are few clubs that could support this kind of music here. And I am considering São Paulo, the city where I live and where you can find several music styles", says Alex. He mentions that clubs such Madame Satã and Hotel Cambridge are some of the remaining places where one could listen to EBM in São Paulo – mostly in special nights. "Personally, I think São Paulo could be the Brazilian nest of EBM, but we need people to be more united in order to make that happen. It's a domino effect when the scene improves. We get more clubs, the music gets widespread and the parties grow bigger. Everything gets better. Music needs movement!"
https://soundcloud.com/vectorcommander/drama-o-monstro-reanimate-remix-by-vector-commander-machine-revenge
Thinking about that, Alex has made a remix for the parody EP The Evangelic Cure, organized by Tatari Gammi. You can listen to it via Facebook or download it. You can follow his work on Facebook or Twitter and listen to his live PA and DJ sets on the following links: