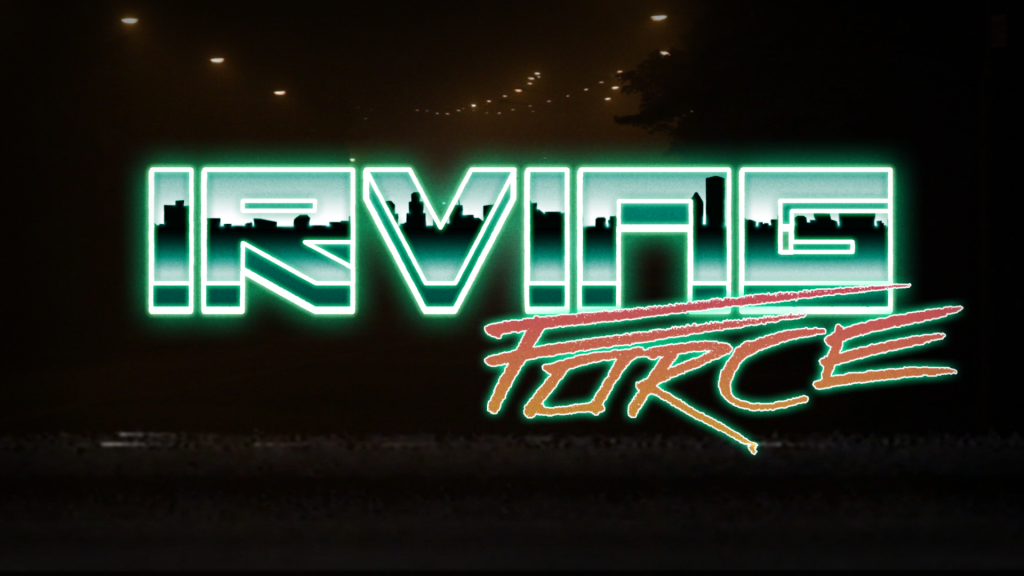 The cyberpunk music scene in 2015 is off to a great start with Stockholm-based producer Irving Force's recently released debut, the Undercover EP. The EP's six atmospheric tracks not only invoke clanking cyborg factories in tracks like 'Constructing Androids' or neon-lit back-alley gang fights in the crushing 'Meat Grinder City' through the medium of pulsing bass and glitchy synthesisers, but guide the listener through cyberpunk narratives that twist and mutate with a playfulness that makes the Undercover EP really stand out.
Irving Force has been writing and recording music for almost a decade as a member of metal band Vapenlicens and as vocalist in the doom/black metal band Vanhävd. The cyberpunk influenced Irving Force project was originally devised in order to produce music that was intended to be more fun, poppy and retro influenced than his metal projects, however darker elements drawn from metal, video games, dystopian cyberpunk and post-apocalyptic cinema soon found their way into the music, alongside a liberal serving of 80's pop influences.
With the Undercover EP recently released through his website and a second due to land in late February or March this year, Irving Force was kind enough to take the time to talk to Neon Dystopia about writing, recording, his cyberpunk influences and his love of Dredd and 2000 AD.
---
One thing that really stood out for me on the Undercover EP was how cinematic the songs were, like how 'Constructing Androids' begins with glitchy sounding synths and ends by incorporating what almost sounds like a moody Ennio Morricone guitar line. Do you write your music to fit a story line or is this something you find happening though the writing process?
Irving Force:  I actually got into making 80's retro music because I wanted to score film and made a few submissions for a retro action short called 'Angel of the City.' I didn't end up getting the job, but I really liked it and decided to keep doing it. Sam Kužel did a great job with the score though.
The writing process is different from track to track. I do have a story in my head of who Irving Force is and what the world he lives in is like, so you could say I am kind of writing a score for that now instead. Sometimes I am inspired by the aesthetics or tone of a movie or a game or such. I was playing Alien: Isolation and the dark retro-futuristic feel was so awesome that I had to put the game down for a while to start writing 'Tech Scavengers'. Other times I imagine a scene or location and try to score it. In 'Constructing Androids' I was imagining a huge cold factory with machines that were constructing androids, thus the title. A lot of the time a piece starts out one way but ends up as something completely different in the end. On 'Stakeout' for instance I originally wanted to make a silly rock'n'roll party type track but I think the only remnant of that in the finished version is one riff in the middle of it.
The Undercover EP has some really surprising song structures and arrangements on there, like when Night Patrol breaks down and then comes back to life with smooth saxophone. How do you record your music? Is it all software synths or are there some vintage synthesizers and live instruments too?
Irving Force: I am using mainly software. The sax on 'Night Patrol' is a VST as well. I don't know that much about actual hardware synthesizers to be honest and I am only now learning how to play keyboard. It is also not really economically viable for me at the moment. I do play guitar on a few of the tracks though. Being used to playing in a band where everyone has to meet up somewhere with a bunch of gear, I must say I really like that it is just me and a computer though (and some midi controllers and the occasional guitar of course). I enjoy the simplicity of it. I can just get up in the morning, turn on my monitor and immediately start writing without any hassle. Most of the time.
You've mentioned being influenced by video games, cyberpunk and movies. Are there any games or movies that stand out as being particular influences?
[pullquote cite="Irving Force" type="left"]"…there is just something really cozy about the idea of the main character Jill being holed up safely in her apartment while the world outside is complete shit,until a robot with a drill for a penis tries to kill her, of course."[/pullquote]
Irving Force: I love the synthesized distorted guitar sound heard in a lot of 16-bit era games. A lot of the music from the Biker Mice from Mars racing game for SNES and TMNT: The Hyperstone Heist for Mega Drive just sounds insane to me. Like something you'd wear an all jeans outfit, a backwards cap and sunglasses and try to impress ladies with your air guitar skills to. That would be the life!
One of my absolute favorite movies is Hardware, I find a lot of the elements of it very inspiring. To me, there is just something really cozy about the idea of the main character Jill being holed up safely in her apartment while the world outside is complete shit,until a robot with a drill for a penis tries to kill her, of course. There is just so much detail in the universe established in it. From what I understand it is based on a story from 2000 AD, so I like to watch Dredd  and pretend that they are canonical with each other. Both films really need sequels I think, especially Dredd. I try to link the [Dredd sequel] petition with my track 'Meat Grinder City' whenever possible. Dredd and also Assault on Precinct 13 were my main influences on that track.
John Carpenter, Cliff Martinez (particularly the Contagion score), Jan Hammer and Tangerine Dream have all influenced me in different ways. I loved the music in The Last of Us by Gustavo Santaolalla.
You've been an active musician and songwriter for some time now, but this is your debut synthwave EP. What advice would you have for anyone else interested in producing synthwave?
Irving Force: There are a lot of great people in the synthwave scene that are willing to help out and answer questions about production and such. It is very encouraging how nice everyone is. Make friends and try to help other people out as well. Try to find your own voice musically and strive to do something different. Every track you make doesn't have to be a masterpiece, a lot of what you produce may turn out just to be practice or to be a prototype of a future track.
---
The Undercover EP is available now for download via Irving Force's website at http://www.irvingforce.com.