Perturbator is without a doubt the best known synthwave artist presently active. What is less known, however, is that Perturbator is James Kent, son of Nick Kent, journalist for the seminal British music magazine New Musical Express. Back in 1976, Nick Kent had a tense relationship with the emerging UK punk rock scene, culminating in his being beaten with a motorcycle chain by Sid Vicious, an event that allegedly won the latter his nickname and his role as a bassist in the Sex Pistols. Kent eventually came around, embraced punk rock, and even conducted a heartbreaking interview with a very self-conscious Vicious apparently oblivious of their previous relation.
This is all circumstantial, but I can't help but think that this factoid, this indirect contact with punk culture, has something to do with Perturbator being the meanest of synthwave acts. And this is the paradox of Perturbator: I've never seen this many metal t-shirts at an electro gig, and yet there was this girl sporting an 80ies aerobic jumpsuit straight out of Flashdance.
The SAT in Montréal (Canada) looks like a warehouse, with concrete columns and an open ceiling full of pipes and wires, so it's the perfect venue for alienated youth, and for bands like Soft Moon, Atari Teenage Riot or Nitzer Ebb, all of which having played there in the last couple of years. Behind the stage were columns of light bulbs and columns of moving searchlights that felt like police choppers were searching the crowd. On the ceiling, in the middle of the pit, was a strobe light that frequently flashed the audience, something usually seen in nightclubs and not at live shows, thus imposing a sort of "party" feel to the event.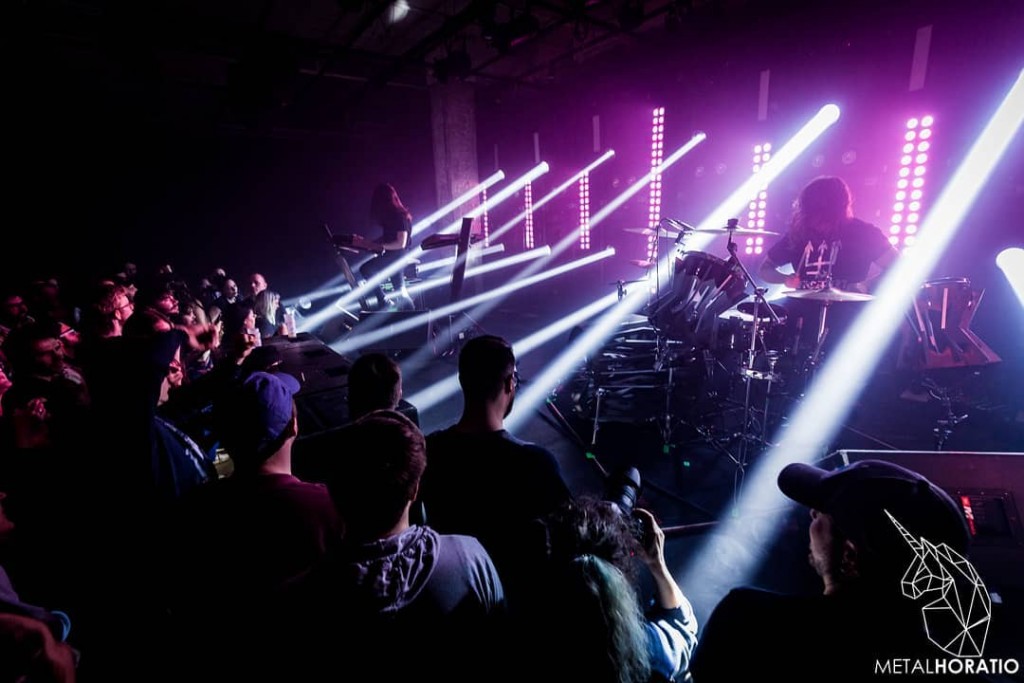 I was happy to notice the drum kit on the stage. As much as I love drum machines… there is nothing like live drums. I wish, however, that the balance would have been just a little more on the synth, as the pounding rhythms were muffling the leads. Perturbator plays a Prophet-6 sequencer synth as his main instrument, with a DSI Morpho X4 as a backup. From what I saw, Kent mostly uses his keyboard to trigger arpeggiators and enveloped PADs, and rarely play actual melodies. This is strictly factual and not a comment on his musicianship, I care very little for virtuosity and synthwave is mostly an atmospheric genre, therefore we should not expect otherwise.
I must confess to have a negative bias against cheesy ballads like "Meet Jimmy" (from the Sexualizer EP), and this is something that keeps me from truly embracing synthwave. However, Perturbator live and in person takes no prisoners. Save from the heavy and slow "Birth of the New Model" in lieu of intro, the performance was loud and fast. All tracks played came from his latest releases (New Model, The Uncanny Valley, Dangerous Days), but with such great pieces like "Neo-Tokyo" and "Humans Are Such Easy Prey", how could we complain? The great "Welcome Back / Perturbator's Theme" were aptly played as an encore, with "The Cult of 2112" closing the night.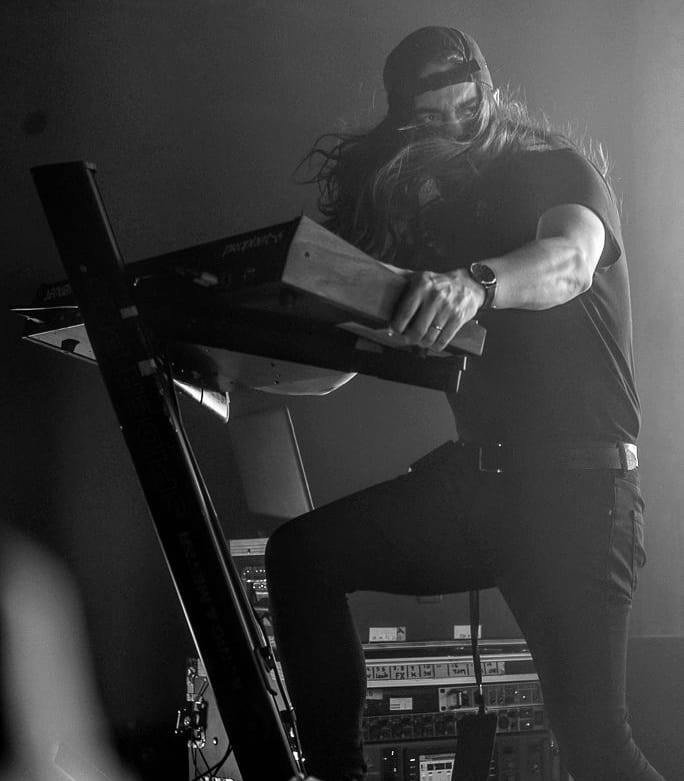 Despite not talking to the crowd at all, Perturbator knows how to communicate with his audience. Frequently standing on the base of his synth stand, saluting the room with a victorious raised fist, or clasping his hands in a thankful gesture on numerous occasions. He has a great stage presence, somehow aggressive while still standing behind his machines, and often spinning his hair in a metal fashion.
The previous visit of Perturbator in Montréal was part of the Metal festival Heavy MTL, which was odd since to the best of my knowledge no other electronic act has ever played the festival in his ten years of existence. Now that I've seen Perturbator live, it makes perfect sense. This is as close to heavy metal electronica can get.