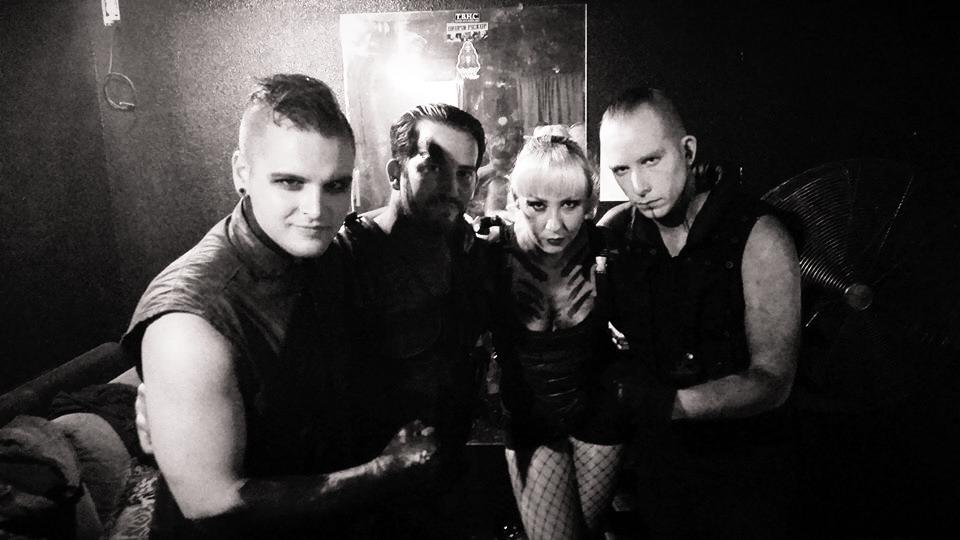 Starting back in 1997, the aggrotech/dark electro Dutch band Grendel was named after the beast in the Anglo-Saxon tale Beowulf. That's where the folk inspiration ends – the group, headed by VLRK (JD Tucker), is totally about cyberpunk, science fiction and rebellion.
In 2000, they released their first promo CD, featuring some club favorites such as Strangers and Nothing Like Senses, which were also included on the debut album Inhumane Amusement (2001). With five EPs and four albums, the latest released in 2014, Grendel is constantly touring in Europe. In fact, when I visited Austria in 2011, I almost had the opportunity to see VLRK DJing in a club in Bratislava, Slovakia. Although I couldn't join the party, I kept a constant admiration for Grendel's aesthetics and themes.
Together with other industrial bands such as Feindflug, Nachtmahr and Funker Vogt, Grendel has a militaristic feeling in their music and maybe even in its aesthetics, but it's more sci-fi oriented than the others mentioned. Tracks such as Soilbleed bring this mood both in its rhythm and the samples. In this specific case, they got some quotes from the movie Full Metal Jacket (1987), a favorite between industrial artists.
https://www.youtube.com/watch?v=t6GSKc-sJuQ
However, the movie quotes go further in Grendel. To keep talking about science fiction, the sample used right in the beginning of Chemicals and Circuitry is a monologue recited by Keanu Reeves in A Scanner Darkly (2006), the American film based on the novel of the same name by Philip K. Dick. Moreover, you will find in this dancing song a story and a mood that are a classic in cyberpunk fiction:
Melodies resound in my brain like a drone; I've been three days awake on a shitload of coke, man; She's looking at me with an evil smile; I know that gleam in her eye and, damn, she flaunts it with style, yeah; The city, it loves you, coursing, rising; With that light from within that races straight to your brain, yeah; The city, it loves you, coursing rising; As we're here, in the now, and pushing forwards to mayhem; Screaming harder, faster, better, louder.
It's easy to hear that and see Neuromancer's Case and Molly in this same scenery. The revolutionary and rebellious feelings in Grendel's song is one of its finest characteristics. In The Judged Ones, you can hear more of this inspirational source in verses like these:
You have just judged yourselves.
You better lock your doors and watch your own kids.
Your whole system is a game, you blind, stupid people.
Your own children will turn against you.
Your Children will raise up and kill!
In fact, this is a sample from the movie The Manson Family (2003), an American crime drama film covering Charles Manson and his "family" of followers. Although these inspirations may be found in non-cyberpunk movies, when you add such (rather violent) ideas with the synthetic beats, you find the perfect cyber-and-punk mood. This song was included in Harsh Generation (2007), the album that anticipates Timewave Zero (2012).
The title comes from a theory proposed by Terence McKenna, an American author who had experiences with psychedelic drugs, shamanism, metaphysics, culture, technology and other subjects related to his research on the origins of human consciousness.
McKenna demonstrated his fractal model of time and history through a MS-DOS software named Timewave Zero, which was programmed by Peter Meyer. This idea was first described by McKenna in a book he wrote in 1974, together with his brother Dennis – The Invisible Landscape. In a nutshell, it's a pseudoscientific idea that tries to predict the ebb and the flow of novelty as an inherent quality of time. McKenna suggests that time is not constant, but it has qualities that could tend to what he called habit and then novelty. We can understand habit here as something entropic, repetitive and conservative, while novelty has to do with creative and progressive phenomena. After his experiments with psilocybin mushrooms in the 1970's, McKenna found in the King Wen sequence of the I Ching one of the basis of his novelty theory – does that ring a bell to you? The Man in the High Castle?
In Grendel's albums Timewave Zero, they bring a new version of Chemicals + Circuitry together with songs such as Neon City Nights (instrumental) and Timewave Zero, which is the soundtrack of their second official video. At first, I thought it was a fanmade work, but then you discover that the visuals may be intentional to tell the cyberpunk-ish story of a quite 80's style biker, driving between outdoors and skyscrapers while smoking and sniffing Matrix-green data.
Currently, the band has five members: JD (vocals, programming and sampling), Sascha (live synths), Paul (guitar), Ben (live drums) and Mel, who joined them in 2012 and is the first female member. She plays the synths during the gigs and provides the backing vocals – you can listen to her in Deep waters (Timewave Zero, 2012).
I look forward to hearing anything new from Grendel. There is no clear news, but two years already passed since Timewave Zero. I hope 2015 be the perfect time for them to release an album.
You can follow their updates on Facebook, Instagram and YouTube.