Mr. Robot tests the relationships between masters and their slaves as Elliot proves to be stronger than he thought. But having friends close by never hurts.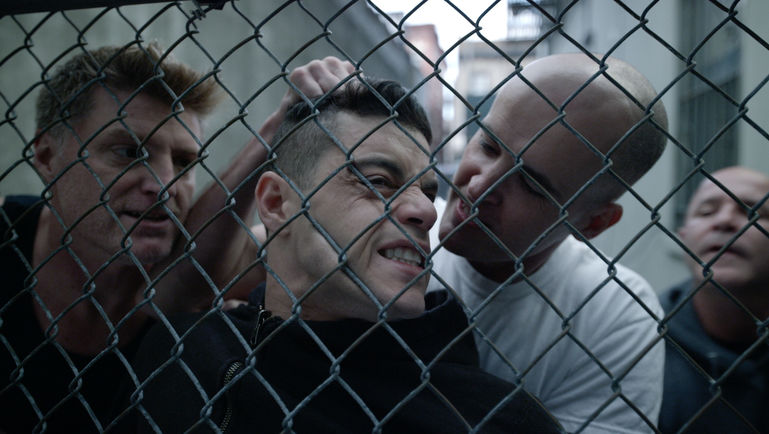 Mr. Robot: "eps2.5_h4ndshake.sme"
Mr. Robot's sitcom fantasy helped Elliot handle a beating without breaking, but memories of Tyrell were too persistent to keep buried. Elliot demands Mr. Robot tell him Tyrell's whereabouts. After having killed Sharon Knowles, Tyrell's lust for blood became intoxicating, so Mr. Robot, in effort to protect his host, grabbed Darlene's gun from the popcorn dispenser and shot him. Mr. Robot wants to take responsibility for it but Elliot's not sure there's much difference between them.
Ray has Elliot yanked from his basement to finish migrating the site. As he does, Elliot makes the site public and alerts the FBI. Sensing his mortality, Elliot asks Ray for one last game of Chess. Ray confesses that their relationship hadn't turned out like they expected. The site was a marketplace he'd set up with his wife. They agreed to never look at what was being sold, and Ray turned a blind eye to it until Elliot snooped. Understanding now the level of criminality he'd facilitated, and no longer able to ignore it, Ray tells Elliot he expected his new sysadmin to sell him out to the authorities. Ray graciously accepts his fate and thanks Elliot before setting him free.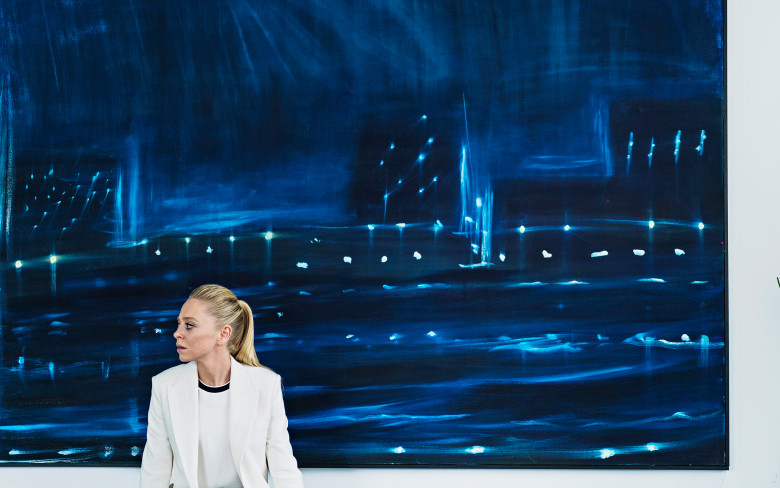 Angela talks her way out from under Dom's glare, but the agent wastes no time following up on her suspicions. After checking surveillance footage it's clear someone's hacked the FBI, and Angela's involved.
Feeling like a pawn again, Angela distances herself from Darlene. She's pieced together Cisco's involvement in 5/9 and, thanks to a favorite movie of the Alderson kids, who's running fsociety.
Alone and with the FBI breathing down her neck, Angela collects signatures from the families involved in the Washington Township case to pull back on the investigation so the settlement can be finalized. She tries to convince her father that this is the only way forward, but Angela's betrayal in partnering up with Evil Corp is something he can't forgive. So she refocuses.
With her new currency with Evil Corp, giving Price what she wants, she requests to be given a manager position in Risk Management, claiming what happened to her mother won't happen with her present. After his invite to an intimate birthday dinner is rejected, Price agrees to give her what she wants.
Her reception seems to be a warm one, but the moment Angela tries to get some information about Washington Township (and a water crisis in Michigan that may become more troublesome within the year) her boss responds with a platter of shrimp cocktail and a message from Price himself. It's clear she'll get no cooperation here.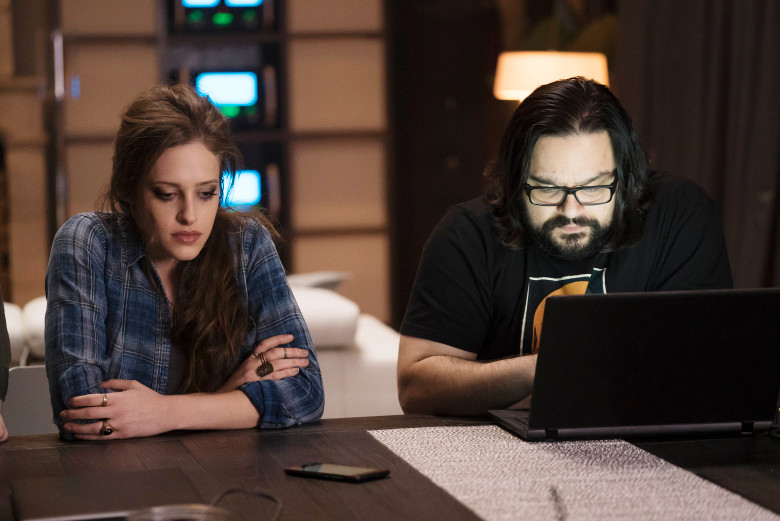 With the FBI pwned, and Wall Street's Bull's balls drop in on Congress, Darlene thinks fsociety is sitting pretty, but a quick examination of their data haul reveals that they're in more trouble than expected.
With Ray's site shutdown, people are seriously pissed at the local computer geek. Seems everyone in mom's neighborhood knows what Elliot did for Ray. But even when Elliot's cornered and confronted by some of Ray's wanting a refund on lost merchandise, Leon sticks to his side.
With newfound bravery, Elliot apologizes to the chaplain for his outburst against God and disrupting her session. She's fine with it; she understands that Elliot was following his own path, communicating with a higher power in his head. Mr. Robot overhears this and confesses that he has no control. Elliot is the leader of them both, and listening to himself is the only way to finish his work against Evil Corp.
If the regimen was good for one thing, it was reminding Elliot that he's in control. Even when he feels like he isn't. But getting rid of Mr. Robot was never an option. So he burns his journal in Hot Carla's red wheel barrow and heads to mom's house to plan his next move. That's when Ray's customer's jump. Elliot's courage cost them money and he has to pay. As they prep him for punishment, Leon dances around them with a surgical blade, cutting them down to save Elliot. Blindsided and forced to process this violence, Elliot listens carefully as Leon tells him to wait patiently for a letter with instructions and to pass along a good word to Whiterose.
During a therapy session with Krista, Elliot's looking recovered and she seems to agree. But there it's clear to her that something is off about her patient, and wonders if he knows where he is. The blaring of an alarm forces him to admit to her, and to his friend, that he was never living with his mother in her Brooklyn home. He's been in prison. Now that Whiterose has decided to set him. Accepting reality and doing away with illusion, he asks for forgiveness.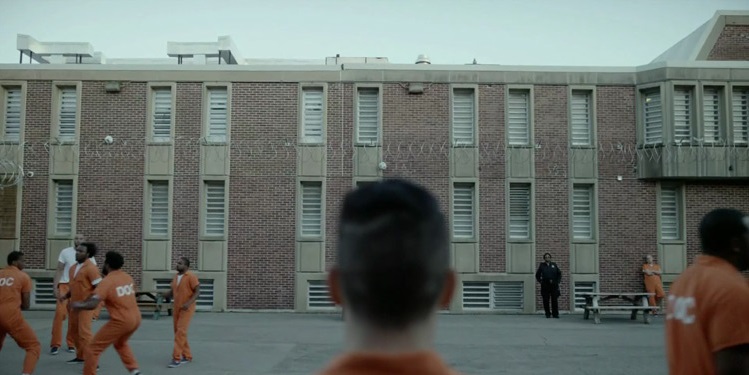 The state of society is not something that has been touched on as regularly this season. The misanthropic rants from Elliot and observations from fsociety aren't as present this season, and I suspect that's what's behind some of the criticism over this season so far. We've heard  bits and pieces of the aftermath following 5/9, most notably a $50 allowance Americans are receiving while Evil Corp manages to rebuild its infrastructure. It's not clear if the conglomerate or the government were keeping the people afloat, but a couple of weeks back we got a hint of what people are turning to now in order to live.
Ecoin was a cryptocurrency first mentioned by Whiterose when deciding their options for progression with Price. Now we know that ecoins are set up to be the universal currency since its the only form of cash people can access and use while the Bank of E gets back on its feet. No need for banks and it still compliments our increasingly-cashless society–it's a good fit. Could this be Whiterose's motivation all along, why there was an alliance with Price and fsociety? That's a little uncertain, but for now, we have clarity on a few things.
The theory that Elliot's whereabouts were delivered as a lie wasn't much of a mystery. Much like the reveal of who/what Mr. Robot actually is, obsessive watchers over on /r/MrRobot had theorized that Elliot was either in a hospital or prison since the season's premiere. The new little red lamp in Krista's office was a clear giveaway. But the real reveal from the shadows was Leon.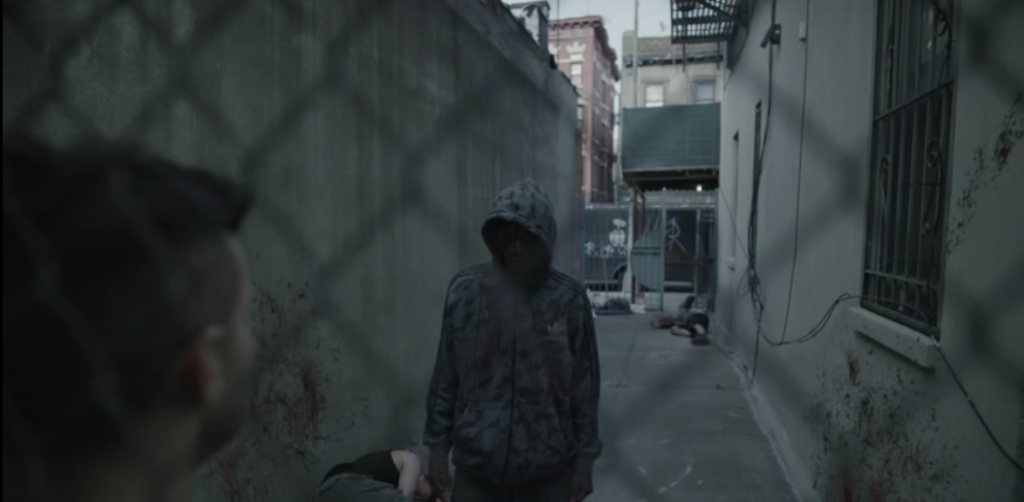 It seems obvious now, going back and noticing a Pinyin tattoo on his hand and the use of black and camouflage to not-so-subtly suggest that Leon was a soldier of a familiar army, always at Elliot's side, or hiding in the shadows when he thought himself alone. What is interesting is Leon revealing he's with Whiterose then saying "I'll be rooting for you, cuz. Always." Was that an extension of the Dark Army's courtesy, or had Leon actually become his friend? Could this mean that the Dark Army is going after the FBI and Price, and by proxy the US government? Was this Whiterose's way of covering fsociety?
Three-dimensional chess comes to mind when trying to make sense of Whiterose's plan. What the Dark Army wants isn't as clear as the plan Darlene and Elliot made in his apartment less than a year ago. But it's clear that Whiterose is always watching, and, through their soldiers, is never far behind.