APB is the latest in Fox's crop of tech-thriller shows that attempt to channel cyberpunk concepts while simultaneously discarding what fundamentally makes them cyberpunk. The show, created by David Slack, was based on an article that ran in the New York Times called Who Runs the Streets of New Orleans? by David Amsden that ran on July 30, 2015. This is important because the show draws heavily on the real events that took place in the French Quarter of New Orleans in the wake of Hurricane Katrina (Assemblage 23's song Madman's Dream comes to mind). In addition to Amsden's article, the show is obviously inspired by Robocop. It shares many of the movie's themes and even directly references Alex Murphy by naming one of the protagonists "Murphy" after him. 
https://www.youtube.com/watch?v=bsbVnrOkcr8
APB is about Gideon Reeves, a wealthy tech entrepreneur, who witnesses the death of his mentor at the hands of a robber. When the city's police force, Chicago in the show, fails to follow up on the murder due to lack of staffing and resources, Reeves goes on a mission to take over the police force, effectively privatizing it. In doing so, Reeves is put in direct opposition to the city's mayor who is blamed for Chicago's inept police. In the wake of being granted control of one of Chicago's precincts, Reeves befriends Theresa Murphy (who was kind to him when his mentor was killed), and successfully retrofits the department with high-tech gizmos which increase the force's effectiveness. Most officers don't immediately take to a rich white knight taking over the force, but by the end of the second episode, everyone seems to be on board. The show doesn't shy away from asking if Reeves will get bored with playing cop but suggests that he won't when he makes an inspiring speech to the contrary. APB also quickly broadens the scope of its premise by expanding the demand for the APB app in Chicago, which the police have begun using to more quickly respond to reported crimes.
APB suffers from a number of problems, including the fact that the show is actually pretty well-written (more on this later). First, thematically APB deviates significantly from its RoboCop influences. RoboCop is a movie about the dangers of militarizing and privatizing a police force for profit, even if the justification of heavy crime is present. APB instead paints this same scenario with a sterilized brush, showing that this new police force isn't for profit (even though it is bankrolled by a billionaire), but justice in the face of record crime rates and the ineffectiveness of the Chicago Police to fight this. APB even paints over the reality of the New Orleans example. Sidney Torres, the real life Reeves analog, did indeed take on the mayor and take over the police force to take on crime in the wake of police ineffectiveness. In this case, Torres was inspired to do this by the burglarzation of his house, rather than the murder of a close friend and mentor, though. In reality, Torres' police force never expanded beyond the small enclave of the richest neighborhood in the New Orleans' French Quarter. This is something Amsden seems to gloss over in his article too, which paints this rich white knight in holy light, just as APB does. Unlike Reeves, who when challenged about the possibility of being bored by playing cop redoubles on his commitment, Torres gave up and started to whine about other philanthropists in the area not pitching in. Stephen Perry, president of the New Orleans Convention and Visitors Bureau, did take over the funding of the department as Torres turned to overseeing the renovation of a second home across the street from his French Quarter one and frequent travel, although this new commitment was only to cover the next five years (as of 2015).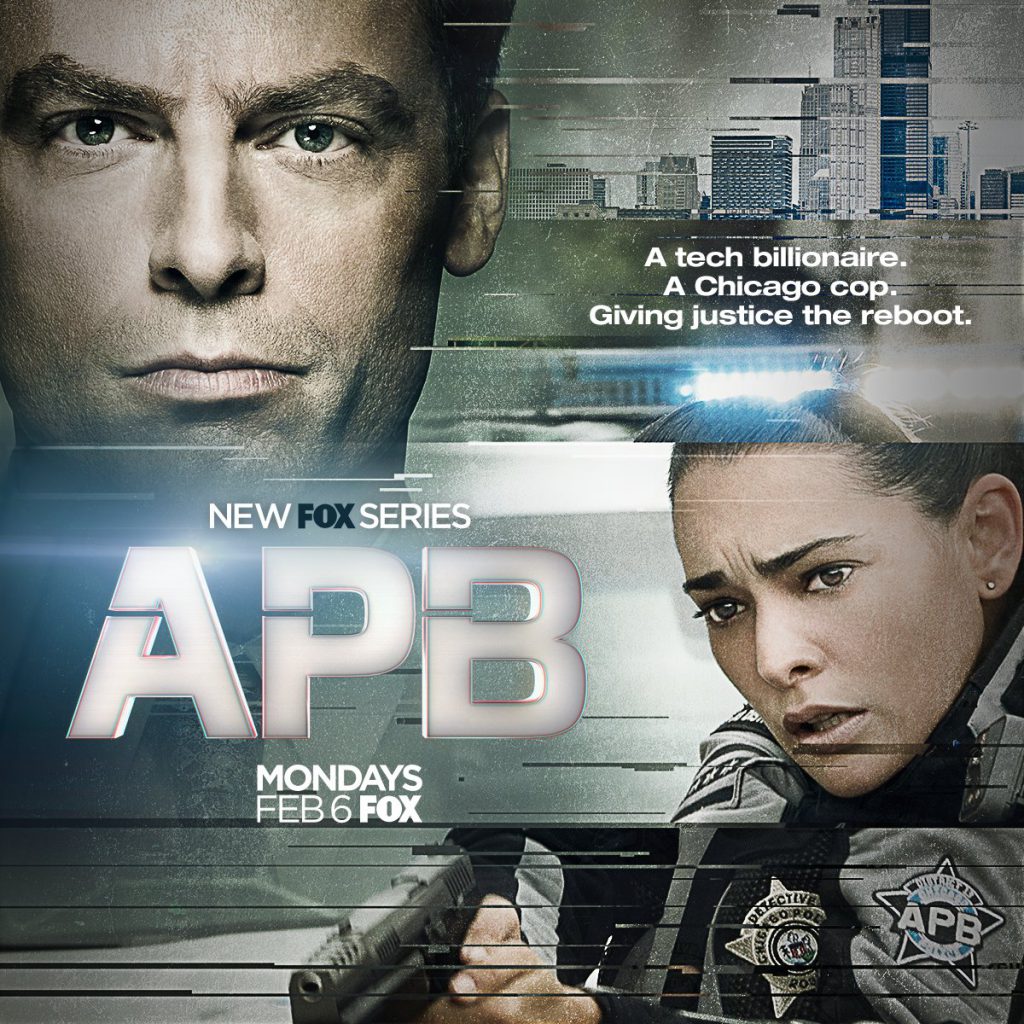 I feel obligated to mention that APB isn't a badly written or cast show, unlike Fox's recent show Minority Report which was a travesty all around. The writing is tight, especially of Reeves' speeches which are moving (even if in the context of APB, they are also frightening), and the character archetypes on display in the show feel authentic. Reeves is a self-absorbed, arrogant Silicon Valley inspired entrepreneur. Murphy is a non-white, female cop with a powerful sense of justice who leads the show. Something beautiful to behold in the white dominated sphere of police television. Many members of the supporting cast are also excellent, such as Pete McCann (played by Abraham Benrubi) who is an ex-pro wrestler turned Ph.D. engineer. There are cool scenes that invoke the DIY ethic that is so important to the cyberpunk ethos. For instance, in one scene Reeves improves a prototype drone deep into the night so that it will be ready when it has to be. The reason that I find the good writing in this show distressing is that it is in defense of themes that do not ring true. RoboCop was created in the 80s when crime rates really did peak. APB does not have the same excuse; crime rates are way down. Despite this, we have seen mass militarization of our police force and increased use of technological solutions, such as drones. APB's message that a well-funded (read privatized), militarized police force is a good thing, simply isn't true in the face of facts. Especially, when we see increased police violence against minorities. 
The context in which APB has entered the public sphere makes it difficult not to look on it as propaganda. Whether or not it is intentional, it is also suspicious that a show like this would air on the highly conservative Fox Network. Like I said, the show isn't badly done, but thematically I find it problematic. Problematic to the point I have a hard time recommending it. I think that you would be better off revisiting its cyberpunk influence, RoboCop (you can find a copy here).
Some of the links included in this article are Amazon Affiliate links. If you would like to purchase these items, consider using the links provided and help support Neon Dystopia.