This is a guest post from our friends over at StoryFix Media.
With CD Projeckt Red's hotly anticipated Cyberpunk 2077 on the horizon, it's time to dive into the shady underworld of Cyberpunk interactive fiction games and text adventures to (re)discover some of the must-play titles that have emerged from our favorite creators in the gaming subgenre over the years.
While we've focused on the electronic side of the RPG landscape in this article, we would be remiss if we didn't mention that Mike Pondsmith's original Cyberpunk 2020 gamebook is an icon of the genre and also the inspiration for the latest AAA iteration.
As always, we would love to read some of your favorite titles in the comments!
In no particular order, here we go.
CYPHER: Cyberpunk Text Adventure
The Cabrera Brothers' insanely ambitious CYPHER: Cyberpunk Text Adventure is a high watermark for interactive fiction. Released in 2012, the dense story merges a text parser UI with physical gamebook elements to create a totally immersive cyberpunk experience.
Packed with beautiful graphics and chilling ambient sounds tailor-made for 80s sci-fi fans, CYPHER pushes the interactive fiction genre to a whole new level of immersive gameplay that captures your imagination.
In Cypher: Cyberpunk Text Adventure you communicate with the game world through conversational English sentences, the same way you would do in a chatroom or writing emails.
You can see some of this in the game's evocative trailer:
The story unravels into a thrilling interactive experience that will keep you on the edge of your seat for hours… as long as you can escape death.
Get ready to explore the many curiosities of NeoSushi City, including a futuristic Japanese street market owned by Yakuza and a Capsule Hotel with the only talking elevator in the world!
Subserial Network
The First Cycle is Over… Subserial Network by Aether Interactive is an "interface" (or multi-window) IF game where you take control of a futuristic network and in order to track down the whereabouts of a rogue android called Andromeda.
In the game, there's a group of 'synthetics' altering themselves beyond the standard body modifications available with authorised technicians. They're installing a serial port into themselves: to network, to communicate in information, to be more machine. To remove our human image.
The game's vaporwave 'synth and saxophone' soundtrack is also available to stream on Bandcamp and it's definitely worth a listen.
Breacher Story
Breacher Story is an interactive fiction game that was developed by Ianic Mathieu and Pavel Vitvera from Doubleton Game Studio. The game plays in real time.
Throughout the experience, you engage in different conversations that let you choose your own replies using your wits, memory or cunning skill.
After exchanging a few text messages with your best friend, you receive text from an unknown individual claiming you tried to hack into his smartphone. Following a brief conversation, the guy hires you to work for his cyber-security firm.
It doesn't take long for you to understand that his corporation is barely legal. Soon, you help spread viruses, scam people out of their money and talk victims into paying ransomware while your friend, fueled by the latest conspiracy theories, dives deeper into paranoia.
Solitaire Conspiracy
Solitaire Conspiracy is a narrative-driven, card game that takes place in a dystopian cyberpunk world.
Protego, the world's leading spy agency, has been destroyed. Only one person can wield C.A.R.D.S to take control of Protego's scattered spy crews and save the world.
You.
Guided by Protego's only remaining analyst, Jim Ratio (Greg Miller), you must master the unique powers of each crew in a game of tactical Solitaire like none you've ever played before. Guide your crews home in a tale of intrigue where nobody can be trusted. Keep your cool in a world of AI spies and cyber-enhanced operators.
Once you've taken back control of Protego, play infinitely via Skirmish, or test your skills against the clock in Countdown, a survival mode that will test your grasp of the game's surprising tactical depths.
Judge Dredd Countdown Sector 6
Drokk! It's an adventure game. It's an interactive book. It's an RPG. You are Judge Dredd, the toughest judge to patrol Mega-City One, a vast futuristic city, set in the 22nd Century!
Sector 106 of Mega-City One is short of senior Street Judges and only the most experienced Judges have been reassigned to fill this shortfall… foremost among them yourself, Dredd! What begins as a routine patrol arresting juves and skysurfers, turns into a race against time, as mysterious "Voices of Dredd" find their way into the hands of the local perps. Riding your Lawmaster bike and armed with your trusty Lawgiver, you must pit yourself against Sector 106's brutal criminal underworld.
Quick, Dredd! The countdown has begun…
You, the reader, control the direction of the story by making decisions for Dredd on each page, and choosing your path. Using a realistic dice-based battle system, you get to fight your enemies in exciting shootouts and roll your fate, as you use your array of skills against a variety of perps in an epic storyline.
The Mind's Eclipse
The Mind's Eclipse is a cyberpunk visual novel featuring hand-drawn scenes in black and white, and emotional narrative-driven gameplay.
Players uncover the mystery of "the Eclipse" and its side-narratives by exploring, searching through logs and journals, and piecing together what happened to the CORE whilst searching for Jonathan's family.
Story: The CORE, a private research station, 2352. A celebrity scientist awakens to this fallen utopia and must search for his loved ones – with the help of L, a mysterious companion.
King Dome
King-Dome is a wonderful, retro interactive quest game inspired by cyberpunk retro titles from earlier generations.
It's the year 9001 and synthetic humans have taken control of first-world civilization. As a new detective on the force you've been tasked with finding the culprit of an android-human homicide case.
Unfortunately, the police force's efforts are often in vain as the law is frequently dictated by a computer algorithm. In a new era where artificial life is now predominant, you must fight against the odds and solve this investigation.
Cyberpunk Dreams
Cyberpunkdreams is an interactive narrative adventure, originally built on StoryNexus, but now taking a life of its own on Steam for Windows, Mac and Linux.
Take the role of a lone wanderer and control how your personality, gear and skills adapt and mold to the corrupted city of Cincinnati, 2090.
A long term, evolving online world, updates are planned for the foreseeable future – meaning there will always be new surprises around the hidden corners of the outpost of Cincinnati.
Currently in beta, cyberpunkdreams has aims to not only grow as a piece of interactive fiction, but as a community. To keep track of updates, and to meet fellow wasteland survivors, join the Discord today.
Enter a living, growing world, with new stories each month and limited time events – you'll always find new surprises waiting for you in the alleys of Cincinnati.
Who will you become in this cesspool of a city? Will you play their games and climb to the top, or be forgotten amongst the march of time and tyranny.
_________________________________________________________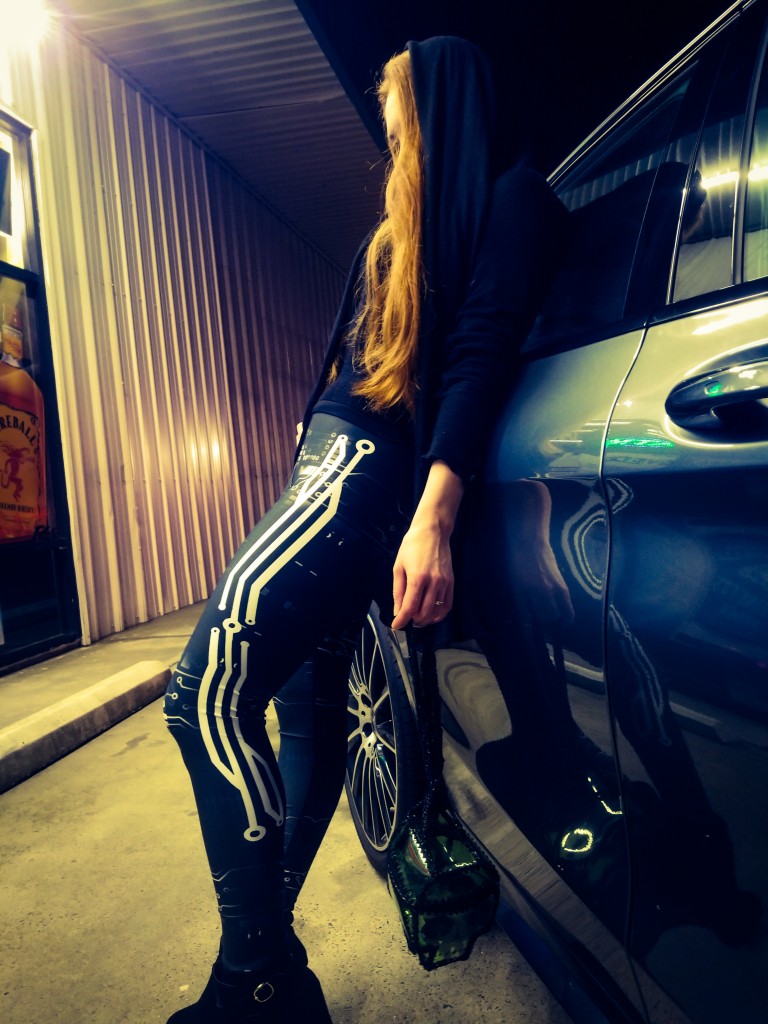 Looking for alternative clothing, but sick of giving your money to the Man? You're in luck: from the occult to the retro 80's, Snarkeez supplies the finest in counter culture attire! With a range of killer clothing for those brave enough to stand out, Snarkeez will have you covered for any occasion. Whether it's hitting the streets, the beach, or the classroom, you'll be sure to make an impression. The best part: you'll be helping independent clothing designers at a price that won't break the bank. So take a peek at Snarkeez!
If you enjoyed this article, please consider dropping a buck or two in the tip jar over at Ko-Fi. Every donation helps a lot.
Want to write for Neon Dystopia? Check out our submission guidelines for all the details on how!