Welcome back another Last Week in Cyberpunk you technological smooth criminals. We have the latest reason to change every password you have, some good news on the Terminator front, more Alita news, and an audio book that your toaster may not enjoy.
Cyberpunk Reality
Hackers are Passing Around a Leak of 2.2 Billion Emails and Passwords
A collection of files was discovered containing 2.2 billion email addresses with matching passwords, breaking this months earlier record of 773 million emails and 21 million passwords. Amassed in files called Collection #2-5, the files are 845 gigs in size and have been shared freely over torrenting services with (at the time of research) 130 seeders.
Now before you start freaking out (although I'm not saying to not change your passwords go do that right now), Collections #2-5 are largely outdated by this point. First reported by the German news site Heise.de, they report that the data is largely compiled from previous hacks (Linkedin, Dropbox, Yahoo) and is indeed valid, just old enough to hopefully be obsolete for some of us. The Hasso Plattner Institute found that most of the information wasn't in their database of leaked usernames and passwords (which you can check here), and that 611 million of the credentials weren't in the previously discovered Collection #1.
The information is old, but the sheer scale of it and how freely it was being shared among the hacker community is enough to give concern. Skilled hackers (the money making kind) probably used the list already, turning it into a bargain bin item. My advice? Go change your passwords.
For the full article check it out here.
Company Magic Leap Showcases Award Winning Augmented Reality Apps at Reality Virtually Hackathon
Engaging developers at the Reality Virtually Hackathon, company Magic Leap invited 20 teams of developers to create apps using their Magic Leap One VR technology.
The visual assistance app cleARsight was the winner, being able to give site to the visually impaired. Through world mapping, haptic feedback, spacial audio, and visual overlays, cleARsight essentially 'highlights' a users environment to make obstacles clearer. Essentially a 'virtual cane', the app measures distance of objects as well play audio cues for warnings. It can even record notes left by caregivers, and can translate speech to text and speech to American Sign Language.
How long until this technology makes it to the streets for the rest of us to play with (and hijack) I don't know, but this new AR could revolutionize augmented reality.
For the article go here.
Cyberpunk Media
Movies
Terminator 6 Behind the Scenes Clip Released
About a week ago, Hungarian film studio Magyar Nemzeti Filmalap posted a short clip on Youtube providing some insight on the upcoming installment into the Terminator franchise. Specifically, we now have tangible evidence that the film is being made. Anticipated for theatrical release on November 1st of this year, Terminator 6 will decanonize the rest of the franchise past Judgment Day, to the relief of millions of bristling fans. The film will also feature James Cameron as producer, Linda Hamilton returning to the role of Sarah Connor, and of course, good old Arnie stepping back into the shoes of the T-800 (though it looks like he's getting a little too old for this shit). Will Terminator 6 return our favorite time-traveling murderbots back to their shiny, chrome glory, or are we getting another Genisys? Tune back in when November rolls around to find out.
More Alita Clips Uploaded as Premiere Draws Close
Between Monday and Wednesday of this week, 20th Century Fox dropped two more snippets from the upcoming live-action adaptation of the classic manga Battle Angel Alita (I know, I'm getting sick of them too). The first features Alita's iconic fight with Grewcica (played by the incomparable Jackie Earle Haley) beneath Iron City. The second depicts Alita (Rosa Salazar) and Dr. Ido (Christoph Waltz) discussing Alita's past, which is something of a departure from the source material.
In the midst of the building hype, a conveniently-timed lawsuit has been placed against Fox by Epic Stone Group, who claims that the former intentionally infringed upon their trademark on Battle Angel Alita-themed merchandise. Whether or not this is true is yet to be determined, but all press is good press, right? That said, early reviews for the film are somewhat mixed.
Alita: Battle Angel opens in theaters on February 14th.
Psycho-Pass: Sinners of the System Case.1 Opens at #7 in Japan
While the cyberpunk anime Psycho-Pass isn't quite as notable to western audiences, it's gained enough popularity in its country of origin to garner two seasons, full-length film released in 2015, a visual novel, and manga adaptations (including ones for the current Sinners of the System trilogy). So with that in mind, it may not come as a shock that the first film in the new trilogy, Crime and Punishment, clocked in at the seventh-highest box office earnings for its premiere last weekend.
Following two major characters from the series, Crime and Punishment takes place in isolationist Japan in 2117, after a collective intelligence known as the SIBYL System has been granted supreme authority over the lives of its citizens. Inspector Mika Shimotsuki and her enforcer (a so-called "latent criminal" conscripted into law enforcement) Nobuchika Ginoza are sent to investigate mysterious events surrounding Aomori prefecture, aka "the Sanctuary", an isolated facility containing latent criminals.
The following installments of the series, First Guardian and In the Realm Beyond is _____ will be released theatrically in Japan on February 15th and March 8th, respectively.
Batman Beyond Back on the Silver Screens of our Future?
Batman Beyond is coming back from the past and into your future with a new theatrical release in the works. Looks like the Warner Animation Group is looking to respond to the surprising success of Sony's Spider-Man: Into the Spider-Verse. As for now, the team is looking at a 2022 targeted release, but that could change as production continues. Cast and crew are still unknown, but the film will apparently be based on the 90s series of the same name, which was set in the non-too-distant future of 2039 with High Schooler Terry McGinnis taking up the mantle of an aging, but still very badass, Bruce Wayne.
Read more about the story here.
TV Series
Brief Teaser and Poster Just Released for Upcoming Series Dark/Web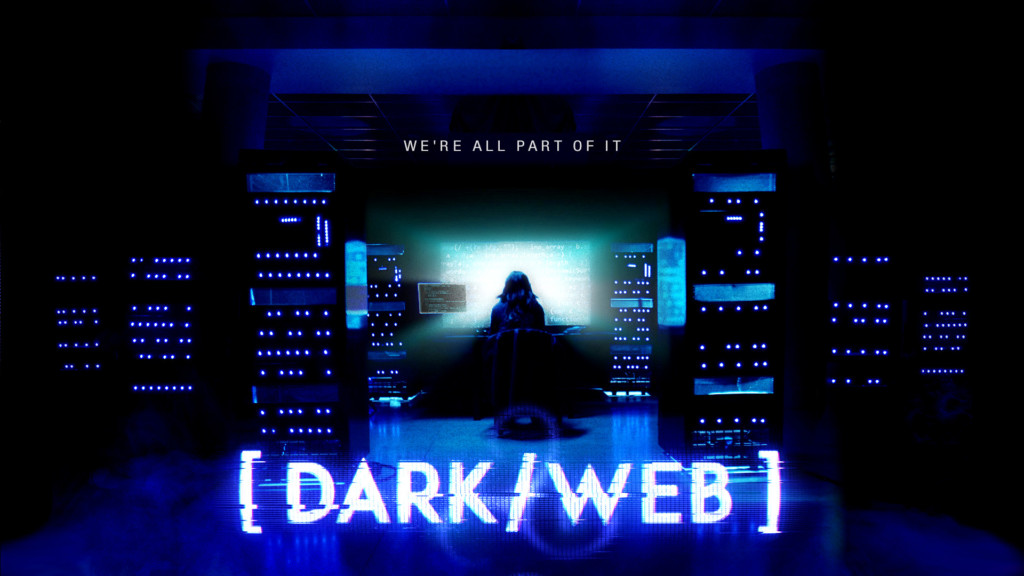 Dark/Web is an upcoming series from brothers Michael and Tim Nardelli and Mario Miscione, who brought us the sci-fi thriller Circle. The premise is the following:
In the near future, the evolution of the internet has resulted in a world in crisis; one where everyone is connected and no one is safe. Cyber securities analyst Molly Solis understood these dangers better than anyone, and was determined to keep people protected — until she vanished without a trace. Now, friends and foes are in a race against time to decipher cryptic messages she's left behind that paint a grim picture of technology run amok.
Set to release possibly sometime this year, the series will feature Gabriel Luna (Agents of Shield), Nicholas Brendan, Clare Kramer (Buffy the Vampire Slayer), and Cassi Thomson (Big Love).
Check out the short teaser and read more information about this indie series here.
Books
Unauthorized Bread Audiobook
Boing Boing co-editor Cory Doctorow seems to be openly challenging the audiobook monopoly set in place by Audible in the most cyberpunk way possible: by helping launch a DRM-free audiobook store, now featuring the first novella in his upcoming anthology, "Unauthorized Bread". The description is as follows:
From the outside, the Boston-based subsidized apartments reserved for low-income tenants in a new technologically-advanced building seem like a dream come true. But soon the program's newest recipients, Salima—a young woman recently released from a refugee camp in Arizona—and her friends with similiar backgrounds, discover themselves living in a technologically fortified parallel universe.
Not only are the elevators digitally programmed to economically discriminate against the building's tenants (the low-income residents can only use the elevators if they're not occupied by anyone from the wealthy side of the building), but the apartments' appliances are designed to extract revenue. The fridge won't chill unauthorized groceries. The toaster won't toast unauthorized bread.
When hedge funds tank the companies behind these electronic "conveniences," they stop working altogether. Salima then takes it upon herself to lead a dangerous jailbreaking underground, training a child army that liberates the building's appliances, even those hated elevators. However, the stakes rise when the group finds themselves faced with the danger of losing everything they've built and being deported back to their war-torn countries.
Video Games
Robothorium
Released yesterday for PC and the Nintendo Switch, Goblinz Studio's Robothorium takes place in 2052 during a robotic revolution. The player takes on the role of S.A.I.A., an artificial intelligence tasked with protecting robotkind and finding a resolution to the brewing war between man and machine. Described as a cyberpunk dungeon crawler, the game features turn-based battles and crafting/management mechanics set to a story inspired by the works of Philip K. Dick, Isaac Asimov, and Ray Bradbury. You can download Robothorium here (or here) today.
Re-Legion, a Cyberpunk Cult RTS has Launched Bringing Neon Drenched Faith to Us All
How do you bring down an evil technocracy? With fire and faith of course! Indie developer Ice Code Games brings us their first game ever with Re-Legion, where you become a messiah like prophet of a digital religion. Bringing a twist on the traditional base building RTS, you must convert citizens of a neon cyberpunk city as followers/foot soldiers in your holy war. The official description reads:
In Re-Legion, players Follow Elion's journey from a lone prophet to the most powerful advocate of religion in the city. Introducing a new alternative to the usual economic and resource management used in RTS games, Re-Legion allows players to convert ordinary non-believing citizens into their units – the followers. Initiated cultists then expand the cult's possibilities by obtaining cyber-coins to enable upgrades, by praying they increase faith to gain and use special abilities, they hack buildings and ad-boards to expand and control territories, they convert other citizens or fight enemy units and non-believers.

The overall direction of the one's cult is defined by the dogmas chosen for it. From a peaceful religion to one that despises non-believers, each one of dozens of dogmas defines the way in which the cult will pursue its goals. But whichever way you decide to choose, your followers will all work together to build a strong and powerful cult…
You can grab Re-Legion over on Steam for 10% off. Expect a full review soon!
Notice a cyberpunk story we missed this week? Let us know down below or on social media.
Some of the links included in this article are Amazon affiliate links. If you would like to purchase these items, consider using the links provided and help support Neon Dystopia.