Welcome back to another Last Week in Cyberpunk, where the news is hot but the pixels are cold. This time around we bring you updates from the Yellow Vest Protests, a fresh book to upload into your brain meats, and LARPing experience like no other.
Cyberpunk Reality
More French Protests: Chapter 13 in an Ongoing Saga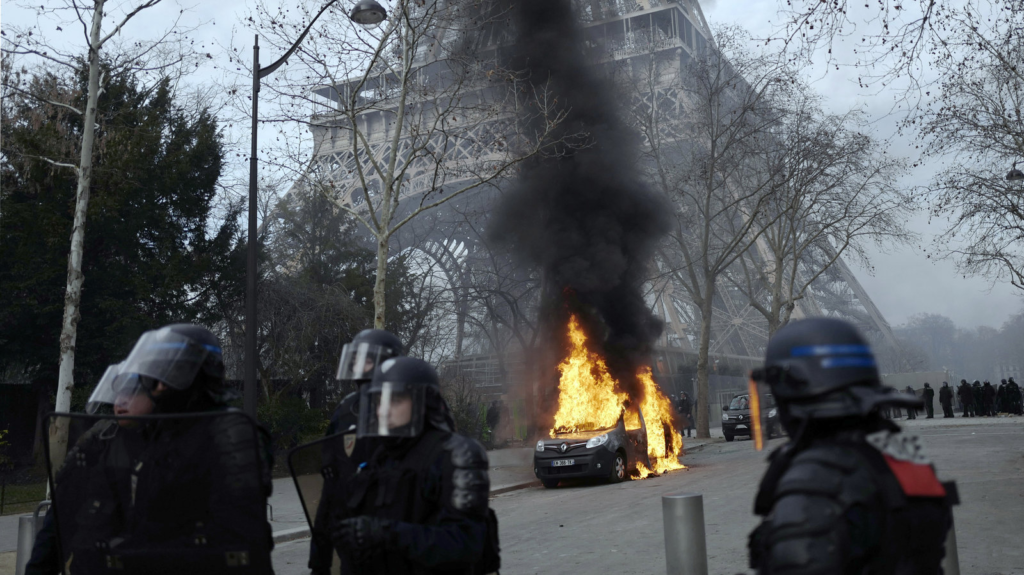 An update on the French protests, which are still going on every weekend: Yellow Vest protesters numbered about 21,000 this weekend, which is down a little from previous weeks. An anti-terrorism police car, motorbikes, and multiple trash cans were set on fire, with public cameras and bus stops destroyed as well. On Saturday, some protesters peeled off from the main group, trying to storm the national assembly. One of the protesters picked up a rubber grenade from the riot police to throw back, but the grenade exploded in his hand, seriously injuring the protester. The movement, despite constant action amid shrinking numbers, is becoming internally divided due to disagreements on how to protest, whether to ally with unions, to get further concessions from the government, and where to take the movement further.
For the full article go here.
Precise Location Data of AT&T, T-Mobile, and Sprint Customers Sold to Bounty Hunters
AT&T, T-Mobile, and Sprint customer location data has been continually sold to bounty hunters through a series of third-party companies. One company, CerCareOne, operated from 2012 to 2017, sold this location data to bail-bond firms under the condition that they not reveal the existence of the company to the public. Motherboard had evidence for at least 250 bounty hunters accessing the data through CerCareOne with one bail-bond firm using the service 18,000 times. It's fair to say that the abuse is fairly widespread.
The data being sold is more than a simple ping off of a cell tower, it's A-GPS or assisted GPS, a precise way to narrow down your location to just a few meters, even inside a building. It's the information that is supposed to be used to save your life in an emergency, to identify your location to 911 when you aren't able to, but instead its being sold to private companies with anything but your best interests in mind. No telecom company has denied selling A-GPS data, so it's safe to assume that if you use a cell phone, you're not immune.
"The scale of this abuse is outrageous," — Eva Galperin, director of cybersecurity at the Electronic Frontier Foundation.
For now, CerCareOne has been shut down, however it's unlikely that it is the only company of its kind out there, so let the game of whack a mole begin. Motherboard's in-depth article is worth the read, find it here.
Smart Pill Injects Drugs Painlessly From Inside Your Stomach
A new proof-of-concept smart pill could pave the way for delivering injectables (think insulin, hormones and vaccines) via a pill instead of an external jab. Once swallowed, the smart pill orients and attaches itself to the GI tract and injects its payload through the gastric wall. So far this has been demonstrated in animals with insulin. Insulin, like many other "injectables" are too fragile to survive the acidic environment of the stomach and must be injected in order to be effective. In pharmaceutical development, if a drug is unable to be taken orally, it's considered a serious drawback, if not a nail-in-the-coffin (because who wants to get a shot when they could take a pill?). It often stops development of that drug in its tracks if it can't be altered to be more stable or more easily absorbed in the stomach. This smart pill has potential to deliver any substance too sensitive to be taken orally, which opens up a world of possibilities for new drugs and new delivery systems. Follow the research here (its behind a paywall but there are ways around those) or get the summarized version from The Download.
Programmer Finds Flaw in ATM Software, Withdraws ¥7 Million
In what sounds like something straight out of a cyber-noir, bank programmer Qin Qisheng discovered a flaw in the ATMs used by Huaxia Bank, Qisheng's employer, in November of 2016. By making withdrawals around midnight, Qisheng discovered that the bank's system did not properly record withdrawals, allowing Qisheng to withdraw money from his account without the total being deducted. Apparently by installing scripts into the system, Qisheng was able to suppress any red flags that would have been risen on the event of a failed transaction, and was able to smuggle seven million Yuan (about one million USD) over a period of fourteen months.
Unfortunately for Qisheng, the bank eventually caught wind of the bad code and turned him in to the authorities. Despite the bank's public protests upon Qisheng's return of the money, Qisheng is now facing ten years in prison. It would seem his alibi of holding onto the bank's money as a bit of surreptitious white-hat hacking on the side fell through upon discovering Qisheng had invested some of this money in the stock market.
Cyberpunk Media
neXT: Newest AI Thriller Pilot to be Ordered from 20th Century FOX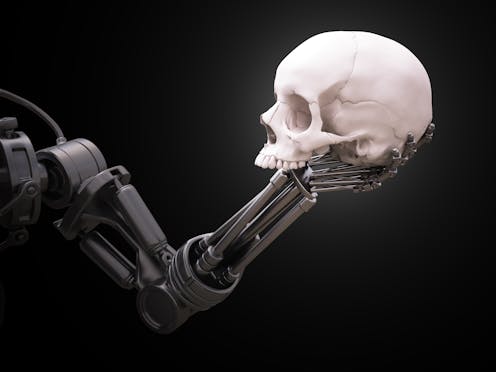 FOX orders AI drama thriller "neXT" pilot from co-creator/executive producer Manny Coto (Star Trek: Enterprise, Dexter) and director/executive producers John Requa and Glenn Ficarra (This Is Us). neXT is being described as fast-paced, fact-based action thriller featuring a paranoid former tech CEO who joins a team to stop a self-improving rogue AI. It will also attempt to examine how technology is infecting our lives in ways we haven't properly considered and understood yet.
Check out the full report here.
Movies
Alita: One Last Time Before Theatrical Release (We Promise)
Any American football fans among our readership? If so, you might have caught the 30-second ad spot released during the Super Bowl for what will likely be 20th Century Fox's final ambitious film, which comes out next Thursday. In it we get snippets of the film we haven't seen yet, but nothing particularly substantial outside a heavier feature of criminal underlord Vector, played by Mahershala Ali.
More importantly, however, Fox has uploaded a short behind-the-scenes video that gives us a glimpse into the painstaking process behind crafting Alita's near-hyperrealistic, lifelike appearance. With commentary provided by Alita's actor, Rosa Salazar, producers James Cameron and John Landau, and VFX supervisors Mike Cozens, Joe Letteri, Eric Saindon, Richard Baneham, and Nick Epstein, it's actually kind of amazing to see Weta Digital turn Alita into a character that doesn't look like she crawled out of the depths of the uncanny valley.
Alita: Battle Angel brawls its way into theaters in 3 days at time of publication.
Books
A People's Future of the United States
Released on February 5th by Random House, this collection of short stories by spec-lit authors gives us visions of the future that tackle some of the most pressing issues of our time. While the variety ranges from hard sci-fi to fantasy, it looks like there's enough dystopia in it to interest any cyberpunk. As per usual, the description:
A glittering landscape of twenty-five speculative stories that challenge oppression and envision new futures for America—from N. K. Jemisin, Charles Yu, Jamie Ford, G. Willow Wilson, Charlie Jane Anders, Hugh Howey, and more.
In these tumultuous times, in our deeply divided country, many people are angry, frightened, and hurting. Knowing that imagining a brighter tomorrow has always been an act of resistance, editors Victor LaValle and John Joseph Adams invited an extraordinarily talented group of writers to share stories that explore new forms of freedom, love, and justice. They asked for narratives that would challenge oppressive American myths, release us from the chokehold of our history, and give us new futures to believe in.
They also asked that the stories be badass.
The result is this spectacular collection of twenty-five tales that blend the dark and the light, the dystopian and the utopian. These tales are vivid with struggle and hardship—whether it's the othered and the terrorized, or dragonriders and covert commandos—but these characters don't flee, they fight.
Thrilling, inspiring, and a sheer joy to read, A People's Future of the United States is a gift for anyone who believes in our power to dream a just world.
Featuring stories by Violet Allen • Charlie Jane Anders • Lesley Nneka Arimah • Ashok K. Banker • Tobias S. Buckell • Tananarive Due • Omar El Akkad • Jamie Ford • Maria Dahvana Headley • Hugh Howey • Lizz Huerta • Justina Ireland • N. K. Jemisin • Alice Sola Kim • Seanan McGuire • Sam J. Miller • Daniel José Older • Malka Older • Gabby Rivera • A. Merc Rustad • Kai Cheng Thom • Catherynne M. Valente • Daniel H. Wilson • G. Willow Wilson • Charles Yu
You can get your copy of A People's Future of the United States here. BUY IT NOW, CONSUMERIST WAGE SLAVE
Tabletop Games
Zone Raiders Kickstarter Fully Funded
Miniatures are making a comeback with Fractal Basilisk's new, ambitious turn-based strategy game, Zone Raiders. Taking place in the post-singularity world of the Matroshka, players command teams of teched-out humans fighting for survival against an ever-evolving AI menace. With simple rules and bountiful gameplay options, Zone Raiders looks like it'll be a cozy fit for fans of Tsutomu Nihei, Axiom Verge, and The Matrix trilogy's desert of the real.
While the game itself (as of now) is open source, requiring either a set of custom miniatures or your own collection of sci-fi figurines to play, the rulebook is the current reward for donations of $30 or more. While the campaign has already met its goal, there are still 8 days left to snag yourself a little somethin' somethin'. You can check out Zone Raiders' Kickstarter here.
CYB_R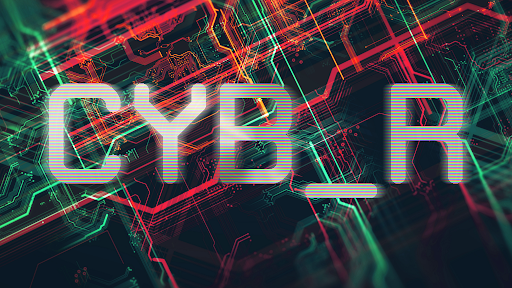 If conventional tabletop gaming is more your style, however, we've got good news: Kelly Black, an independent tabletop game dev, is currently funding a genre adaptation of Dungeons & Dragons' fifth edition. Toting a retrofuturistic backdrop and customizability that even allows you to toss in magic elements a la Shadowrun, CYB_R looks like an RPG out of our shiniest dreams and worst nightmares. But don't take my word for it, here's the official description:
In the shadows of the corporate-owned cities, between the skyscraper headquarters and the luxury hotels, the desperate hone their skills and mod their tech. They seek that elusive edge. Mercenary or motivated, idealistic or just hungry; the street elite infiltrate, invade, and impersonate to make a buck off the giants of industry. This is the story of cybered-up outsiders slipping into the penthouse of dystopian accomplishment uninvited. It's a retrofuturistic tale of defying the social order, the authorities, and the odds.
CYB_R is a cyberpunk genre conversion for D&D's 5th edition, employing bleeding edge rules modifications to allow for cinematic gameplay and leveraging 5th edition's template-style character building to allow for characters that just seem cool from the get go. Characters are post-future adventurers, pulling gigs for and against the most powerful entities on the globe and they're looking rad doing it. Chrome limbs, boss haircuts, and padded shoulders are the norm. CYB_R is the bridge between the monsters of fantasy gaming and the neon future we all feared we'd be living in by now.
Each character class is modified from a tried and tested D&D class, with innovative archetypes providing access to gambits: an alternative to spells. Gambits allow for heroic stunts, explosive maneuvers, and creative hacking talents. It's all about style and gambits allow each character to really shine in their area of expertise.
While the conversion isn't particularly high-maintenance, there are only two backer tiers on CYB_R's Kickstarter, one to receive a PDF copy of the corebook and the next level offering a hardcover copy. But for you tabletop fans out there, it's a small price to pay. If you're into it, fund the project here before the clock winds down.
Judge Dredd: The Cursed Earth Available for Pre-Order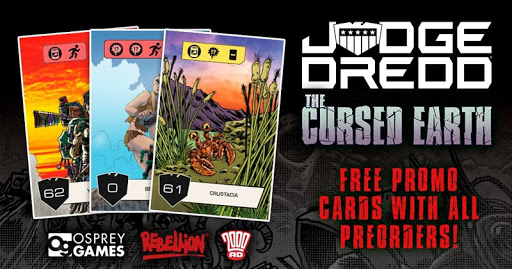 Osprey Publishing comes bearing news from the future: by February 21st, the world will be reduced to smoldering ashes, leaving behind nothing but seemingly-endless stretches of twisted, crime-ridden urban streets dominated by a fascist police state. Or rather, it will be if you dive back into the world of Judge Dredd in their upcoming card game, The Cursed Earth, which offers solo, co-op, and competitive gameplay as you track down criminals in Mega City One.
Featuring brand-new art by veteran Judge Dredd illustrators, The Cursed Earth's preorder package comes with exclusive promo cards and looks like a bloody good time. To get in on this limited-time offer, you can pre-order here.
Android: Shadow of the Beanstalk is Online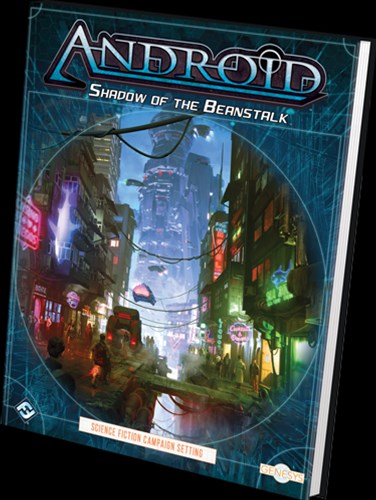 If you've been keeping up on our coverage of Fantasy Flight Games' sourcebook for the Genesys Roleplaying System, you likely know that Android: Shadow of the Beanstalk hit shelves on Thursday. For those of you who don't know, here's the description, saturated with irresistible cyberpunk tropes:
In the not so-distant future, humanity has spread out across the solar system, unlocked the frontiers of cyberspace, and created millions of intelligent androids in its own image. At the heart of this progress stands a ladder leading to the riches of the stars—the massive space elevator called the Beanstalk. And at its base sprawls the biggest, meanest, and most exciting city on Earth: New Angeles. You can explore this world with Shadow of the Beanstalk, an Android sourcebook for the Genesys Roleplaying System! Take on the roles of cops, con artists, roughnecks, and escaped androids trapped between greedy corporations, corrupt officials, and vicious street gangs. Outwit your foes, uncover their conspiracies, flee their retribution, and maybe you'll survive. Who knows? Maybe you'll even get rich… Shadow of the Beanstalk is a 256-page sourcebook for use with the Genesys Roleplaying System. In this book, you'll find new rules for character creation, new weapons, equipment, and adversaries, new rules for running the Net, information on the Android universe, and advice for Game Masters running a campaign in the cyberpunk future of Android. All of this is accompanied by beautiful art and elegant mechanics that can be used in any setting for Genesys Roleplaying!
You can get Android: Shadow of the Beanstalk here or through here.
Video Games
OBSERVER_ Now available on Nintendo Switch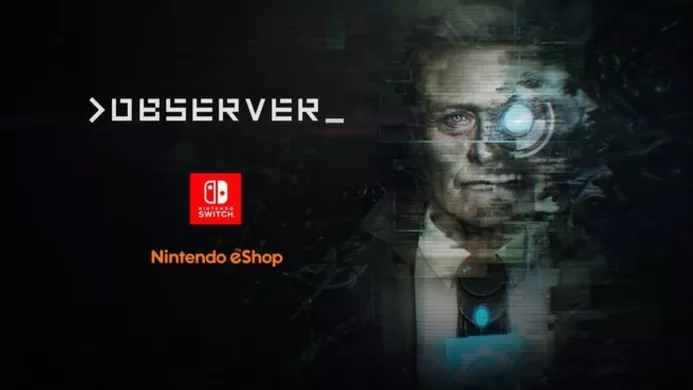 Fans of the Cyberpunk detective thriller videogame >Observer_ will be happy to know that the Bloober team just released the game on the Nintendo Switch this week. Available at only $29.99, being able to play on both a screen and on the Switch handheld should be a fun change, and perhaps the most serious and thrilling videogame available on the Switch to date. Play as Daniel Lazarski (portrayed as none other than Rutger Hauer from Blade Runner!) and hack into the minds of victims and villains alike in order to unravel the mystery of your son's disappearance in this dystopian world set in 2084 Poland.
For the full scoop check it out here.
Born Punk: Fully Funded in 24 Hours
A recent Kickstarter campaign created by indie devs Insert Disk 22 has gained a lot of traction in the short time it's been running, and it's no wonder why. Born Punk hearkens back to the classic era of point-and-click games, featuring a '90s-style cyberpunk atmosphere and a dash of humor and Shadowrun terminology thrown into the mix. The devs have stated that they're making an effort to create logic-based puzzles as opposed to some of the more confusing and illogical ones of yesteryear. If that's not enough to get you on board, consider the official description:
The game follows Eevi Rinasdottir, a former corporate combat hacker. Eevi grew up in the bad parts of Bornholm – of which there are many in 2155 – and was forcefully recruited by a mega-corporation called Mitsotomo. One decade later, Eevi was forced to return to the place of her humble beginnings, to work as a barkeep for her foster father, and to dream of returning to the glittering corporate lifestyle she had grown used to.
In the game, we meet Eevi as she is suffering an ungodly hangover, trying to prepare for a nightly 'data drill', a freelance hack meant to extract enough critical data from random targets to finance her comeback. What she doesn't know is that an electronic entity has infected her cyberdeck (think brain-computer-implant). At least at first glance, this entity – likely a rogue AI – seems just as confused about the situation as Eevi is.
As the story advances, the player will seek answers about the nature of the intruder, either come to terms with it or try to expel it from her body, struggle with suffering from what is essentially a digital multiple personality disorder (imagine having a self-aware talking program forced into your brain! … actually, that sounds kinda cool), and ultimately uncover a conspiracy that could change humanity's future forever.
Though the promotional video suggests that only the first scene is complete, the game is set for release in January 2020. If you want to throw as much money as you can at it, Born Punk's Kickstarter campaign is still running here.
Music
Industrial music legends Front Line Assembly released a new album, Wake Up The Coma
Released on Metropolis Records, and the first single is a cover of the new wave classic "Rock Me Amadeus", originally by Austria's Falco.
The video, featuring Jimmy Urine (of Mindless Self Indulgence) in a Max Headroom homage, took the industrial scene by surprise with a delightful retrowave aesthetics.
Early fans rest assure, the rest of the album is the gritty electro-industrial that we know and love.
Special Events
Alita: Battle Angel Escape Rooms
For you lucky cyberpunks living in New York, Austin, and LA, production company iam8bit has unveiled a new escape room experience of sorts that takes place in a number of detailed environments replicating sets that will appear in Alita: Battle Angel. Surprisingly, it doesn't look to be a mere cash-grabby promo effort on the part of 20th Century Fox, featuring detailed, immersive sets and props.
Located at 470 Driggs Ave in Brooklyn, 1901 East 51st St (Stage 3) in Austin, and 1025 E 16th St in Los Angeles, tickets for the experience are fairly inexpensive, going for $40 in NY and $25 at the latter locations for general admission tickets. If this piques your interests, book now–the simulation is live until March 3rd, and tickets are selling fast. You can pick up a set here.
Night City Will Come to Life in San Antonio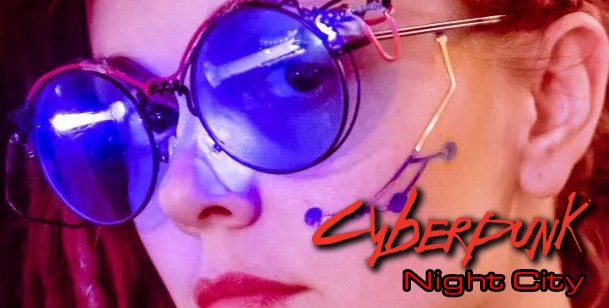 On Memorial Day Weekend, Jackalope Studios will be hosting a very special event. Officially licensed by R. Talsorian Games and approved by Cyberpunk 2020 creator Mike Pondsmith, a live-action roleplaying event accurate to the game's universe will be held in San Antonio, featuring insight into the legendary RPG's upcoming edition, Cyberpunk Red. At this point, details as to how the event will play out are sparse, but you don't care, you just know you're tossing on your black trench coat and mirror shades because this sounds fucking incredible.
The good news is that even if you're not able to be physically present, you have the option to purchase a "remote ticket", which will allow you to be a part of Cyberpunk: Night City through a dedicated internet space, implying that your role will be as a netrunner, manipulating events from afar. The bad news is ticket prices are a bit steep, starting currently at $128 for those willing to spend some of the LARP as an NPC or playing from home. Also, budding cyberpunk graphic designers have the opportunity to showcase their artwork by purchasing "ad spots", either in flyer or video format (to be approved by the event's staff). Whatever the case, if you're a hardcore cyberpunk junkie, this is not something you'll want to miss. You can get your tix here, reserve yours before the well runs dry.
Notice a cyberpunk story we missed this week? Let us know down below or on social media.
Some of the links included in this article are Amazon affiliate links. If you would like to purchase these items, consider using the links provided and help support Neon Dystopia.