Happy Shitgiving! Hope you punks out there had a tolerable holiday. This Last Week in Cyberpunk we are giving you news from this week and last week, covering injustice, genetic engineering, and some new releases in media that may have flown past your radar.
---
Cyberpunk Reality
Congress has refused to restore net neutrality as Dec. 10 deadline nears
As you all may remember if you live in the grand ole' United States, Net Neutrality was repealed. Ya know, that thing that protected us from corporations slowing down our internet if we can't pay the fees. In a final push against this, advocacy groups Fight for the Future and Demand Progress have organized one more 'Day of Action'. As of this writing it is schedules for Nov. 29th, and is to pressure lawmakers in Congress into majority voting to bring back Net Neutrality.
"Congress has until the end of this session [Dec. 10] to reverse [FCC Chairman] Ajit Pai's net neutrality repeal—afterwards, it gets way harder to restore protections against blocking, throttling, and new fees," the groups said. "So we're bringing together tech companies, small businesses, and Internet users for an epic push on November 29th to pressure lawmakers into signing the Congressional Review Act resolution to restore net neutrality before it expires."
Despite their best efforts, this seems like an impossible fight. Trump has expressed opposition to Net Neutrality, plus the House of Representatives is now majority Republican until new members are sworn in on Jan. 3, 2019. Public support, however, is still strong with poll after poll expressing high support for the protection of a neutral internet.
In the House, 218 would have to sign a discharge petition, but only 177 have signed (176 are Democrats). The deadline is Dec. 10.
If you would like to show your support of Net Neutrality before the deadline, sign this open letter to Congress and let the swine know what we want.
Warmer winters linked to higher crime rates, study finds
In a new US study, researchers have found that violent crime is always more prevalent in warmer weather. Thanks to climate change, places that once had brutal winters (North-east and Midwest) now have milder weather and with it a drastic increase in violent crime. The study gives insight in how people, in America at least, will react to a warming planet.
Researchers compared crime and climate data from the FBI's Uniform Crime Reporting program and the National Oceanic Atmospheric Administration, covering 16,000 cities across the north-east, south-east, south central, west and midwest regions for the study published in GeoHealth. The data covered the years 1979 to 2016.
"The relationship between climate, human interaction and crime that we've unveiled is something that will have an impact on people's wellbeing," said Ryan Harp, the lead author of the study and a doctoral candidate in the department of atmospheric and oceanic sciences at the University of Colorado Boulder.
The data, interestingly enough, disapproves of the theory that heat itself drives people nuts. The basic equation of crime is simple: warmer weather means more people are about, more people about means a higher likelihood of one wanting to shank someone, cops obviously can't be everywhere, and the likelihood of this happening increases just because there are people out and about. So while you are out enjoying the unusually warm weather that will probably kill us all, please do not shank or get shanked by someone. Stay safe, punks.
Hackers erase 6,500 sites from the Dark Web in one attack
In early November hackers annihilated the popular Dark Web hosting service 'Daniel's Hosting', taking down 6500 hidden sites. The admin, a software developer named Daniel Winzen, confirmed that those sites are permanently dead and hasn't even found the vulnerability yet. He says the attack happened the night after a PHP zero-day exploit was leaked on GitHub.
The service will most likely be back by December, but 6500 sites data is gone forever. By design, no backups were made of the hosted content.
According to Dark Owl, when the hackers took out the sites on Daniel's Hosting, it took out 30% of the hidden services across Tor and the Invisible Internet Project (I2P). I2P is a anonymous network layer that allows for censorship resistant, peer-to-peer communication that was primarily used for those trafficking in child porn. Dark Owl also stated they themselves lost six million documents and security tools hosted on the Dark Net.
Regardless of how you may feel about the sale of guns, explosives, counterfeit currency, or drug sales online, we can all agree the world is better without easy access to child abuse images. Womp Womp, fuckers.
As most are aware, this week we saw US Border Patrol agents fire tear gas at children along the US-Mexico border near Tijuana. How did this happen? Besides draconian policy and a racist old man as our president, pressure had been building along the border for weeks. The migrant caravan, caught between the legal hell of Trump approved tighter security and awful migrant living conditions, resulted in a peaceful protest to have both those issues addressed.
Rocks were thrown, the border rushed at out of desperation, and tear gas was deployed against unarmed people, including children. That's how we got the above photo.
The woman in the photo, now identified by BuzzFeed News as Maria Meza, told them "I felt sad, I was scared. I wanted to cry. That's when I grabbed my daughters and ran," Ms. Meza, 39, told BuzzFeed. "I thought my kids were going to die with me because of the gas we inhaled."
Tear gas, if the very friendly name didn't tip you off, can cause burning in the eyes, mouth, skin, and cause vomiting according to the CDC. Children can recover from exposure, but the damage is more severe, and on babies doubly so. The president of the American Academy of Pediatrics goes into more detail here.
Life-saving overdose injectable price increased six-fold amid overdose crisis
Falling in the footsteps of Martin Shkreli, the small pharmaceutical company Kaléo has increased the cost of Evzio, a naloxone injectable, by 600 percent according to a senate report. This price hike comes amid a record breaking number of deaths from overdose contributed to a fall in US life expectancy. Overdose is now a major factor in the overall mortality rate, with deaths involving synthetic opioids up 45 percent from 2016 to 2017. The twin-pack price for the product is now $4,500, up from $690 in 2014. Although generic naloxone is comparatively inexpensive on its own, Evzio is the first to package naloxone in an auto-injector that can be used by laypeople. This feature has made it an absolute necessity in combating the opioid epidemic, because it can be used by first responders without advanced medical training like police officers. However, this price hike is keeping it out of the hands of the people who could be using it to save lives, drawing condemnation from the medical community and taking us closer to a dark, Cyberpunk Now where only the wealthy individuals and affluent communities have access to the best pharmaceuticals.
Lab-grown mini-brains generate human-like brain waves
Scientists at the University of California, San Diego observed electrical activity in mini-brains that resembles human brain waves. These "mini-brains" are grown in the lab from stem cells and can form cortical tissues, which are typically found in regions of the brain responsible for cognition. The observed electrical activity is similar to brain waves seen in premature babies born at 25-39 weeks. This work could help scientists learn more about the developing brain and the development about early-stage brain disorders, but brings up interesting ethical questions. We're not growing fully formed brains in vats yet, and these mini-brains can't feel or think, but an ethical debate is still important at this stage, lest we invoke a "I have no mouth, and I must scream" moment in the future.
Rogue scientist claims creation of first CRISPR-edited babies
A Chinese scientist, He Jiankui, announced this week that he has helped make the first gene-edited babies, a set of twins with CRISPR-edited DNA. He's claims, which have yet to be published in a scientific paper, sent a shockwave through the scientific community, drawing wide condemnation and skepticism. Scientists globally have agreed that editing embryos, or germline editing, is unethical because the edits (and mistakes made during the editing process, which is yet to be perfected) will be passed down on to future generations. The Chinese government has since shut down He's research, which has been conducted largely in secret, only registering as a clinical trial earlier this month, around the same time that the babies were born and without the hospitals ethical approval. The story around the first CRISPR-edited embryos is still unfolding, as He announced another pregnancy has resulted from his research, while the work itself remains unsubstantiated by peer-review. If true, the story of a rogue scientist conducting germline editing in humans largely in secret is about as cyberpunk as it gets.
Cyberpunk Media
Movies
New Replicas Trailer Released
It's been some time since we last heard news from the studio behind Jeffrey Nachmanoff's upcoming sci-fi drama-thriller starring cyberpunk Jesus Keanu Reeves. Following a car crash that kills his family, roboticist Will Foster (Reeves) steals millions of dollars' worth of equipment from his (presumably corporate) employer's lab to create lifelike recreations of his wife (Alice Eve) and children, which, if the trailer is any indication, leads to disastrous consequences. Little new information is dispensed that hasn't been covered in the first trailer, save for a scheduled release date on January 11th of next year (pushed back from August 24th for reasons currently unknown).
Alita: Battle Angel Creators Talk Character Design
In a recent interview with ScreenRant, producer Jon Landau, visual effects supervisor Eric Saindon, animation supervisor Mike Cozens, and visual effects supervisor Joe Letteri explain the challenges in merging Alita's character with Rosa Salazar's performance. Turns out there's a lot more to it than resizing the character's eyes–as explained in the video, the special effects team put careful consideration into Rosa's expressions as an actor, the understanding of facial structure, and detail down to a near-microscopic level. The level of care and artistry gone into the film's namesake seems akin to that of Rachael's cameo in Blade Runner 2049 and may be telling of a trend of hyperrealism in future films. Alita hits theaters on February 14th of next year.
Short Films
The Limit: Hardcore Henry Meets VR
In addition to his work on the upcoming Alita: Battle Angel, Robert Rodriguez has just released a 20-minute action movie starring Michelle Rodriguez and Norman Reedus (sporting what appears to be a heavy-duty robotic arm). The viewer takes the role of the protagonist as they seek revenge against their creators and the truth behind their identity in the dusty back roads of what looks to be the American Southwest. It looks like Rodriguez's trademark over-the-top action sequences will be abundant. You can purchase The Limit for your smartphone or VR today.
Television
Genre-bending anime favorite Cowboy Bebop heading to Netflix as new live-action series
This week, Netflix announced a new 10-episode live action adaptation of Cowboy Bebop to be released sometime in the near future. Originally released in Japan in 1998, Cowboy Bebop is the story of a crew of bounty hunters who are on the lookout for their next bounty to keep the lights on in their ship, the Bebop, while slowly each discovering their individual pasts one at a time. The series debuted on Cartoon Network in 2001 and is nowadays often found on top-10 anime lists due to its mix of genres like sci-fi, cowboy, and jazz. Fortunately, the original anime director Shinchiro Watanabe will be coming back as a consultant for the project, and Christopher Yost (Thor: Dark World and Ragnarok) will write the first episode and is also serving as executive producer.
See you soon, space cowboy!
Books
Richard K. Morgan is having a Garage Sale You Guys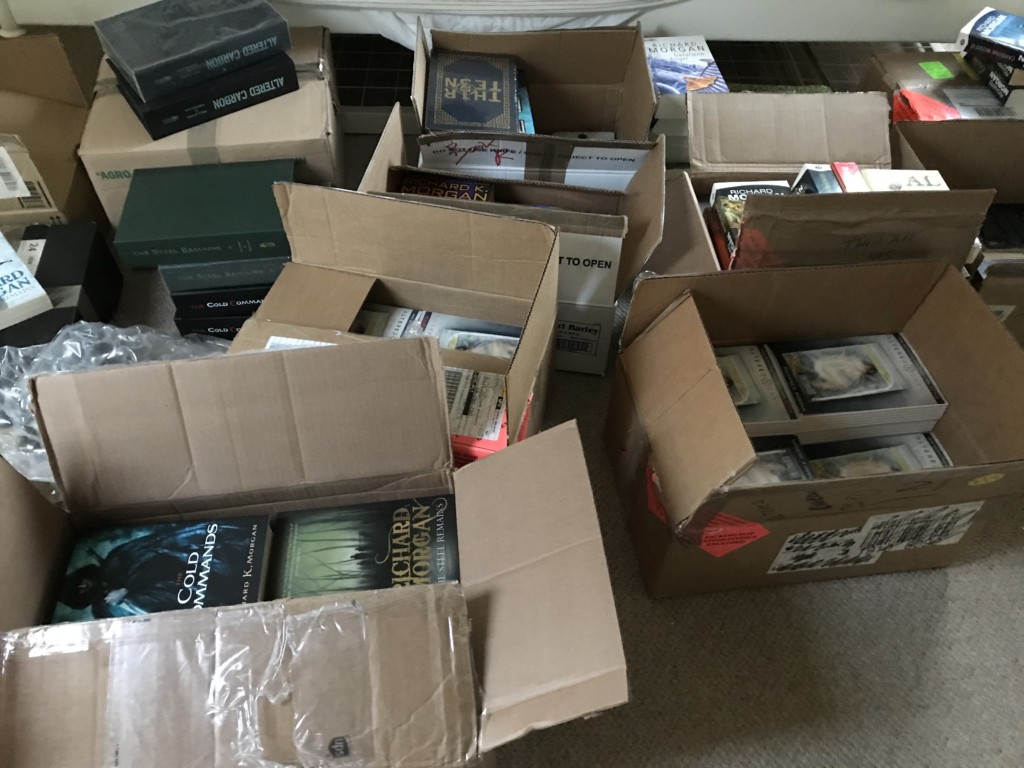 Very exciting news for cyberpunk fans–Richard K. Morgan, author of the essential novel Altered Carbon and its sequels, Broken Angels and Woken Furies, is selling signed copies of his overstock novels. The Takeshi Kovacs novels aren't all that's available though; a variety of Morgan's other works are up for grabs. Instructions for ordering can be found here. Snag a copy for yourself or bring some dystopian misery to a loved one this holiday season.
Inside Black Mirror
At long last, we finally get an in-depth look at the inspiration and motivation behind ND fan favorite anthology series, Black Mirror. The description is as follows:
"The first official companion to the Emmy-winning Netflix cult-hit sci-fi television series that's fascinated millions of fans worldwide, with stunning visuals and never before seen behind-the-scenes content.
What becomes of humanity when it's fed into the jaws of a hungry new digital machine? Discover the world of Black Mirror in this immersive, illustrated, oral history.

This first official book logs the entire Black Mirror journey, from its origins in creator Charlie Brooker's mind to its current status as one of the biggest cult TV shows to emerge from the UK. Alongside a collection of astonishing behind-the-scenes imagery and ephemera, Brooker and producer Annabel Jones will detail the creative genesis, inspiration, and thought process behind each film for the first time, while key actors, directors and other creative talents relive their own involvement."
Inside Black Mirror can be picked up on meatspace and digital shelves as of November 22nd.
Margaret Atwood Writing Sequel to The Handmaid's Tale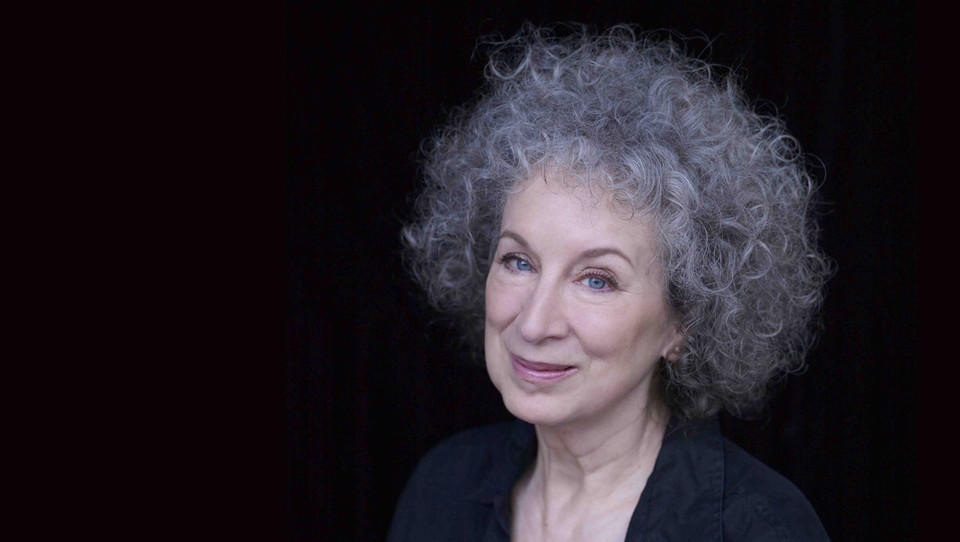 After a 33-year hiatus (and possibly partially due to the critical acclaim of Hulu's adaptation of the same name) Margaret Atwood is penning a sequel to dystopian classic The Handmaid's Tale, titled The Testaments. The book will take place 15 years after the end of The Handmaid's Tale (sans the extended version's epilogue) and will be told from the perspectives of three female characters, which will reflect our current political climate's hostile stance on female autonomy. Atwood, who also published post-apocalyptic biopunk novel Oryx and Crake in 2003, has announced that The Testaments will be released in September of next year.
Cincinnati Stories: an illustrated cyberpunk collection
A Kickstarter has launched for a reprint of Cincinnati Stories, an illustrated short story collection from writer and game designer Rob Chant. The beautifully illustrated stories are set in the cyberpunkdreams universe, a brutal and balkanized future where current political and ecological trends have run their course and left the United States crippled and torn by civil war. Although this is a reprinting, the current campaign offers awards available from the original Kickstarter in addition to a new set of stories, new t-shirt designs and new prints. The Kickstarter campaign ends December 8th. You can support it here.
Video Games
Neon Code
Single handedly developed by fubenalvo, Neon Code is a short retro-cyberpunk game that puts the player in the shoes of burnt-out PI Craig Williams, who stumbles across a mystery that offers him a second chance at his old life as a police detective. Taking inspiration from classic cyber-noirs (Blade Runner being the obvious standout), Neon Code is marketed as a one-hour adventure game, but looks like it holds a vibrant world that will be easy to get lost in. It's available now for PC, Mac, and Linux.
Broken Reality
At the forefront of what will likely be a deluge of vaporwave simulators in the coming years, Dynamic Media Triad's debut release takes place in an internet ruled by megacorporation NATEM, which appears to be the future of cyberspace as envisioned by The Lawnmower Man and Johnny Mnemonic, combined with every kitschy piece of pastel '90s memorandum you can think of. Whether or not there will be a coherent story or if the game will be a series of hijinks in the vein of Jazzpunk is yet to be determined, but Broken Reality is available through Steam as of yesterday.
Notice a cyberpunk story we missed this week? Let us know down below or on social media.
Some of the links included in this article are Amazon affiliate links. If you would like to purchase these items, consider using the links provided and help support Neon Dystopia.