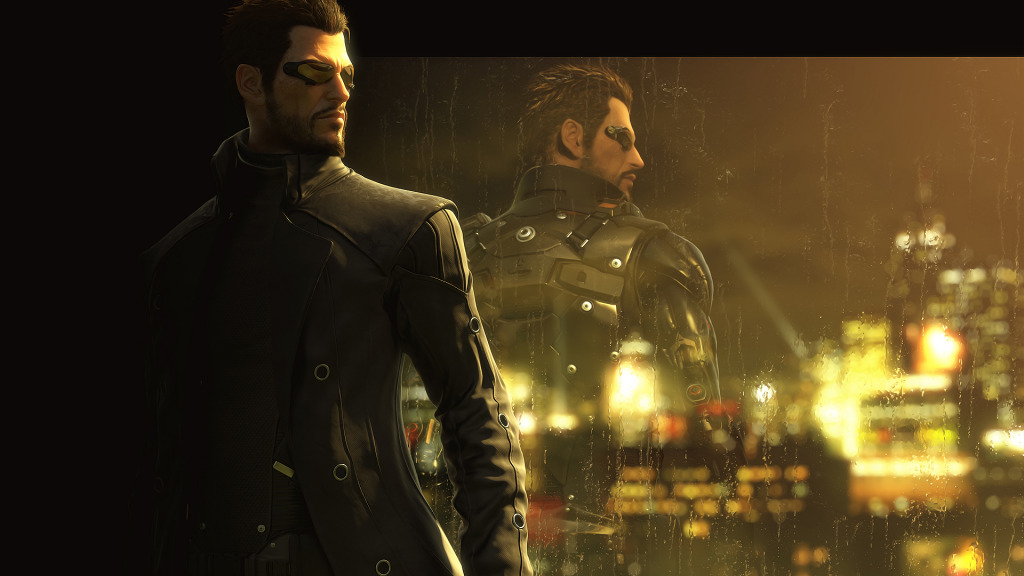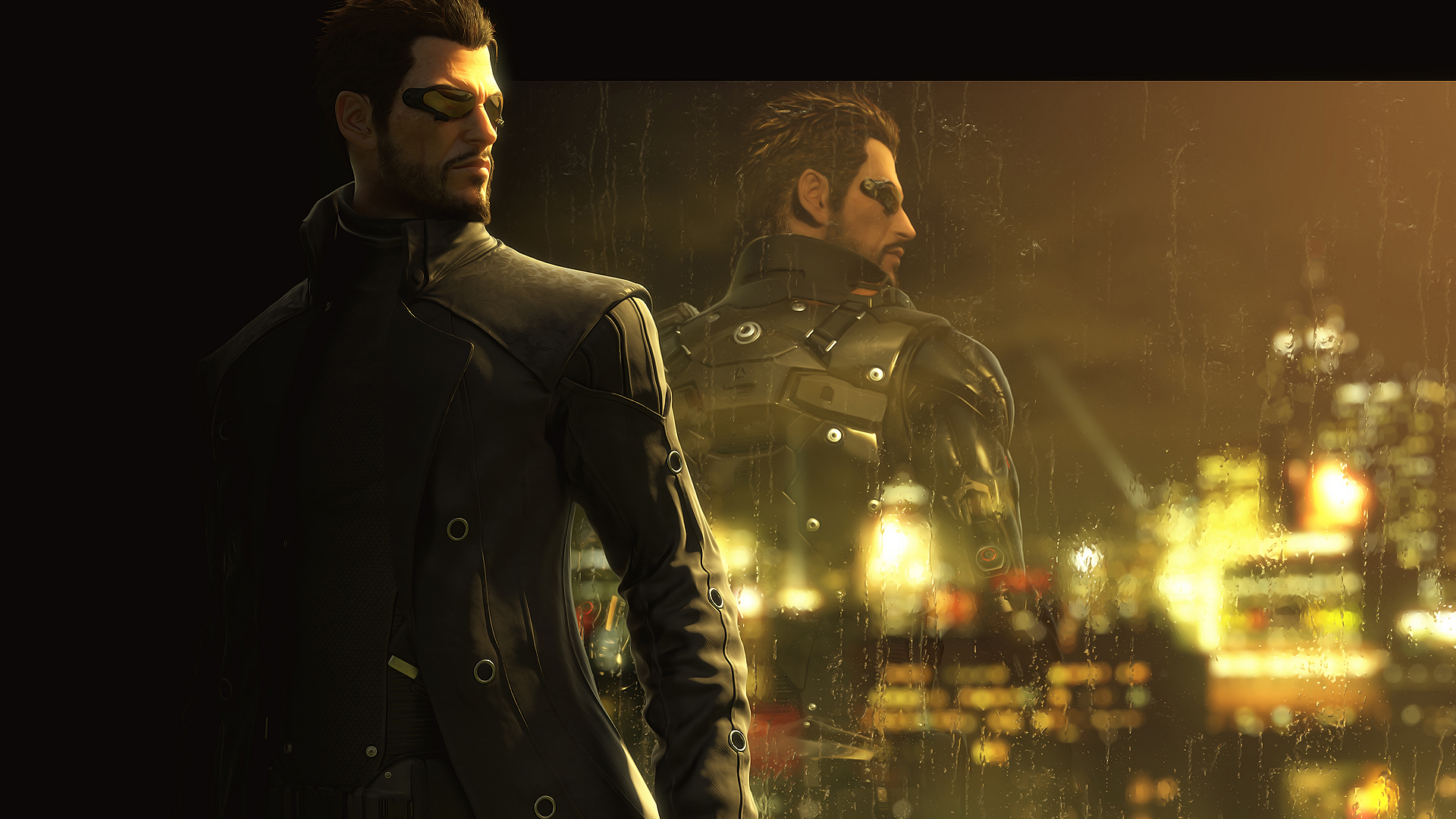 With news about the new Deus Ex: Universe starting to pick up and the original Deus Ex: Human Revolution team at Eidos-Montreal now working on the next game, it seems a good time to get everyone up-to-date on the history of the franchise.  After all, we're getting to nearly 15 years after the release of the first Deus Ex game and a lot has happened since.
The Franchise So Far
It all started with the original Deus Ex.  An FPS with RPG elements that mixed stealth and action, great design, and an even better story.  It's a game that's been featured in 'Best Games of All Time' lists since it was released, and has remained in them ever since.  One such list is Empire's 'The 100 Greatest Video Games of All Time' where DX sits at #17 and they've summarised the reason why it deserves that spot:
"With its emphasis on player freedom in completing objectives, branching story paths through its multi-faceted global thriller plot, and wildly customisable abilities for central character Denton, Deus Ex foresaw the direction games en masse would take. As structurally impressive now as it was on release."
[block_grid type="two-up"][block_grid_item]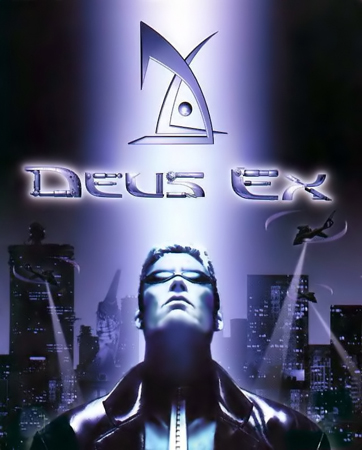 [/block_grid_item][block_grid_item]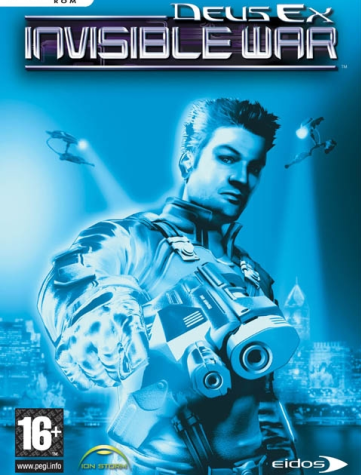 [/block_grid_item][/block_grid]
It's popularity meant that the original DX wasn't the end of JC Denton's story.  Releases in the franchise so far have been:
The original Deus Ex released in 2000 on PC and later on Mac, PS2, and PSN.
Deus Ex: Game of the Year Edition was released in 2001.
Deus Ex: Invisible War released in 2003 on PC and Xbox.
Deus Ex: Icarus Effect, the first novel for the franchise, was released early in 2011 (6 months before DX:HR).
In 2011, alongside the novel, six Deus Ex comics were produced by DC Comics in the lead up to the release of DX:HR.
Deus Ex: Human Revolution released in 2011 for PC, PS3 and X360.  A piece of downloadable content was released a month later called The Missing Link.
In 2012, word spread of a DX:HR film adaptation.  This was confirmed and new information continues to be released.
In 2013, a Director's Cut of the DX:HR game was released.
With the Director's Cut in 2013 came a short novella, Deus Ex: Fallen Angel, included in the package.
Deus Ex: The Fall, released for iOS in mid-2013 and Android in early 2014, was the first mobile release for the franchise.  The Fall was released for PC early in 2014.
[block_grid type="two-up"][block_grid_item]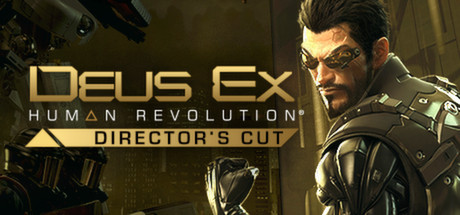 [/block_grid_item][block_grid_item]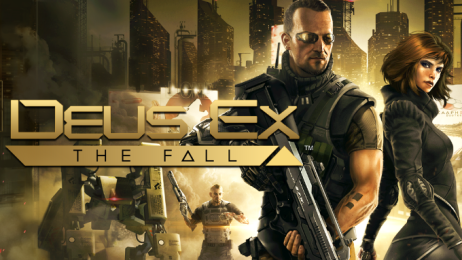 [/block_grid_item][/block_grid]
Venture Into New Media
2011 marked the year the franchise started to expand into other media types with Deus Ex: Icarus Effect novel.  It didn't seem to be slowing down, either.  Within 2 years the franchise had a series of comics, a novella, and its first mobile game.  The rate and variety of new media content being released for the DX franchise shows the voracity of its fans, as well as Square Enix's commitment to satisfying them.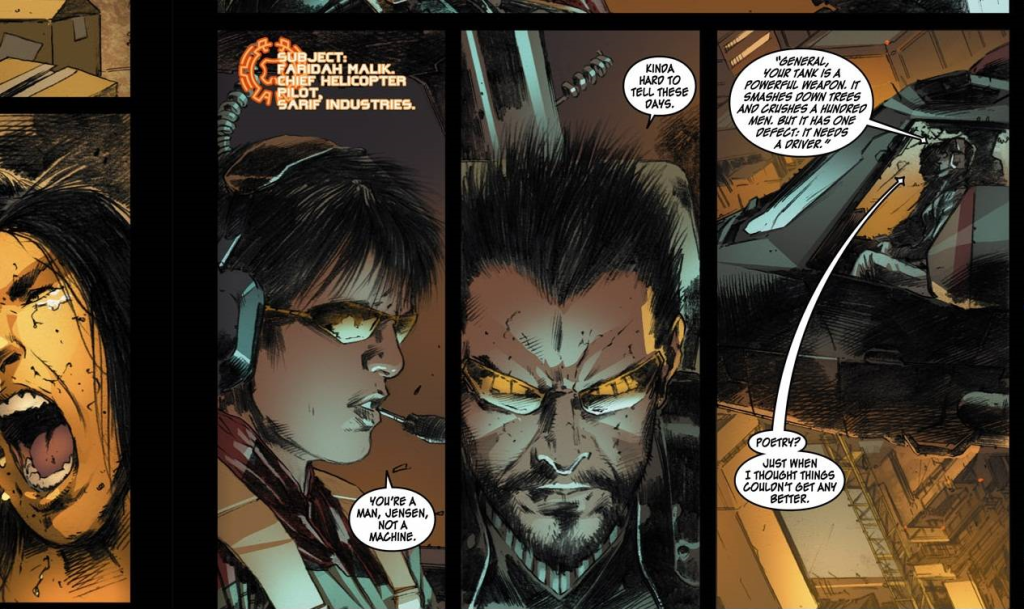 Deus Ex: Universe
The fact is Square Enix created the Universe concept back in 2011 when they produced all the tie-ins with inter-connected stories happening either simultaneously or chronologically.  That was the time when we were no longer following just one character in their own story, but several inhabiting the same world.
The time had to come, though, for them  to put a name to it.  It started with the discovery of the trademark in September 2013 by Siliconera, followed shortly after by the official announcement of DX:U in October.  The following year, in December 2014, we learned that the Universe will use Eidos-Montreal's new Dawn Engine.
Here's the important information to take from these announcements:
"Deus Ex: Universe is the name we are giving to the fictional world and the rich lore we are creating for it"
"to create an ongoing, expanding and connected game world"
"content that expands the franchise on a regular basis"
"to deliver a deep conspiracy that will span several connected Deus Ex games"
"will include PC and console games, but also… available in other media such as tablets, smartphones, books, graphic novels, etc…"
"already into production of the starting point for Deus Ex: Universe with a new game for PC and next-generation consoles"
"most of the team behind Deus Ex: Human Revolution is already working hard on this new game"
Basically, this whole paragraph; "I want to leave you with a piece of concept art from our next-gen Deus Ex game that shows trans-humanism segregation, which is a backdrop to our vision for the next Deus Ex. It represents a "ghetto-city' voluntarily built in order to separate the classes. The people in this segregated class have reshaped their environment, nostalgic for their ideal of Cyber Renaissance. This dark and dystopian vision sets the tone for things to come in Deus Ex."
"it's early so don't expect to hear much more from us just yet, but I wanted you to know"
"the Dawn Engine will form the cornerstone for all Deus Ex Universe projects at Eidos-Montréal"
"Some of you have had concerns that "Universe" meant "MMO". Rest assured, it does not."
"what we envision is for our projects to have meaningful ties to one another, in order for them to strengthen and deepen your experience within this Universe."
There's also been some unofficial information 'leaked' mid-2014, so take this with a pinch of salt:
"The phrase Deus Ex: Universe… was originally the title of the next Deus Ex game."
"Deus Ex: Universe was allegedly deemed too ambitious, with the concept for that single game now broken down to form the basis of a Deus Ex trilogy."
"The anonymous source says that player choices in these games will be carried over in a similar fashion to Bioware's Mass Effect game, but to a greater extent."
A "source has… seen promotional material for a game called Deus Ex: Mankind Divided and that the material features Deus Ex: Human Revolution protagonist Adam Jensen and Ben Saxon from mobile title, Deus Ex: The Fall."
"It's not clear whether Deus Ex: Mankind Divided will be the first entry in the new Deus Ex trilogy for PS4, Xbox One and PC, or whether the title is another mobile Deus Ex game."
The Deus Ex: Mankind Divided title seems to be a reality with this trademark filing.  Also, the official comments of projects having meaningful ties does sound a lot like player choices carrying over, though perhaps there's the opportunity for a cross-over from a mobile game to a PC or console game.
A Change in Visual Style?
Back in October 2013 a logo was posted with the announcement of DX:U.  Although the logo probably took 60 seconds to create (it's based on the original DX:HR logo), it shows that they are following on from DX:HR's visual style and not re-inventing it.

In June 2014 a new logo was released Jonathan Jacques-Belletéte (Art Director of DX:HR and Executive Art Director at Eidos-Montreal) on his tumblr page.  This new logo brought in a new, neutral colour palette in the same Renaissance/geometric style that DX:HR started.  A user over at NeoGaf pointed out the mathematical construct this logo was based on; the Sierpinski triangle, which provides no new information about the game or universe, as far as I can tell – but it's cool nonetheless.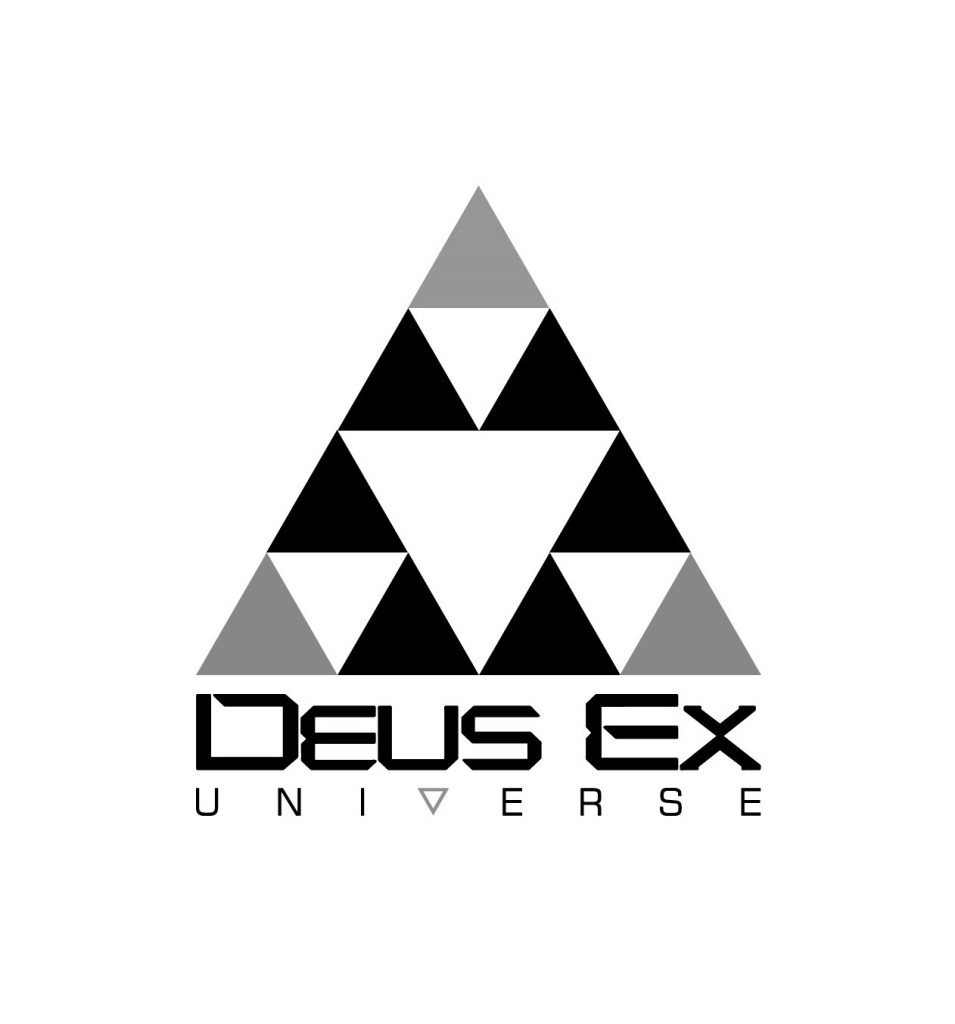 Reddit user, eliza__cassan, pointed out that the logo design can be seen as showing lots of smaller things creating a larger picture of a "universe".  Using this same train of thought it could also be seen as a conspiracy being maintained by those in the hierarchy of power, trickling down from the big players to the small-time businesspeople and politicians of the world; each level of the conspiracy obscured from the view of those below.
It's not clear whether the logo is for the over-arching franchise or the next instalment in the Deus Ex series.  It's neutral colours could suggest this is the logo for the whole franchise so that some content can diverge from the black and gold style of DX:HR.
What's next?
Well, I think we can expect a specific announcement about the next core Deus Ex game for the PC and next-gen consoles, perhaps with the Humans Divided moniker.  It's also likely that they're going to go big with mobile – either a companion app, an augmented reality game, or another FPS like DX: The Fall.  Maybe they'll go with all three?
Either way, we simply cannot wait and demand Square Enix to show us everything now.  Now!  Failing that, we'll just wait and share with you anything that we hear as soon as humanly(?) possible.