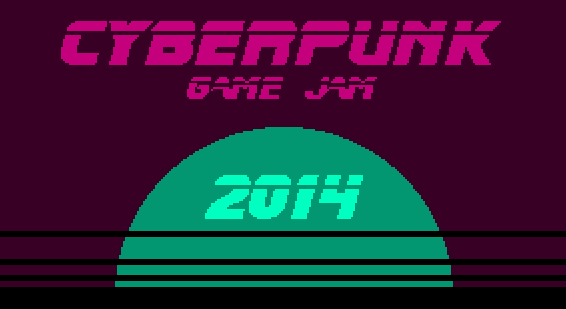 Game Jams are fantastic things.  You get a very short amount of time to create a game.  It's as simple as that, in essence, though there are usually modifications that set design constraints or encourage you to follow a particular theme.  Ten points if you can guess what the theme was for this years #CyberpunkJam…
"Put on your mirrorshades and dive into cyberspace. Presented by Devi Ever, the Cyberpunk Game Jam (March 1 to March 10, 2014) celebrates the 1980's vision of a grim, wired future."
The Setup
The idea for the game jam began earlier in 2014 and started to gain traction in February, just a month before its start date.  The jam was hosted by Devi Ever (now @PixelGoth); a musician, gamedev, and pixel artist.  The theme instantly grabbed the attention of some developers, some of whom appeared to be waiting for an excuse to make a Cyberpunk-themed game.
[columnize]
Awesome idea for a jam RT @deviever #cyberpunkjam starts March 1st! Vote now for the theme! http://t.co/gs49UL7MoC

— Momin Khan (@foolmoron) February 17, 2014
this gamejam looks super fun RT @McFunkypants: @kdsh7 @xiotex @Benwhi Check it out: hosted by @deviever #CyberpunkJam http://t.co/CA70yBOla8

— Kevin CFY (@kdsh7) February 24, 2014
[/columnize]
#CyberpunkJam used its Twitter hashtag to encourage communication between participants and for the developers to share their progress with the world as they iterated on their game designs and artwork.  The event also used itch.io, a game hosting and sharing platform, to act as the main website for the game jam.  Developers could upload their games when they had finished and were essentially provided with a product page where players could download their games.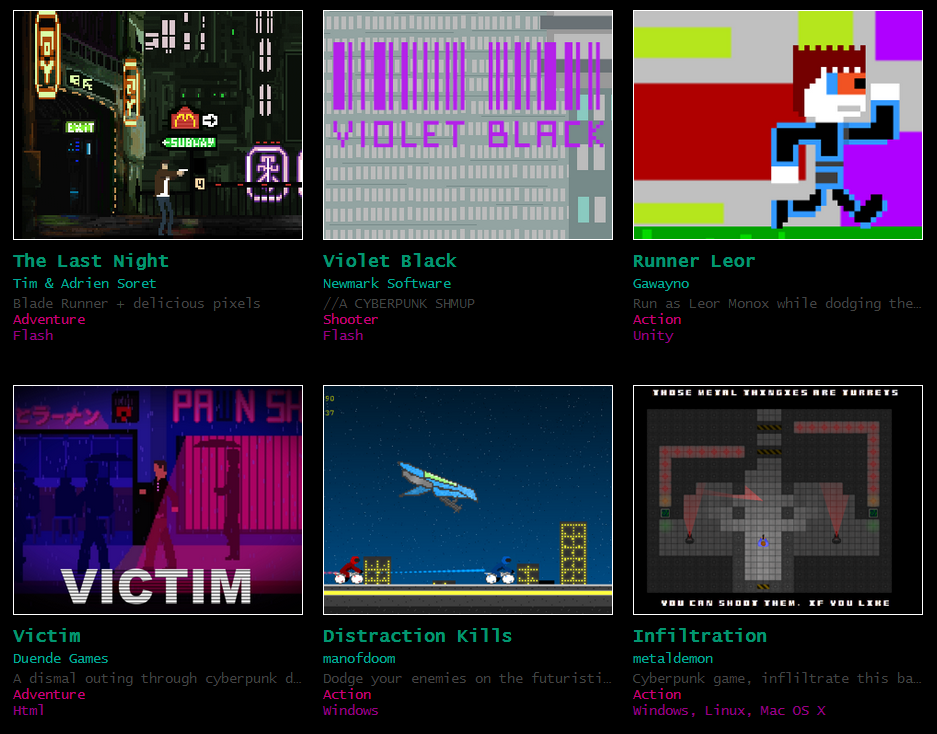 #CyberpunkJam Gets Going
The jam went live on March 1 and, with the challenge set, developers began signing up immediately and started to brainstorm their projects (if they hadn't already decided on the game they would make).  This stage of the game jam showcased the unbelievable creativity of participants, the speed at which developers could build working prototypes, and just how artistic some programmers can be (I jest)!
[columnize]
I'm thinking about making something small for #cyberpunkjam. This theme is so brain-seducing… first random sketch pic.twitter.com/LDUK4oM4tA

— Andrew R. Lukasik (@andrewlukasik) March 5, 2014
Test level for the #cyberpunkjam game (also a mini game for my #1GAM game 😀 pic.twitter.com/0bQymxNi8j

— ( ͡° ͜ʖ ͡°)led2012( ͡° ͜ʖ ͡°) (@ledf2012) March 5, 2014
worked on some bad guys and a cool kid! #cyberpunkjam pic.twitter.com/yLhucZhIvO

— Andy Duboc (@moj0111) March 3, 2014
Prototype for Drop till you stop. Picture this as running down the side of a building. #cyberpunkjam pic.twitter.com/65tqyuoxZE

— Jeven (@TehJeven) March 3, 2014
Now working on core game logic for my #cyberpunkjam game. Have to say: it's pretty awesome. pic.twitter.com/ynKc7NcBqj

— 0x0961h (@0x0961h) March 4, 2014
[/columnize]
The Deadline Draws Closer
There was a mixture of tension and relief as some developers were still working away right up until the deadline while others could sit back and relax after clicking 'Submit'.
[columnize]
What's that? 15 hours remaining? Oh, guess I should probably add some levels, then… #cyberpunkjam pic.twitter.com/gjBn4UuOa0

— Zed (@dedhedzed) March 11, 2014
https://twitter.com/diamond_drop_/status/443378295904559104
[/columnize]
As games were finished and uploaded they began to populate the main itch.io #CyberpunkJam page.  Towards the end of the game jam you could refresh the page every few minutes and find a new game up there and ready to play.  Games that developers had been making non-stop for over a week were now being played and reviewed by the gaming public.
The Results Come In
The game jam was a huge success with over 250 Cyberpunk games created and submitted before the deadline.
Participants rated each others games under different criteria; aesthetics, overall, synergy, polish, and relevance.  When ratings were submitted, an algorithm would create a score based on the ratings and a winner would eventually be decided using that.  Reading over Twitter and seeing the attention some of the games were getting, the winners weren't much of a surprise.  A firm favourite was Tim and Adrien Soret's The Last Night.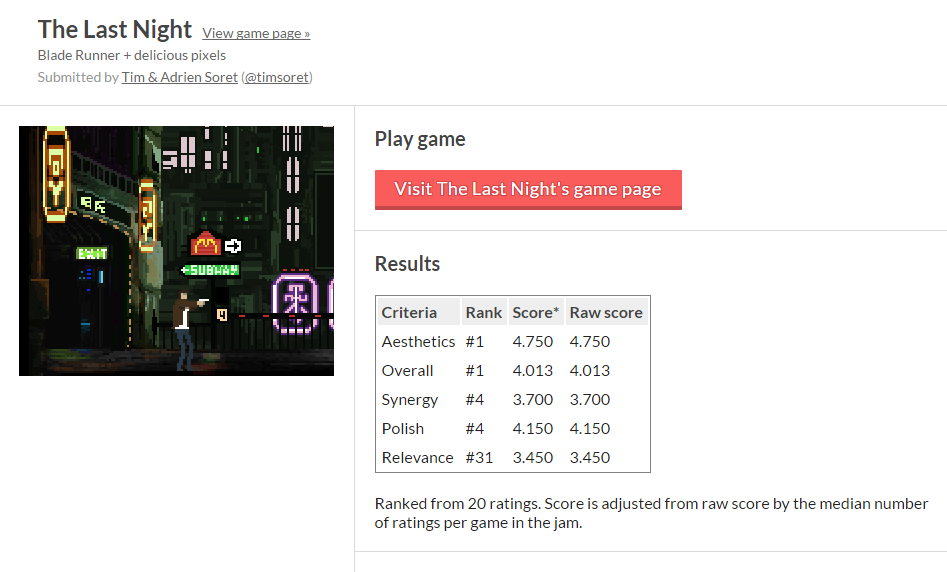 The official results went live on March 24th with the top three games of #CyberpunkJam being:
"268 games were submitted between 03/01/2014 and 03/12/2014. 2726 ratings were cast by those who entered"
On To Greater Things
As with any game jam, the majority of #CyberpunkJam games were likely never finished or submitted.  Of those that were, many would simply be forgotten about or take their place in someone's portfolio, waiting to be shown off when required.  Some games, on the other hand, would be taken on and developed further.  Whether they showed promise to players, sparked a passion deep inside the developer or gained a huge amount of positive press, a handful of games were destined for something greater.
The Last Night is one such game that's going big, according to its creators.  With a Kickstarter planned for early 2015, they hope the game will be launching on PS4, PC, and Mac around early 2016.  Expect to hear more from them in the new year.
Will there be another #CyberpunkJam?  We can only hope…
https://twitter.com/PixelGoth/status/536148037085560833