Part 1 – Pattern Recognition
Foreword
I wrote this guide sometime in 2012, just before it seems everyone suddenly realized we were living in a previously obscure, very concerning subset of science fiction originating in the 1980s. As I was about 19 when I wrote this, it's very concerned with trying to develop a taxonomy for some kind of fashion ecosystem. This is entirely the extent of it's role now I think- there is no deep underlying philosophy here, no movement. Just a time capsule of teenage observations through mirror-tinted glasses.
"If they think you're crude, go technical. If they think you're technical, go crude"
Since Cyberpunk made the jump from subgenre to subculture some time around the end of the Cold War, people have been suggesting, arguing, and misinterpreting just what the accompanying fashion consists of.
Let's be clear here- this is just another one of those, based on what I've seen. There are no defined "rules" (aside from these), and by no means should everyone follow this guide to the letter. That said, there's a lot from both primary sources (print and digital works) and the online communities to go by. Let's take a look at some of the styles you'll run into.
Gen 1 draws heavily from classic cyberpunk print media, as well as punk and rivethead fashions. It has a rougher, more hard-edged look than other styles, often with a hint of 1980's retro. Expect lots of leather (including gothninja brands at the high end), most if not all black. Might incorporate military influence (including more Militech-style items). Notable accessories include the omni-present mirrorshades, as well as cowboy boots (exotic leathers preferred) and leather or canvas jika-tabi.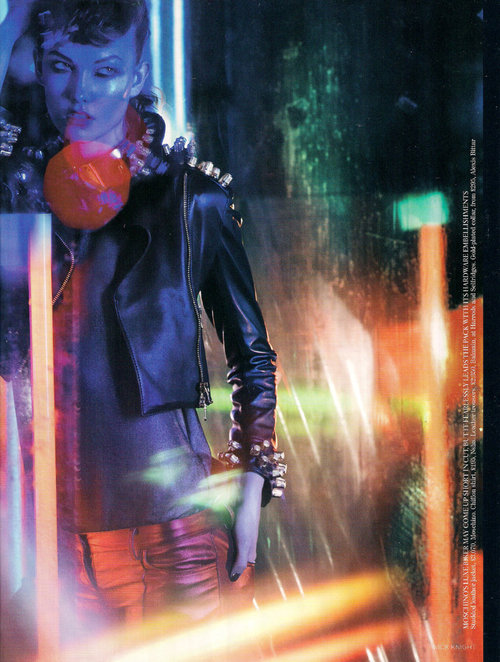 Gen 2 isn't seen often nowadays- it got it's big break in The Matrix, and is still the image of cyberpunk fashion in many people's minds. Trench coats, latex, and fetishwear abound. An interesting and even more rarely-seen variant is Cyberdelic, which centers around the interaction between computers and altered states. Tea-shades and fractals are the way to go if you're aiming for this.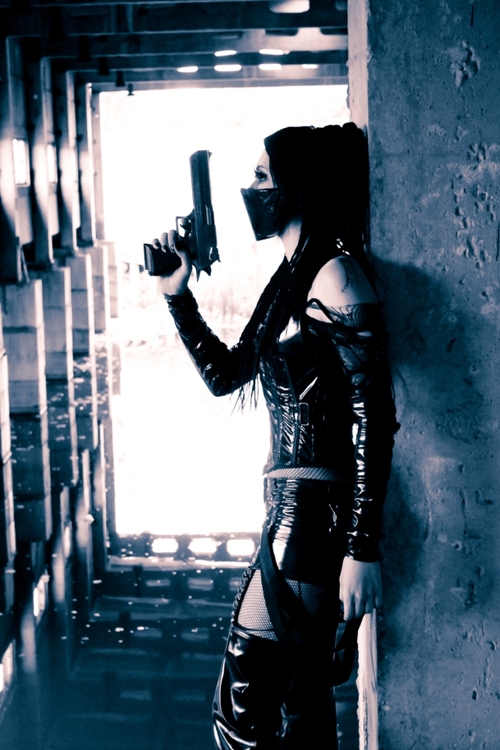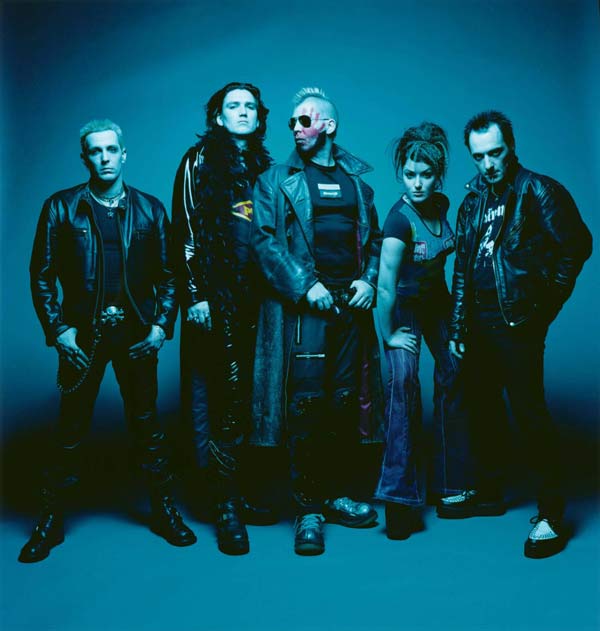 Gen 3 is heavily influenced by Techwear (and Techninja style in particular). It has a more urban, sleek look. Functionality is a major factor- technical fabrics, transformability, and modularity are all sought after. Fits are usually looser, hoods are near-requisite, and patterning is usually futuristic. Color is often more prevalent, as is metallics. Militech is a variant that focuses on tactical and mil-spec clothing.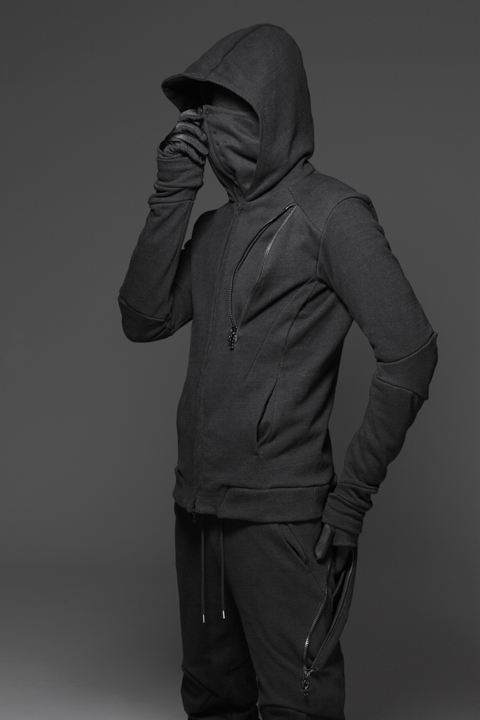 Part 2 – We Can Get You Anything You Need
"CPUs. Cayce Pollard Units. That's what Damien calls the clothing she wears. CPUs are either black, white, or gray, and ideally seem to have come into this world without human intervention."

Chances are you probably wanted at least one of the items in my previous post. Maybe you even want to go for one of the looks, or mix some of the elements. This part of the guide aims to help you find these elements, and who to watch if you want more.
Leathers
A lot of the leathers that really fit the Cyberpunk style tend to have futuristic, asymmetrical cuts, muted hardware, and slim fits. With Gothninja's popularity surging in recent years, this market has expanded but still has yet to come down in price and quality. It's important to note that a lot of these designs are lambskin, which is thinner and not as tough as cowhide. Conversely, motorcycle jackets are usually very heavy and more restrictive. Most of the listed designers and labels are serious money, so those lacking funds might just want to shop around for a jacket based on the classic Perfecto style and go punk rock on it's ass. If you wear women's clothing though, you're in luck as there's a plethora of reasonably-priced asymmetrical leather jackets out there.
Designers/Labels: Julius, Rick Owens, Demobaza,  Boris Bidjan Saberi, Obscur, Carol Christian Poell
Jeans

Black, slim (but not skinny) jeans are essential to Gen 1 style and go well with everything else too. Of particular note are coated/waxed jeans. These are regular denim that's been treated with paraffin, polyurethane, or acrylics which give it a leather-like appearance as well as limited water and spill resistance. The added function is great, but when done right they look just plain good. The best news is that DIY coating is inexpensive and pretty easy, letting you convert older jeans. If you've got money to burn, most of the designers and labels in this guide have some offerings in this area.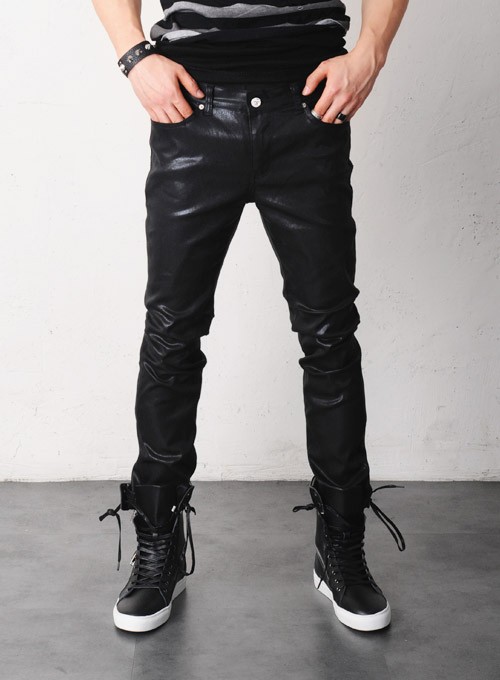 Techwear and military
Materials science and textile research are the driving forces of techwear, but many labels have the sleek, stealth-fighter lines we crave. The Techninja style in particular focuses on this. While usually every bit as expensive as gothninja, they back up the form with function. High-performance fabrics like Gore-Tex, Supermarine Cotton, ballistic nylon, and Smartwool make up a significant part of that price tag. Check out this guide for more info on techwear.
Military gear often finds it's way into cyberpunk fashion, usually in the form of bags and combat pants. Make sure that it's mil-spec though- this ensures durability and function. Army surplus shops can be a good place to pick up gear. Propper and Rothco are major manufacturers of existing designs, and are very affordable.
Designers and Labels: Arcteryx Veilance, Acronym, Stone Island Shadow Project, Civilized, Maharishi, Outlier, Triple Aught Design, Crye Precision, Kitanica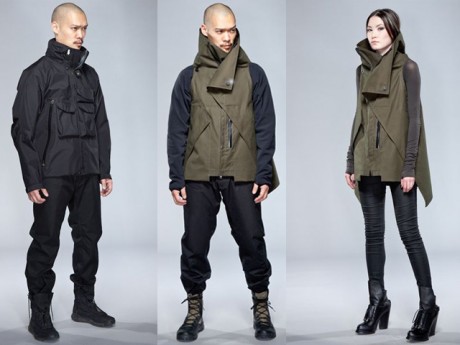 Footwear
Function is sought after by cyberpunk fashion in general, but in footwear it's a necessity. Goth/rivethead boots like Demonias and New Rocks are often too bulky to be practical, and sometimes suffer from poor construction. Tabi are split-toed Japanese slippers which have been updated into shoes, sneakers, and boots (jika-tabi) by various companies (most famously the now-defunct Ayya). Used combat boots are an excellent low-cost option, as they've already been broken-in and can be had for less than a good haircut.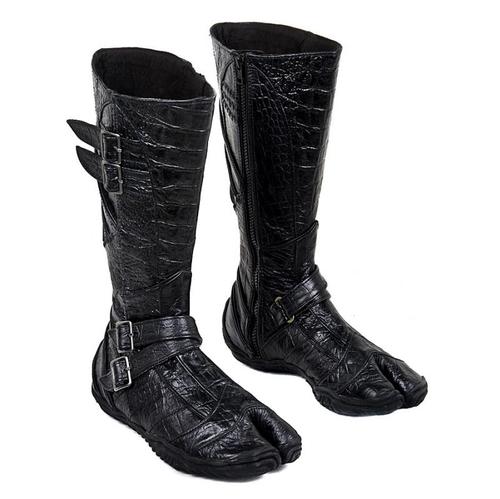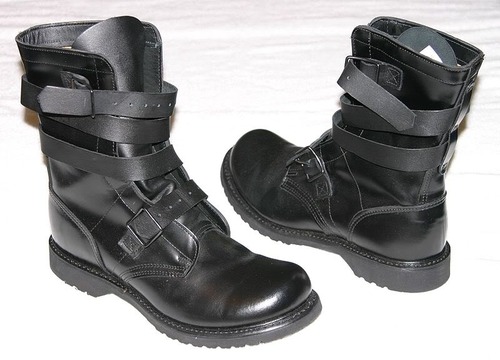 A note on Doublju/Fabrixquare/Yesstyle/black mannequins
There's a handful of Korean companies (or one mini-chaebol) that make clothes with a distinct, unconventional style. These range from the just plain silly (unnecessary/nonfunctional straps, buttons, zippers) to fairly clean, ultramodern designs similar to that of more expensive brands. Unfortunately, these have a reputation for inferior quality and fit issues owing to their East Asian sizing. A rule of thumb is that if it's on a shiny black mannequin, it comes from one of these companies.
Part 3 – Augmenting the Loadout
"Chiba. Yeah. See, Molly's been Chiba, too.' And she showed me her hands, fingers slightly spread…Ten blades snicked straight out from their recesses beneath her nails, each one a narrow, double-edged scalpel in pale blue steel"
While Molly's hand razors aren't yet available, there's plenty of gear, body mods, and accessories everyone who calls themselves a cyberpunk should own (note: a lot of these items aren't legal everywhere, so it's your own ass).
Mirrorshades
Downright synonymous with cyberpunk, mirrored sunglasses have a distinct psychological effect. Whoever comes up with an implanted mounting system for the lenses, your drink's on me. Styles other than aviators are infuriatingly absent.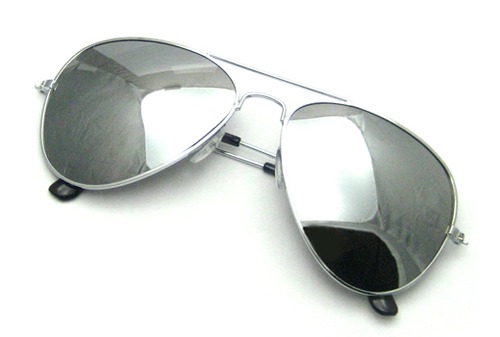 Watches
When you're carrying a phone around, watches become more of a style piece. Tokyoflash (pictured) makes watches with slick, but tricky to read interfaces. If you want something more rugged, Casio G-shocks tend to come in black and have that blend of futuristic/'80s that fits Gen 1 nicely.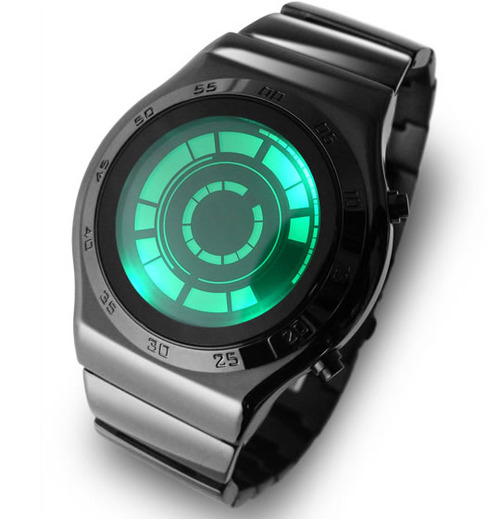 Hair and Makeup
Hair is usually short, due to it's practicality, with undercuts and buzzes common on all genders. Mohawks, dreadhawks, and synthdreads are also favored. Colors can vary widely, but titanium white is particularly popular for females. Zoetica Ebb's Blush Response is practically the cyberpunk makeup bible, but more distinct is a kind of war-paint style, with black "raccoon masks" and facial recognition camouflage showing up in more outlandish examples.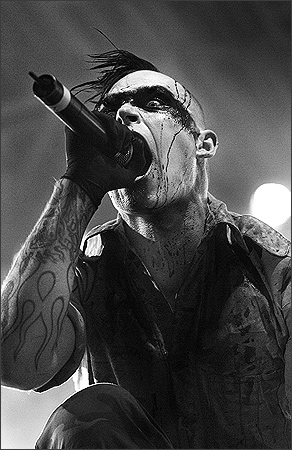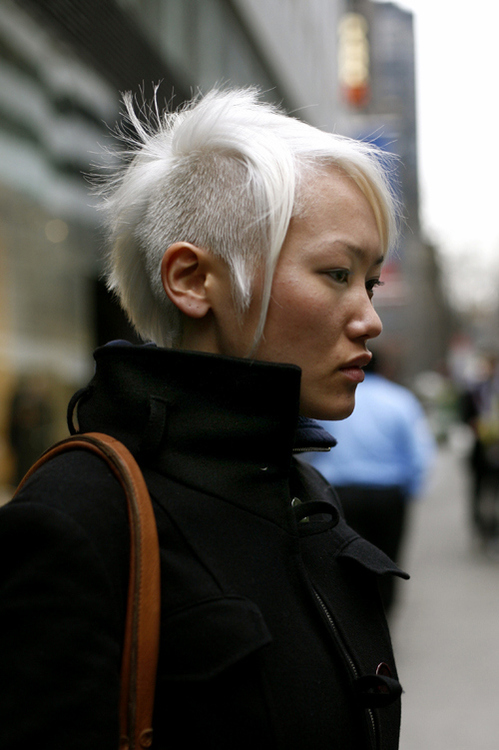 Body Mods and Bionics/Cyberware
In addition to tattoos and piercings, functional body modifications are gaining traction. One of the biggest proponents of this is Lepht Anonym, pioneer of "back-alley cybernetics". Her self-experimentation in this field isn't alone, as more and more people are looking at neodymium implants.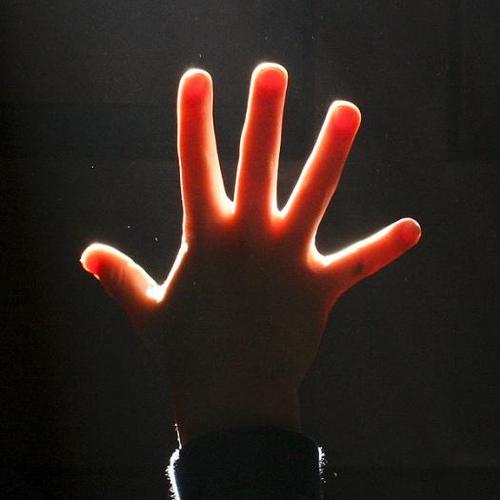 Neodymium implants add an extra sense, allowing users to feel electromagnetic fields.
While prosthetics are now relegated to those unfortunate enough to be missing function in their body, newer models qualify as bionic augmentations.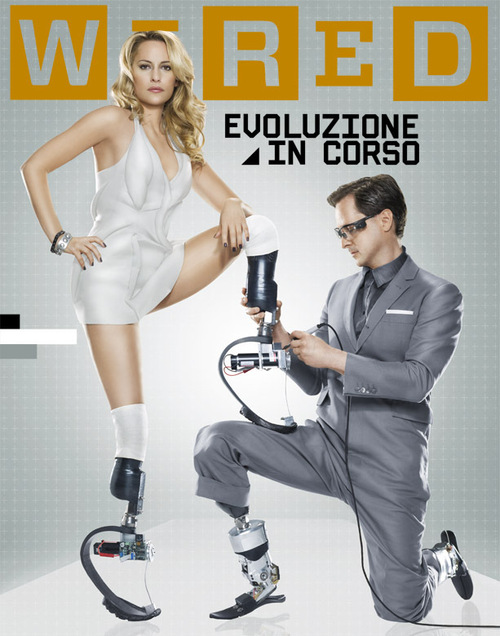 Myoelectric arms have been around for some time and development on two-way nerve splices is underway to grant tactile neural feedback, so they can feel.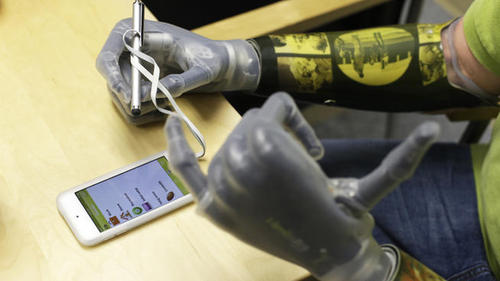 Prosthetic legs have been the subject of controversy in sports, with carbon-fiber spring limbs suspected of granting an unfair advantage. Bionic versions get "tired" slower than the original bioware.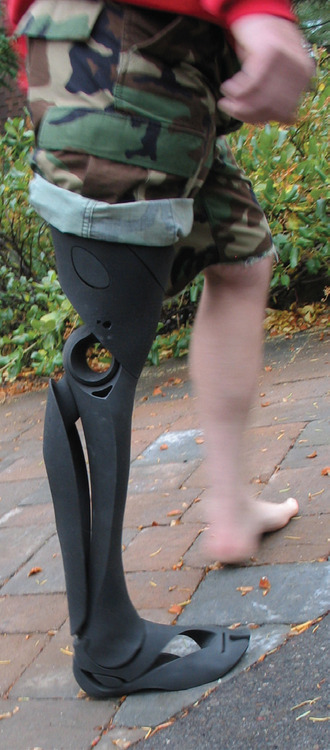 Cybereyes are in their infancy, though research is promising. Current efforts are focusing on retinal implants, but full-eye prostheses with integral cameras are on everyone's mind.
Tattoos 
Cyberpunk tattoos generally fall into three categories: geometric, circuit-like blackwork, UV tattoos that show up under blacklight, and "biomechanical" tattoos designed to mimic cybernetics.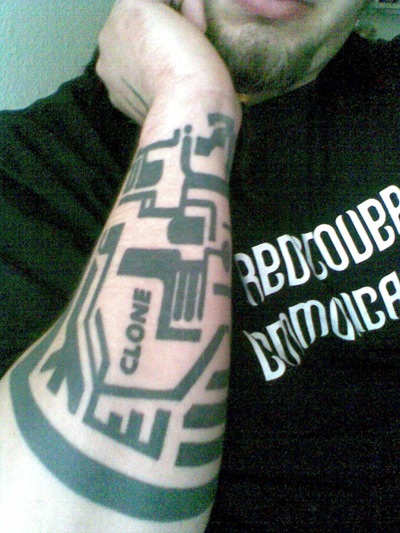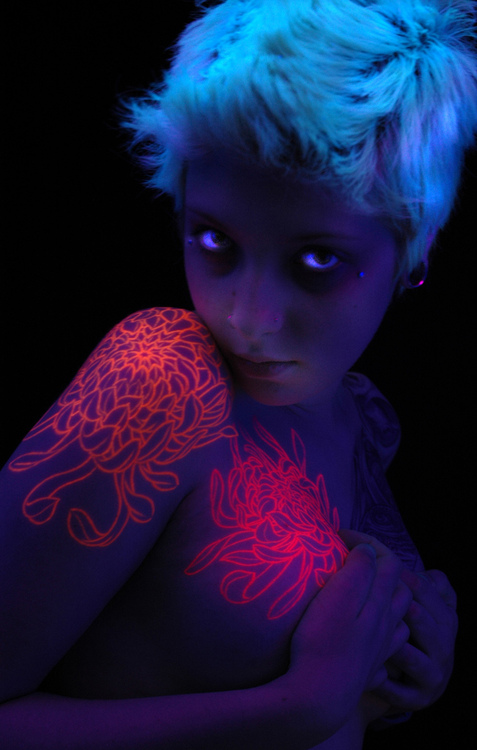 EDC gear and bags
Everyday Carry is a movement of sorts that blends aesthetics with functionality. A typical EDC loadout might consist of a multitool, knife, phone, sunglasses, wallet, watch, pen/pencil, flashlight, lighter, and pistol (again, legality is YOUR responsibility). Purpose-made EDC gear is something to behold, usually rife with knurling, titanium, and advanced polymers. Definite appeal for the Techwear crowd. Packs and bags should be mil-spec, made from rugged nylon (look for 500+ denier). MOLLE/PALS webbing allows you to customize gear by adding and removing pouches in seconds.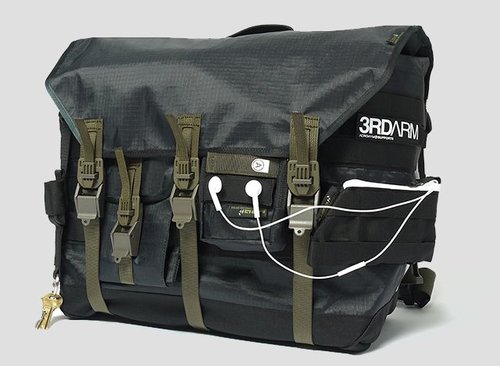 Part 4 – Links
"Live and learn, die and forget- unless you are an expert system"
Blogs, info, and Inspiration
Missinglight – All things dark, futuristic, and wearable
Khymeira – Cyberpunk fashion icon and prose writer
Techspec – Minimalist techwear blog
Blush Response – Zoetica Ebb's makeup witchcraft
Everyday Carry – The original EDC blog No longer operational, check out CadetArtemis' EDC bloglist instead
Dressed Down's Intro to Techwear
superfuture's urban techwear thread
Stores
Darklands Berlin – Look at the amazing leathers. Then look at the prices. Then cry. A lot.
Demobaza – Futuristic leathers and denim for mere hundreds instead of thousands!
HAVEN – Techwear-oriented shop, carrying high-end labels like Veilance, ACR, and SISP.
Firmament – Berlin-based shop carrying many of the same labels as HAVEN.
LAPG – Huge array of tactical clothing and gear; cheap and tough in-house combat pants.
Crisiswear – Slick, futuristic lines, but relatively high prices for non-technical materials. More clubwear-oriented.
Abbyshot – Largely unremarkable, except for their Motoko Shrug.
Verillas – The only current carrier of Ayya tabi boots. Some other interesting gear as well.
PlastikArmy – A bit more on the clubwear side, but poly-cotton construction lends them some durability claim.
Analog Medium – Glitch graphics by databender Max Capacity
Memetic Tees – Graphic tees with clean designs from Blade Runner, the Sprawl, etc.
This post was originally posted by Gunhead in 2012, and is reposted here on Neon Dystopia with permission.

You can see the original posts here.