Hello you beautiful digital angels. We are back with another Last Week in Cyberpunk, bringing you news of the latest massive privacy breach, a killer new short film by Keiichi Matsuda, and some upcoming anime that will hopefully makes its way from Japan to the rest of us.
Cyberpunk Reality
Latest Breach Leaks 773 Million Email Address and 21 Million Passwords
Might want to think about changing that password you've been reusing for everything. One the largest password and email dumps has been discovered being leaked online, making this the largest privacy breach recorded.
Discovered by Troy Hunt, a security researcher and founder of the "Have I Been Pwned" service, the dump was labeled "Collection #1" and was hosted on the cloud service Mega. Contained within was a pirates hoard of 772,904,991 email addresses and 21,222,975 passwords. According to Hunt, the trove of login credentials comes from over 2000 sources and seemed to have taken years to compile, with the earliest entries dating back to 2008.
Who or what amassed this amount of private information (87GB worth) is unknown. As we've covered before, the Marriot hotel had a massive data breach, as well as Yahoo compromising 3 billion accounts the year prior. Companies collect our data (sometimes without even our knowledge), then poorly protect it from the wider world.
So make sure to change your passwords regularly, punks. Stay safe in this digital wasteland.
Trump Administration Has Lost Thousands of Children Separated from Their Parents, Confirms Recent Report
Here in the States Trump put into place a draconian "zero tolerance" policy of separating children from their migrant parents as they tried to enter the country. Even before this, authorities had been separating children from their parents as early as 2017. But then they fucking lost them.
Recently, the Department of Health and Human Services released a report confirming that, after a June 2018 class-action lawsuit to return the kids, the US government still has no idea where thousands of children currently are. Their excuse being that, before the court order, they were not legally bound to identify or track children who had been taken from their parents.
They have no idea how many children they actually have, where they have gone or who they have gone with once they leave holding facilities, and don't really know how to reunite them with their parents regardless.
And that's it. That's all we know as of this moment. No happy ending. No solution. Only a bunch of lost children ripped from their parents by a government apparatus who didn't think of any plan to actually keep them safe.
For the full article go here.
Chinese Teenager Sells Kidney on Black Market to Buy Apple Products, Ends Up Becoming Bedridden for Life
Wang Shangkun, who was 17 at the time of the transaction, wanted a new iPhone and iPad to show off to his friends. Since he didn't have money for the tech, and lived in one of China's poorest provinces, he found a kidney agent in some internet webchat forums along with a hospital to facilitate the operation. He received the equivalent of $AUD4,500 for the kidney. Sweet deal!
"Why do I need a second kidney? One is enough" he said at the time. Sadly, right after he sold it, his second kidney started failing as a result of the operation. Now he must remain forever in bed, sustained by dialysis machines. The total amount the kidney was worth around 20,000, and divided up among the members of the gang that helped make the transaction happen. Of this group, nine people were arrested, including the surgeons who helped harvest the organ.
In the small silver lining to be found in this story, his family was eventually awarded 300,000 in compensation later the same year, and is undoubtedly at least using his new iPhone and iPad to keep him entertained in his new bed-ridden life.
Check out the full article here.
Cyberpunk Media
Movies
Robert Rodriguez and James Cameron Talk Vision for Alita
In a recent clip uploaded to Youtube by 20th Century Fox, the lead creative minds give a little insight on their decisions behind their management of the upcoming Alita. Writer/producer James Cameron (of Terminator and Aliens fame) was originally introduced to the manga and OVA in 2000, and shortly purchased the rights to the live-action series afterward. However, since that time the production of the film was in limbo until 2009, in which Cameron handed the director's spot to Robert Rodriguez (you may know him from modern grindhouse films like Sin City, Machete, and Planet Terror). The film premieres on February 14th.
Psycho-Pass: Sinners of the System Ads Streaming in Japan
This isn't really big news for sci-fi anime fans, but we haven't had a chance to make mention of the upcoming Psycho-Pass films in LWIC yet. Spin-offs of the 2012 series and subsequent 2015 film, Sinners of the System is a trilogy of animated films that will feature three separate stories covering past and current members of the Ministry of Welfare Public Safety Bureau, all taking place in a dystopian Japan isolated from a world in chaos, dictated by a superintelligence comprised of the brains of sociopaths (mind the spoiler).
Not much can be gleaned from these anime-ass ad spots (unless you're fluent in Japanese), but if Sinners of the System delivers on the quality of storytelling the rest of the series has laid down so far, it may make for a good watch. Unfortunately, there's no word on the US and EU release dates yet, but the first film will be released in Japan on January 25th, the second on February 15th, and the third on March 8th.
Short Films
Merger
Though it was posted back in November, it's recently come to our attention that Keiichi Matsuda, who brought us the excellent cyberpunk short "HYPER-REALITY", has released a new 360-degree short film. Only four minutes in length, "Merger" details an interview between a worker under the thumb of corporations (now run by the next logical evolution of Alexa and Siri) and a hacker that is arranging for her transcendence deeper into the cult of productivity. A chilling foresight on the robotic nature of the corporate system, "Merger" reflects on the current state of hyperproductivity in our modern dystopia and simply extrapolates.
Books
Cory Doctorow Leaks Radicalized Cover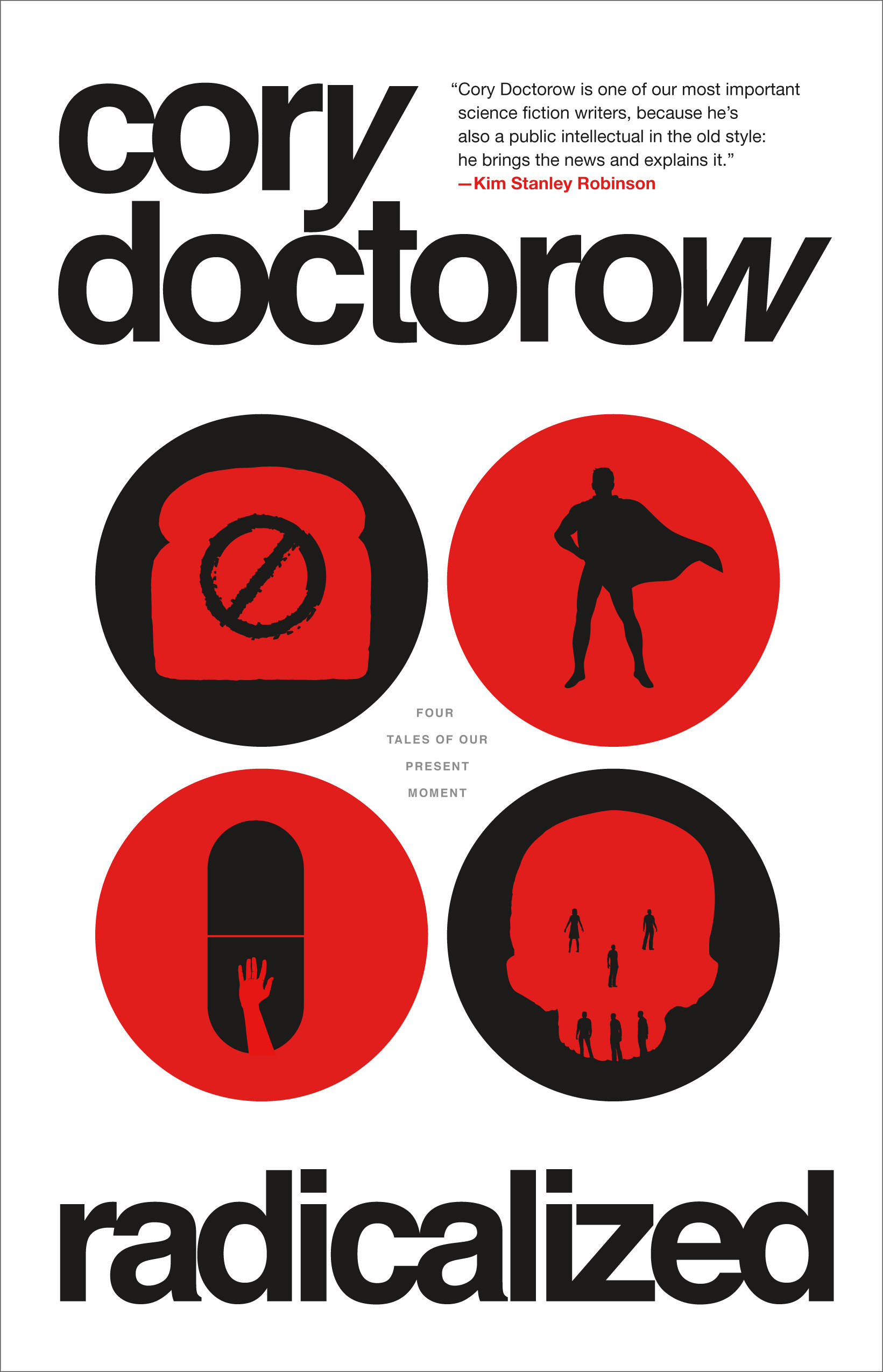 An anthology of four dystopian novellas, Radicalized is the latest book by Boing Boing co-editor Cory Doctorow, who may also be recognized for novels like Down and Out in the Magic Kingdom and last year's cyberpunk novel Walkaway. Recently, Doctorow has unveiled the cover art for Radicalized, and it looks like it's shaping up to be a zany, futuristic ride. The description is as follows:
Told through one of the most on-pulse genre voices of our generation–New York Times bestselling author Cory Doctorow–Radicalized is a timely novel comprised of four science fiction novellas connected by social, technological, and economic visions of today and what America could be in the near, near future.

Unauthorized Bread is a tale of immigration, the toxicity of economic and technological stratification, and the young and downtrodden fighting against all odds to survive and prosper.

In Model Minority, a Superman-like figure attempts to rectify the corruption of the police forces he long erroneously thought protected the defenseless…only to find his efforts adversely affecting their victims.

Radicalized is a story of a darkweb-enforced violent uprising against insurance companies told from the perspective of a man desperate to secure funding for an experimental drug that could cure his wife's terminal cancer.

The fourth story, Masque of the Red Death, harkens back to Doctorow's Walkaway, taking on issues of survivalism versus community.
Radicalized is due for release on March 19th from Tor Books and Head of Zeus.
Notice a cyberpunk story we missed this week? Let us know down below or on social media.
Some of the links included in this article are Amazon affiliate links. If you would like to purchase these items, consider using the links provided and help support Neon Dystopia.