This week in cyberpunk we see moves toward great automation of transit and war. We also see cyber attacks on infrastructure, threats of cyber attacks on US elections, and an inside story about Anonymous. We also see a whole slew of new cyberpunk books to devour.
Cyberpunk Reality
The Surveillance State Comes to Montreal
Patrick Lagacé, a journalist with the Montreal based paper La Presse, was placed under police surveillance by investigators looking into police force corruption. His phone's calls and texts were intercepted and his movements track by his phone's GPS. The investigation was launched over concerns about leaks to the media, and Lagacé was targeted even though he had not written about leaked information. This was more troubling, because Lagacé has written articles in the past that are critical of the police. This has led to investigations into the Montreal Police Department's use of surveillance on journalists and a call for stricter rules for warrants used fir surveillance of journalists.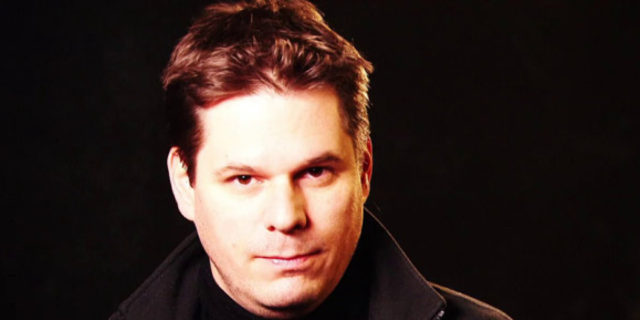 War Robot Debuts in Mosul
Iraqi Armed Forces are fighting with support from the United States to retake Mosul from ISIS control. One of the new methods being employed in this battle is a new UGV (Unmanned Ground Vehicle). This UGV is remote piloted and not autonomous, making it a drone (like UAVs). The UGV is armed with 12.7mm cannon, 70mm rocket launcher, and thermal targeting sights for night time operations. Omni Corp anyone?
US Poised to Deploy Cyber Weapons in Event of Russian Election Interference
According to a senior intelligence official and top-secret documents reviewed by NBC News, the United States is poised to initiate cyber weapons against Russian cyber targets if Russia makes moves to tamper with the US election. Guccifer 2.0, a hacker group believed by US Intelligence to be a working for the Kremlin, has threatened to monitor US elections from "inside the system." We seems to be in a cyber-stand off until after the election.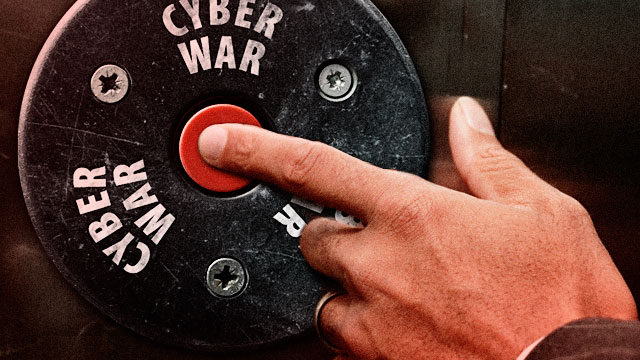 Internet of Things Botnet Knocks Entire Country Offline
The Mirai botnets, which are made up of hijacked Internet of Things devices and were responsible for the infrastructure attacks on Dyn last week, are now being turned on the country of Liberia. Kevin Beaumont, a security researcher who brought these attacks to light, believes that it is the same actor who attacked Dyn and that this is another test of the Mirai Botnet capabilities. This is an escalation. What are they working up to?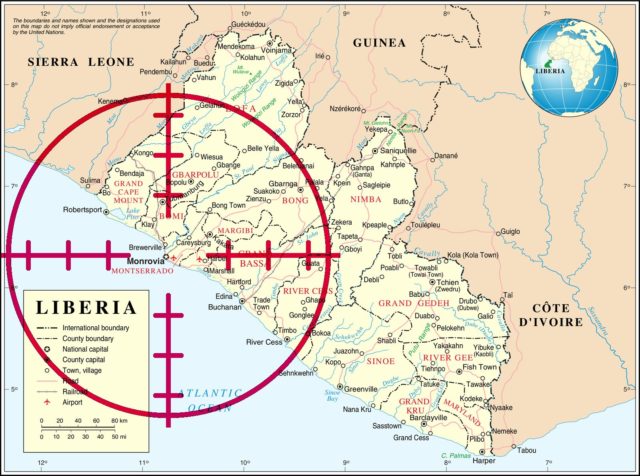 Uber Announces Elevate, An Autonomous Flying Car Project
Uber has talked about having a fleet of autonomous on-demand cars, but has now released a white paper outlining plans for a future fleet of autonomous electric VTOLs (which stands for Vertical Takeoff and Landing Aircraft). This idea is similar the one presenter in Eliot Peper's Cumulus, where on-demand autonomous VTOLs are a staple of his envisioned cyberpunk future.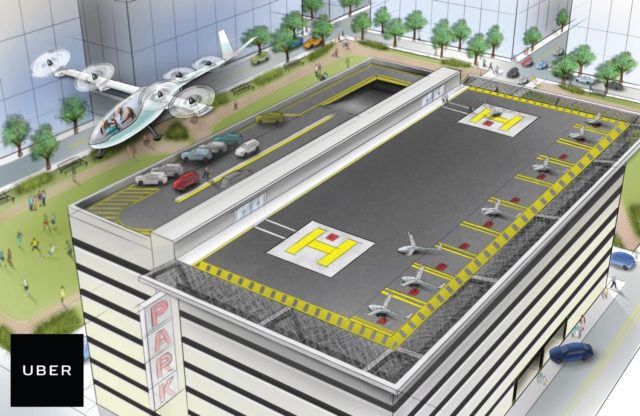 Uber Makes First Self-Driving Truck Delivery
In collaboration with Anheuser-Busch InBev, the producers of Budweiser, Uber successfully delivered a trailer of beer in Colorado. Otto, a recent Uber acquisition, created an autonomous truck. The truck did have a driver in the vehicle in case of emergency, and the truck was only autonomous on the freeway, but this is major step toward the future of autonomous delivery.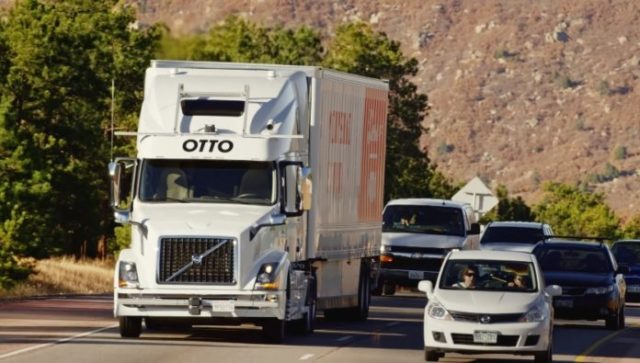 ---
Cyberpunk Movies
Lost Boy
Lost Boy is the culmination of art created by Ash Thorpe, which began with Thorpe designing unique characters and scenarios. Thorpe teamed up with Anthony Scott Burns, after the arts phenomenal success, and the duo worked to create a story and a concept short for a feature length film. Below is a teaser for that short film, which will be released on November 15th, 2016.
Blade Runner 2049
Jóhann Jóhannsson is doing the score for Blade Runner 2049, following up the seminal score for 1982's Blade Runner which was scored by Vangelis. Jóhannsson talked to LRM about his approach:
"It's very early on with Blade Runner. They're still filming. I'm sending them stuff, and we're still looking for the sound. It's a slow process. It's very early to talk, really, in any specific terms about Blade Runner, but obviously it's a sequel to a very iconic, celebrated film that is very well loved. It's a film that's one of my "favorites, to be honest. It's one of my all-time favorite films, so it's a huge challenge to take on. It feels like a responsibility in many ways, like a big responsibility to take on a project like this."

"It has to be music that exists in the world of Blade Runner, but it's Blade Runner thirty years later. It's not a remake, it's a sequel, so a lot of time has passed and things have changed. I think that will be reflected in all elements of the score and the film. Obviously, Vangelis' music played a huge part in creating that world, and Vangelis' score to Blade Runner is one of my all-time favorites. It was a huge part of why that film is so strong, so yes, it's something that I'm very aware of, but as I said, this is a sequel, not a remake, so we're doing something that exists in the world but is new as well."
---
Cyberpunk Short Films
Augmented
Augmented is an excellent short film from director Ross Peacock. The official summary is:
A short film set in the near future, where augmented reality has become so ubiquitous that the line between the real and virtual worlds have become blurred. When a new, dangerous technology is created that can manipulate the perception of this brave new world, who will exploit it? Who will monetise it? Who will become twisted by it?
---
Cyberpunk Books
Mr. Robot's Red Wheelbarrow
In the second season of Mr. Robot, Elliot (the protagonist) attempts to deal with his mental issues through writing a journal. That journal is now available for purchase. It was written by show creator, Sam Esmail, and show writer Courtney Looney. The journal has been written to act as a stand alone novel, called Red Wheelbarrow, that bridges the gap between Mr. Robot's first and second seasons, as well Elliot's time in prison.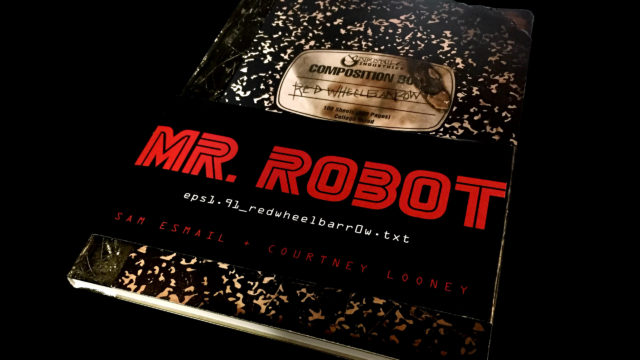 Binary Storm
Binary Storm is a new novel by author Christopher Hinz and acts as a prequel to Hinz's 1987 Liege-Killer. Despite being a prequel, the novel is intended to stand alone. Here is the official synopsis:
Near the end of the 21st century, Earth is in chaos from environmental devastation and a vicious undeclared war against binaries, genetically engineered assassins. Composed of a single consciousness inhabiting two human bodies (tways), binaries are ruled by an alpha breed, the Royal Caste.

Nick Smith, computer programmer and brilliant strategist, hooks up with Annabel Bakana, the savvy new director of E-Tech, an organization dedicated to limiting runaway technological growth. Together both romantically and professionally, they secretly assemble a small combat team to hunt and kill binaries.

But there's a fly in the ointment, the mysterious team leader, Gillian. A tormented soul with an unseemly attraction to Annabel, his actions just might help the Royal Caste's cause and draw the world closer to Armageddon.

Serving as both a stand-alone novel and prequel to Liege-Killer, Binary Storm is a futuristic tale of bold characters pushed to the brink in a dangerous world. Startling action, political intrigue and powerful themes that echo our contemporary era are fused into a plot brimming with twists and surprises.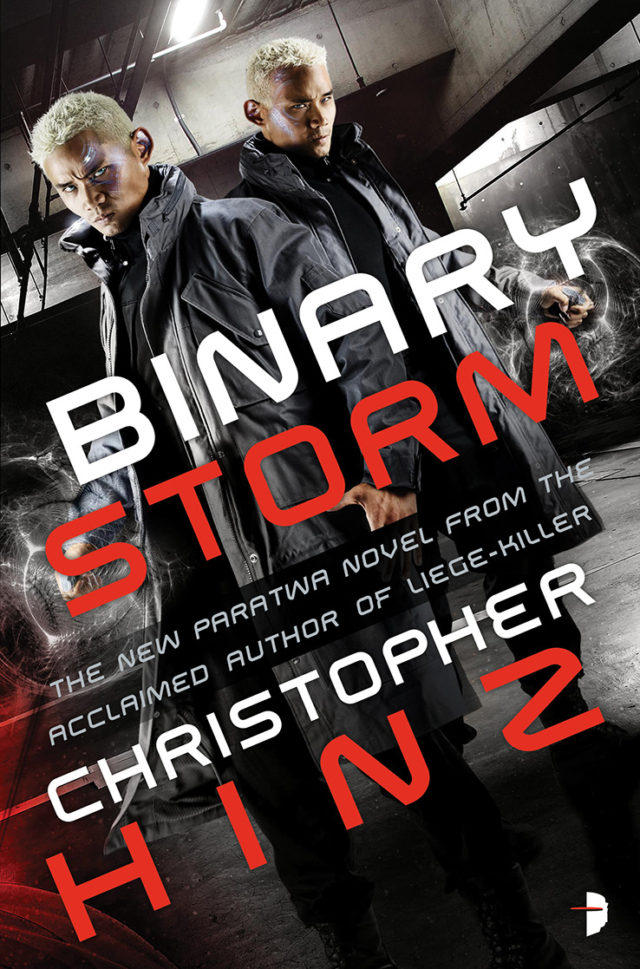 The Burning Light
The Burning Light is a new novella by Bradley P. Beaulieu and Rob Ziegler. Here is the official synopsis:
Disgraced government operative Colonel Chu is exiled to the flooded relic of New York City. Something called the Light has hit the streets like an epidemic, leavings its users strung out and disconnected from the mind-network humanity relies on. Chu has lost everything she cares about to the Light. She'll end the threat or die trying.

A former corporate pilot who controlled a thousand ships with her mind, Zola looks like just another Light-junkie living hand to mouth on the edge of society. She's special though. As much as she needs the Light, the Light needs her too. But, Chu is getting close and Zola can't hide forever.

The Burning Light is a thrilling and all-too believable science fiction novella from Bradley P. Beaulieu and Rob Ziegler, the authors of Twelve Kings in Sharakhai and Seed.
Pirate Utopia
Pirate Utopia is the newest novel from original cyberpunk Bruce Sterling. The novel doesn't appear to be wholly cyberpunk, but certainly shares themes with the genre, unsurprisingly. It also sports and introduction by Warren Ellis, the author of Transmetropolitan. Here is the official synopsis:
Who are these bold rebels pillaging their European neighbors in the name of revolution? The Futurists! Utopian pirate warriors of the diminutive Regency of Carnaro, scourge of the Adriatic Sea. Mortal enemies of communists, capitalists, and even fascists (to whom they are not entirely unsympathetic).

The ambitious Soldier-Citizens of Carnaro are led by a brilliant and passionate coterie of the perhaps insane. Lorenzo Secondari, World War I veteran, engineering genius, and leader of Croatian raiders. Frau Piffer, Syndicalist manufacturer of torpedos at a factory run by and for women. The Ace of Hearts, a dashing Milanese aristocrat, spymaster, and tactical savant. And the Prophet, a seductive warrior-poet who leads via free love and military ruthlessness.

Fresh off of a worldwide demonstration of their might, can the Futurists engage the aid of sinister American traitors and establish global domination?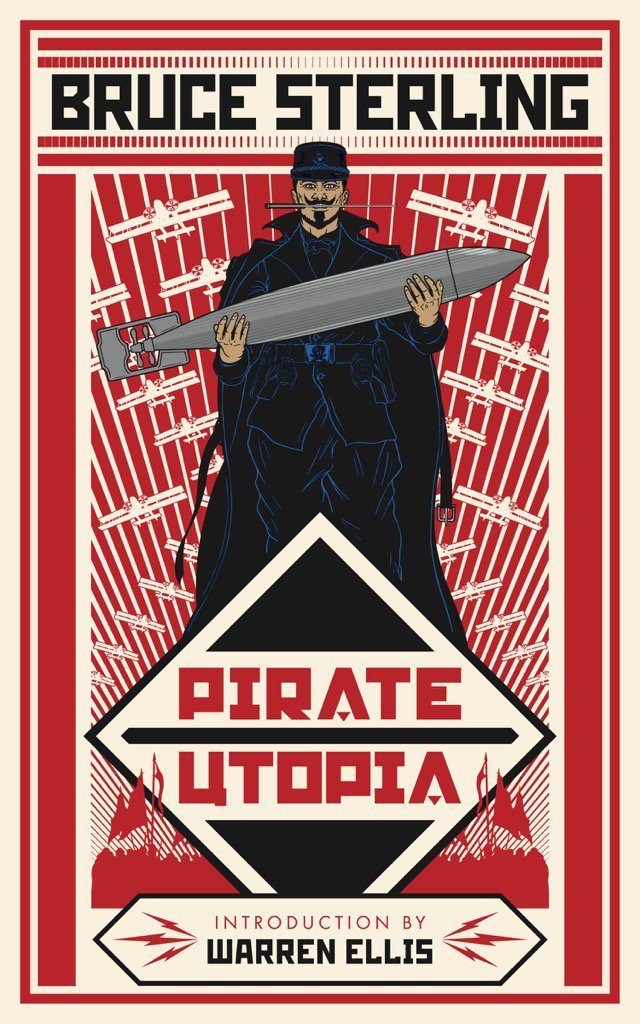 Behind The Mask: An Inside Look At Anonymous
Behind The Mask: An Inside Look At Anonymous is a new book from Commander X, an influential member of Anonymous and fugitive. The book is a personal account of Commander X's initiation into Anonymous and his exploits, but also provides an inside look at Anonymous that we haven't seen before. Here is the official synopsis:
A decade after Anonymous first appeared, it has grown from a small band of hacktivists to a Global Collective with organized National Cells in half the countries on Earth and 2.5 million dedicated participants worldwide. Behind The Mask explores four critical years in the formation of Anonymous as it solidified into the most powerful movement in human history. Join Commander X and other Anons from those early days as they take you on a grand adventure, and give everyone a small glimpse Behind The Mask.

---
Cyberpunk Art
The Future is Now
The Future is Now is a two volume art book collection from Josan Gonzalez. The art is amazing, and if you are reading this you have undoubtedly seen it somewhere on the Internet. Gonzalez's collection is now available for pre-order!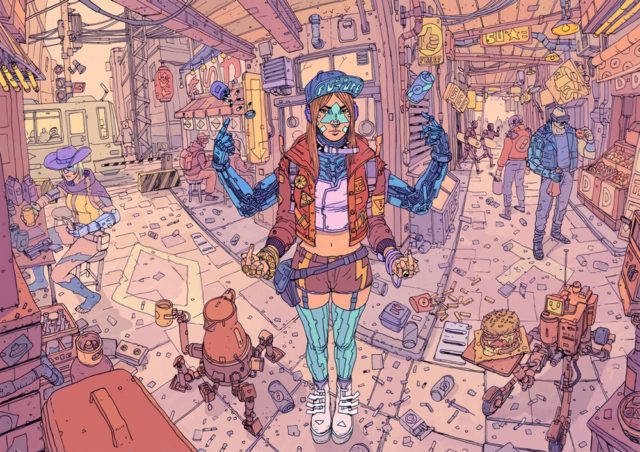 What are you most excited about this week? Did we miss anything? Let us know in the comments below or on social media!
Some of the links included in this article are Amazon Affiliate links. If you would like to purchase these items, consider using the links provided and help support Neon Dystopia.