Jason Shawn Alexander can draw.  Not just that, though; he can also write stories.  He can probably do other stuff, too, but those two allow him to create one mean comic book.
Say "h3110" to Empty Zone.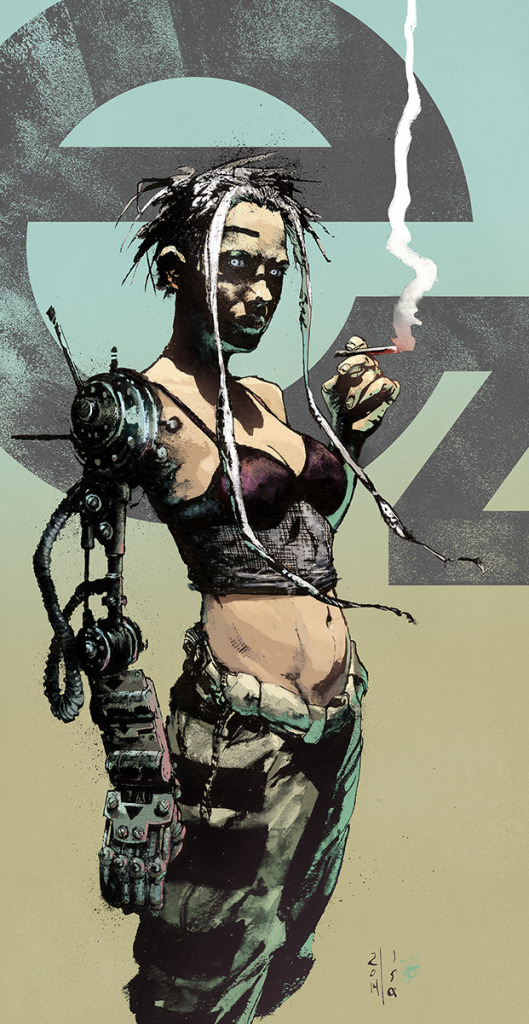 Empty Zone was initially created 19 years ago by Alexander, but this is planned as an ongoing monthly series.  As of writing, there's just 25 hours left of the already-funded Kickstarter giving you an opportunity to get your hands on edition #1 as soon as it's ready (it's planned to launch in June 2015).  Alexander has raised $33,950 of the $20,000 goal, so that should give some encouragement to the idea that this will happen.
To get an idea of the Empty Zone's story, have a quick read of the synopsis:
Corinne White is waiting. Waiting for the next drink, the next fight, the next job (which typically includes both). Waiting for something to change, waiting to die.
Set in the 58th ward of lower Pittsburgh in 2119, former military spy and only surviving member of her team, Corinne exists merely to exist. Working for an independent contractor, Corinne jumps from job to job as a body guard, private investigator, and data specialist. With billions of microscopic implants in the pores of her skin, military enhancements, years worth of government combat training, and one ugly cybernetic arm (kept for reasons known only to her), there are none better at what she does. But that's small consolation on the day her past mistakes catch up to her. Through a series of orchestrated events, Corinne is startled to be reunited with the squad she left almost a decade ago. The problem is they're dead….or undead.
EMPTY ZONE is the heart wrenching ghost story of a woman confronted by her complicated past, and forced to choose between redemption or damnation. Set in the future of a visually rich, fragmented world of corrupt privatized governments, amidst everything from street gangs modified with deadly animalistic implants, to reanimated corpses stalking the streets like remote controlled toys, EMPTY ZONE's world is grimly ethereal and haunting.
Though the 'undead' idea is a little unusual for cyberpunk, this sort of twist on a urban dystopia could turn out to be pretty damn great.  It sounds like something forged from Shadowrun's magic-infused world, Remember Me's semi-undead Leapers, Wikus' alien arm in District 9, and starring the namesake from Tank Girl.  From Alexander's art, though, Empty Zone does look a lot more gritty than all of them put together.
Only time will tell.