Genetic abominations, creation of biometric databases, and a real fight against draconian copyright law line our dystopian reality this week. Big cyberpunk names like BLAME!, Terminator, and Judge Dredd are prominent in the news this week but don't miss the other tidbits either, there is great stuff coming down the pipe.
Cyberpunk Reality
Australia to Replace Passports with Biometrics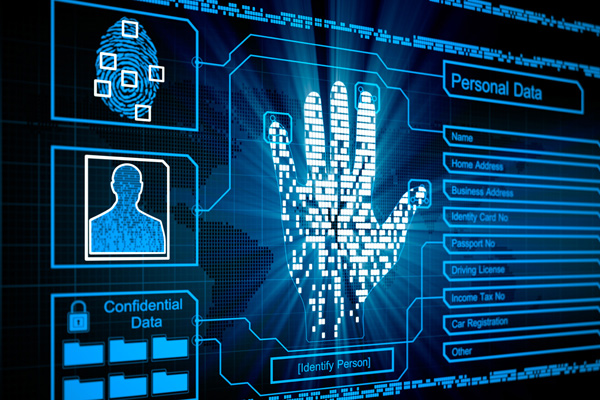 Australia's Department of Immigration and Border Protection has announced that they intend to implement a biometric verification system in place of passports by the year 2020. This move is being called the "Seamless Traveler Initiative" and will begin being put in place this year. This is the kind of move that will begin the construction of a national biometric registry in Austrailia. Privacy concerns are high, and if successful this initiative may inspire other countries to follow suit.
We Now Have Human-Pig Chimeras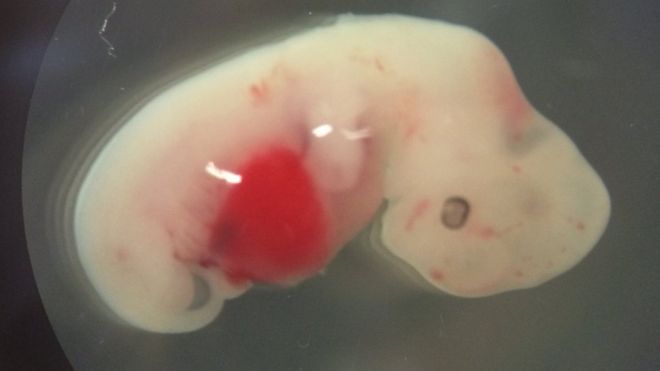 Researchers at the Salk Institute in San Diego, Ca have successfully created chimeras that contain a fusion of human and pig DNA. The human DNA amounts to a whopping 0.001% of the DNA combination, but this is the first time scientists have been able create a human chimera at all. This discovery may have important applications in growing replacement organs for humans in the future, and possibly some more insidious application in cyberpunk dystopia.
States Challenge the DMCA for Right to Repair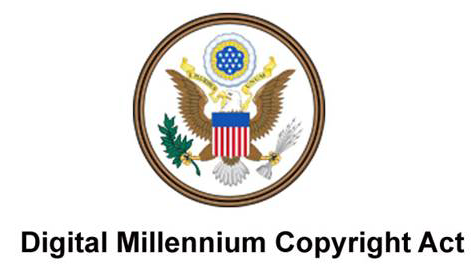 Nebraska, Minnesota, and New York have all introduced bills that would override Section 1201 of the Digital Millenium Copyright Act which criminalized breaking DRM (Digital Rights Management), even on physical objects like cars, tractors, coffee makers, and xboxs. The unintended consequence of the DMCA preventing consumers from repairing their own property legally has been a growing problem since the passage of the law. This may represent the first stages in repealing this draconian law that empowers corporations to legally take away the US citizen's right to repair their own property.
Cyberpunk Movies
Terminator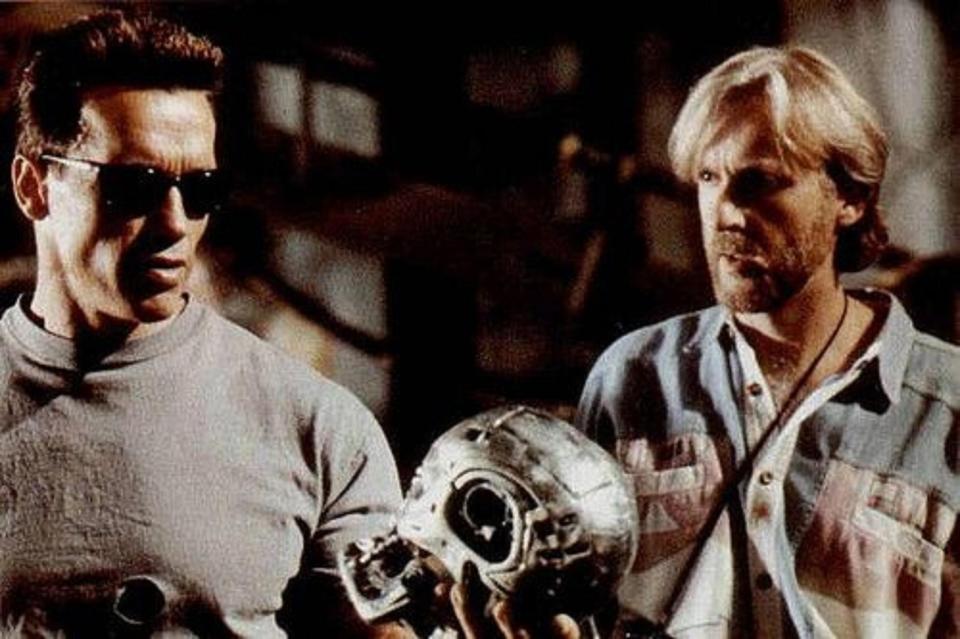 Right when we all thought Terminator: Genisys (Genisys got mixed reception from the fan base, you can judge for yourself and get a copy here) had inflicted the final death blow on the Terminator franchise, James Cameron has announced that he is working on a new Terminator installment. The rights revert to Cameron in 2019, but he has already reportedly started working on a script with Deadpool director Tim Miller. Could Cameron's return to the franchise save it? What do you think?
Little America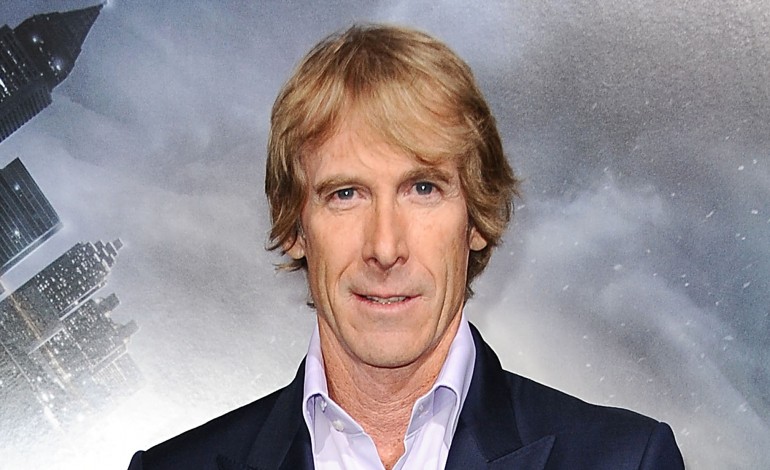 Two words. Micheal Bay. Bay is working on a new project called Little America which will be set in an American refugee district n China in the near future after the US's economy has collapsed. Bay isn't known for making good movies, sometimes not even passable movies, but the movie's premise sounds interesting. It could fit nicely in the cyberpunk genre depending on how they handle the technology in the film. Knowing Bay though, the movie will be all action and the premise will sit quietly in the background trying not to be distracting.
Cyberpunk Television
The Lawnmower Man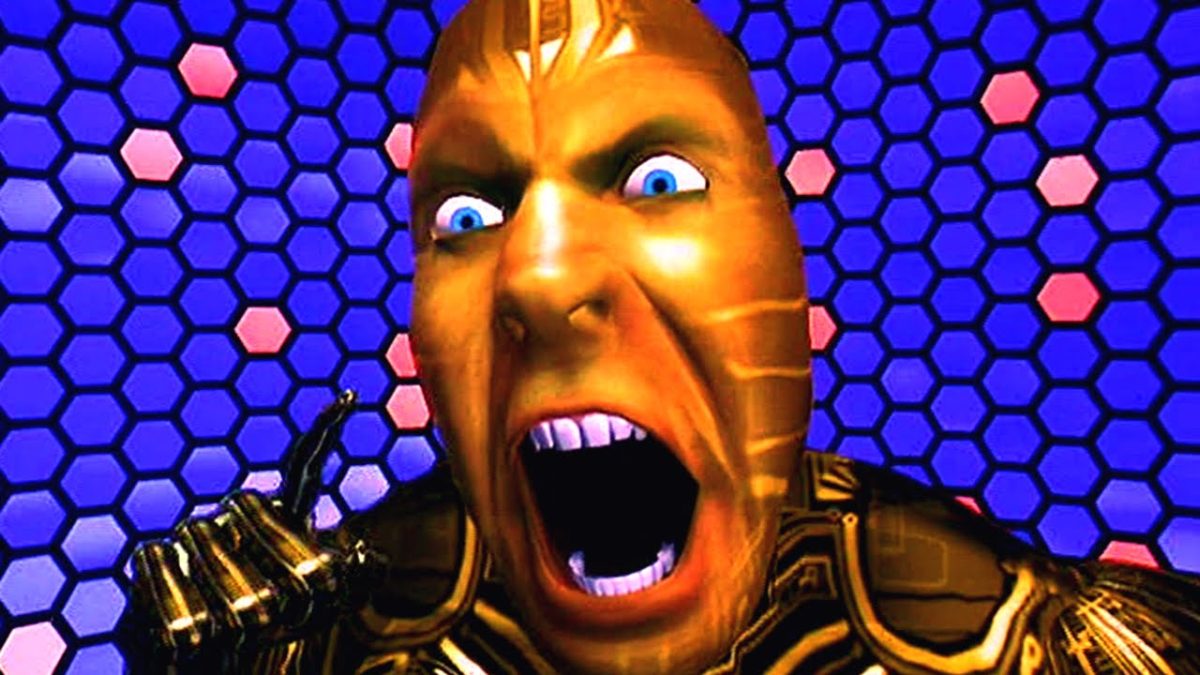 In a genius move, a cinematic virtual reality company named Jaunt is planning to bring the classic virtual reality movie The Lawnmower Man to VR headsets as a scripted multi-episode series. Jaunt is working with current rights holders, Jim Howell and Rupert Harvey, to produce the series. Howell said,
"Together with Jaunt we look forward to a contemporary team bringing to life a whole new world of VR; a world of immersive entertainment and communication. We are very excited to be working with Jaunt to create a VR realization of the film."
If you'd like to revisit The Lawnmower Man franchise, you can get a copy here.
Cyberpunk Books
1984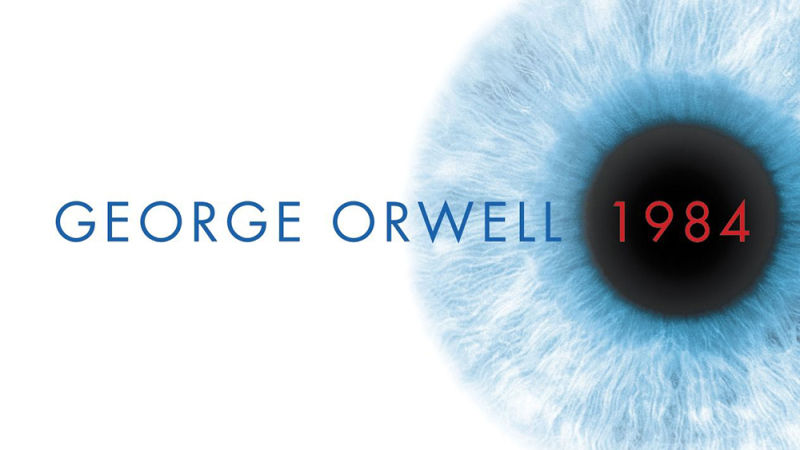 In the wake of Donald Trump's election and other similar nationalist elections worldwide, Amazon temporarily sold out of seminal dystopian novel 1984. Although not strictly cyberpunk, 1984 has had undeniable influences on the genre of cyberpunk and the real life discussions about fascist states and the tactics that they use to manipulate their populations. If you haven't read 1984, you should.
Cyberpunk Comics
Blame! and Tsutomu Nihei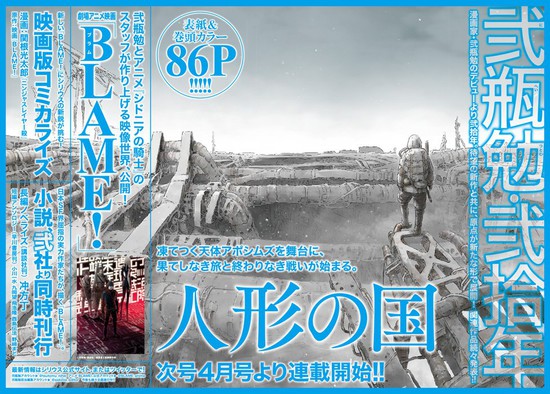 On Thursday, Kodansha's Shonen Sirius magazine announced that a novelization of BLAME! is in the works and will be penned by Tow Ubukata who has previously written for Ghost in the Shell Arise and Psycho-Pass 2. In addition to the novelization, a series of four short stories collected in an anthology is being released alongside it with original stories set in the BLAME! universe by Issui Ogawa, Nozomu Kuoka, Tobi Hirotaka, Denpō Torishima, and Mado Nozaki.
If that wasn't enough in April Ningyō no Kuni (Country of Dolls), Tsutom Nihei's new manga, will begin being serialized in Shonen Sirius. All of this is capped with a BLAME! movie that will be arriving sometime this year on Netflix whose official synopsis i:
In the distant technological future, civilization has reached its ultimate Net-based form. An "infection" in the past caused the automated systems to spiral out of order, resulting in a multi-leveled city structure that replicates itself infinitely in all directions. Now humanity has lost access to the city's controls, and is hunted down and purged by the defense system known as the Safeguard. In a tiny corner of the city, a little enclave known as the Electro-Fishers is facing eventual extinction, trapped between the threat of the Safeguard and dwindling food supplies. A girl named Zuru goes on a journey to find food for her village, only to inadvertently cause doom when an observation tower senses her and summons a Safeguard pack to eliminate the threat. With her companions dead and all escape routes blocked, the only thing that can save her now is the sudden arrival of Killy the Wanderer, on his quest for the Net Terminal Genes, the key to restoring order to the world.
Judge Dredd – The Blessed Earth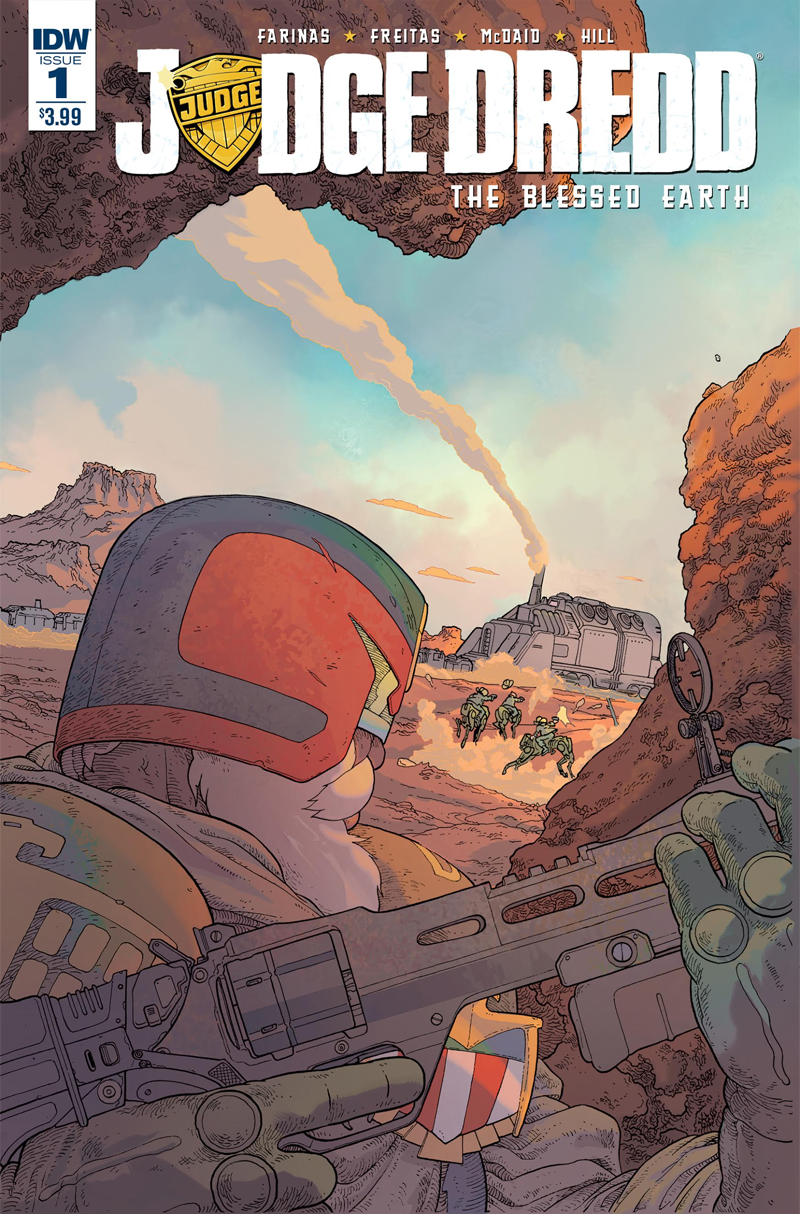 IDW's newest addition to the Judge Dredd canon, Judge Dredd: The Blessed Earth, is coming out in April 2017. This story is set 10-years after IDW's last installment, Judge Dredd Mega-City Zero (You can pick up a copy here to catch up). The new story from Ulises Fariñas, Erick Freitas, Dan McDaid, and Ulises Fariñas is officially summarized as:
"It has been 10 years since the events of Mega-City Zero, and Judge Dredd continues his mission to restore order to a lawless land. The mystery of The Blessed Earth begins to unfold here!"
Fariñas told io9:
"It's much easier to write Judge Dredd when you feel like your country is falling apart. It's really easy to write about failing institutions and people left to their own devices, when the people who should protect them are just trying to legitimize their power. We hear 'to serve and protect,' and it sounds more and more like a sick joke. We are turning Dredd literally inside out, ripping out what's inside him and seeing what makes him keep moving forward. The system only works when people believe in it, and in The Blessed Earth, I AM THE LAW are not words anyone believes in."
Lead Poisoning: The Pencil Art of Geof Darrow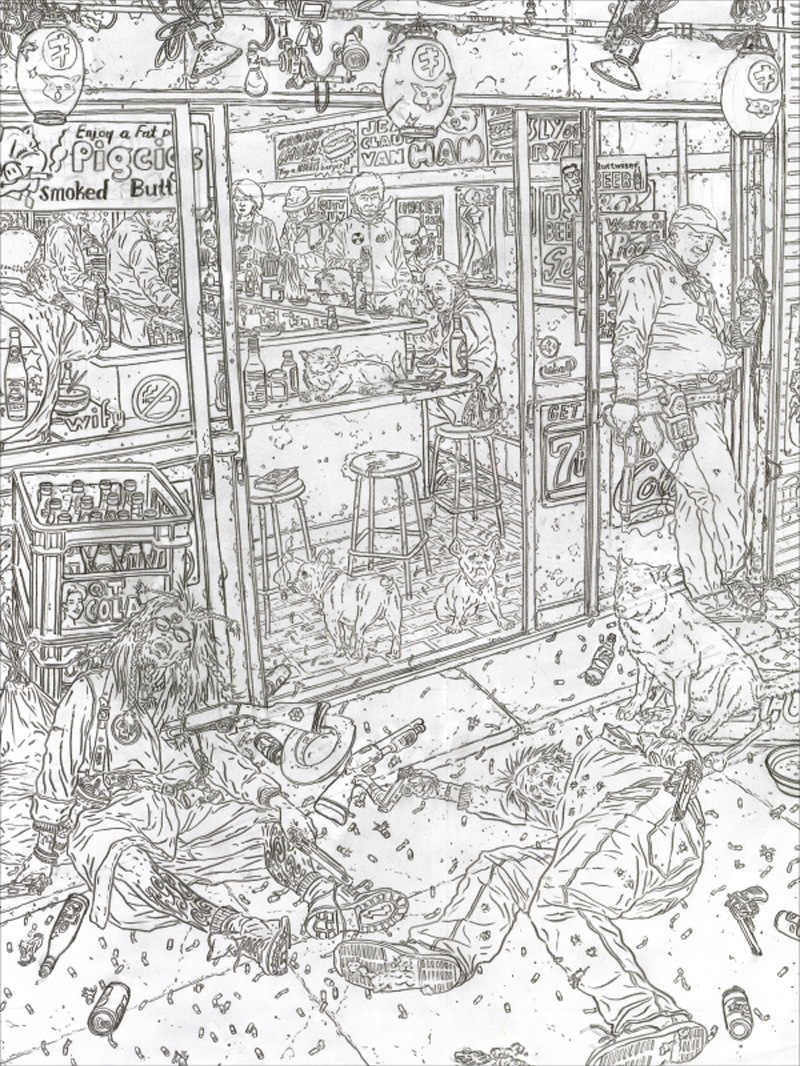 Lead Poisoning: The Pencil Art of Geof Darrow is a new art book coming out from Dark Horse that collects pencil drawing from the massivly influential comic book artist Geof Darrow. Darrow is best known in cyberpunk circles for his artwork for Frank Miller's Hard Boiled (Hard Boiled has a new edition coming out in September 2017, you can pre-order it here), although he also contributed concept art for all three Matrix films and created a cover for Warren Ellis' Transmetropolition. The collection will have over 100 illustrations from throughout Darrow's career along with commentary. It comes out in July and will be priced at $35.00.
Did we miss anything? Let us know in the comments below or in on social media.
Some of the links included in this article are Amazon Affiliate links. If you would like to purchase these items, consider using the links provided and help support Neon Dystopia.