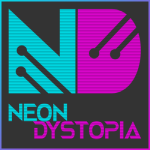 Neon Dystopia was created in November 2014 with the idea of bringing together fans of Cyberpunk as well as opening it up to new audiences, taking care not to define Cyberpunk too strictly or dilute it so much that it loses its meaning.
Key to this was the idea of sharing a mixture of content; reviews of new material, retrospectives on classic content, critical analysis, personal stories, fiction from aspiring writers and more. With such a small community, there needed to be something for everyone.
Cyberpunk isn't just a genre of media (a least that's what we argue in our collaborative definition page), it's an aesthetic and an attitude, too. One person couldn't do it justice. Thus, it required a team to ensure all areas of cyberpunk were covered and that new and old fans would have something interesting to read about. So, in January 2015, the team expanded drastically and saw the creation of a group of Editors to take care of each specific category as well as a group of Staff Writers who would contribute to all categories.
Now, we've got big plans for the future. You'll be reading, seeing, and hearing more from us in the year ahead. Stay tuned.
If you have any questions or feedback regarding Neon Dystopia, please do not hesitate to contact us.